April 12, 2021
Is an SBA Small Business Loan Right for Your Business?
That's where SBA (Small Business Administration) loans come in. SBA loan programs have been proven to be beneficial for a wide variety of small businesses. Although these loans can be difficult to apply for and most have usage restrictions, they're certainly worth investigating. However, 
SBA loans
 aren't for everybody, and there are other types of loans that you should also consider. Before you complete the extensive paperwork needed to apply, there are a few important questions you should ask yourself.
5 Questions to Ask Yourself Before Applying for an SBA Small Business Loan:
1. Have I Exhausted Other Business Financing Options?
SBA small business loans are specifically designed for small businesses that have sought financing elsewhere but were unable to obtain it. If your small business can qualify for a traditional business loan from a bank, a 
loan from an alternative lender
, or other financing products, then you should pursue those options first. In fact, if you can obtain financing elsewhere, then your business will unlikely qualify for an SBA loan. This is one of the SBA's requirements, and you'll need to submit proof that you have failed to qualify for traditional financing options to be considered for an SBA loan.
2. Does My Business Meet the Minimum Requirements?
Unlike traditional bank business loans, SBA loans are fairly restrictive. Consequently, to qualify for an SBA loan, your business must satisfy numerous prerequisites. Here is a list of some of the SBA's minimum requirements:
You must demonstrate a material need for the loan, and you'll also need to prove that your business couldn't qualify for a traditional bank loan or other type of traditional financing.
You must prove that your business will use the loan for a reasonable purpose that's approved by the SBA.
You'll be required to complete an extensive amount of paperwork (tax returns, financial projections, business valuations, numerous SBA forms, etc.).
Your business credit history and your personal credit score will also be considered in the application process.
It's important to research loan qualifications prior to applying. If you don't meet the SBA's minimum requirements, you'll be wasting your own time by applying. If you don't meet the SBA's small business loan requirements, you should pursue other funding options or wait until you're more likely to qualify.
3. Is My Business Financially Viable?
Obtaining financing is just one component of running a successful business. Thus, even if you secure the capital you need for a specific project, it will not last you very long if your business is not lucrative. When 
applying for an SBA loan
, you must prove that with your business will be able to grow in result of receiving a loan. If your business is currently operating at a loss, then you will need to demonstrate how a loan will improve your operations. Most SBA loan officers are relatively patient and understanding, but they aren't going to approve you for a loan unless they believe it will be paid back in full and on time.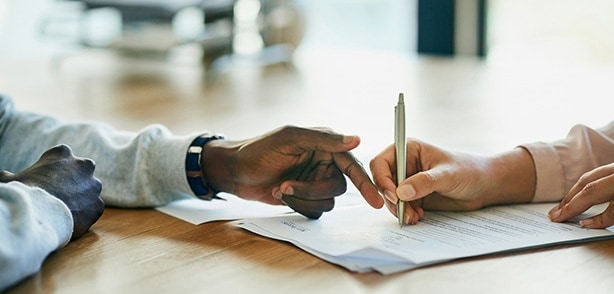 4. What Type of SBA Loan is Right for My Small Business?
Even if you decide to apply for an SBA loan, you are still going to have some more important decisions to make. There are several
different types of SBA loans
, and each of these types has various uses associated with it.
This is the most common SBA loan, as it's used to help finance a business with special requirements (such as a franchise).
The microloan program is a short-term loan that is usually issued with specific conditions.
Typically, the 504 loan is meant for large projects. It is also important to note that it has fewer fees than other SBA loans.
This product is meant to assist business owners who are suffering from declared disasters.
5. What Other Business Financing Options Are Available to Business Owners?
After reviewing this post, you may find that the SBA's usage requirements, application process, or other stipulations might not be the best fit for your company. If that's the case, you might benefit from researching other funding options, such as:
Small Business Loans from an Alternative Lender
Merchant Cash Advances
Business Lines of Credit
Invoice Financing
Bridge Loans
Inventory Financing
Equipment Funding
Business Credit Cards
At Fora Financial, we pride ourselves on providing flexible funding to business owners nationwide. If you're interested in receiving a free business financing quote, please click the link below:
Conclusion
The SBA helps many business owners attain the financing they need, and in-turn they can grow or save their operations. After reading this post, we hope that you have a better understanding of whether an SBA loan is the right choice for your small business.
Editor's Note: This post was updated for accuracy and comprehensiveness in April 2021.