January 07, 2020
Why You Should Embrace Teleconferencing Over Traveling
Technological developments have made teleconferencing more secure and reliable than it was in the past. While audio conferencing is still popular, video conferencing is booming.
There are many affordable teleconferencing services. In addition, programs such as Zoom offer free options so you can try them risk-free. 
Technological Advancements In Teleconferencing
Technological advancements have resulted in dozens of new teleconferencing options. There are different kinds of teleconference calls, each of which has improved due to new technology. 
Audio conferencing was the standard for many years. While there are downsides to audio-only teleconferencing, it still has its place. Conference calls can be put together at a moment's notice and require little preparation. They're unlikely to result in technological mishaps since all you need is a phone. 
Recent developments in audio conferencing include higher quality audio and recording options. Online systems allow call organizers to keep track of who has joined the call. 
Audiographic teleconferencing is like a conference calls, but with a visual component. It requires an audio connection and a way to share visuals. Participants speak to each other and use their computers to view presentations or documents. 
Video teleconferencing is the fastest-growing method of teleconferencing. There are a few reasons why video conferences are often preferable to audio conference calls. They feel more like traditional meetings and lead to higher engagement. Employees are less likely to get distracted or miss vital information while trying to multitask. 
High definition video and safeguards against lag are some of the latest improvements in video conferencing. 
Category: Business Travel 
Business travel isn't going away anytime soon — nearly
445 million business trips
occur every year. Many employees enjoy the excitement of travel and the opportunity to meet in person. For businesses, travel may seem like the best way to impress potential clients. 
Of course, travel also has downsides. It's expensive, and it's stressful for workers, especially if issues arise, such as delayed or overbooked flights. Plus, it can be wasteful if the traveler's time and spending aren't carefully planned.
Pros of Business Travel
Networking opportunities:

It's hard to find the time to network with fellow industry experts and potential clients. However, traveling to a new location can lead to unexpected possibilities. You or your employees might make a connection in a hotel lobby or during downtime at a conference. 

Effectiveness:

In-person meetings may be more effective when it comes to dealing with clients, customers, or vendors. Some people feel more comfortable closing a deal in-person. However, video teleconferencing may be a good compromise. 

Employee attraction and retention:

Many employees enjoy traveling for business. For those who do, the opportunity to see new places and meet new people is a major perk. A 2018 study found that

30 percent of professionals

accepted their job partly or entirely due to travel opportunities. 

Travel rewards:

There are

credit cards available

that make business travel enticing. Using these cards for your business expenses can lead to free hotel stays and deeply discounted flights.
Cons of Business Travel
Cost:

High costs are a big disadvantage of travel. The expense of flights and hotels isn't the only consideration. Employees need to get around at their destination, which means renting a car or public transportation. They'll also need to be reimbursed for meals.

Travel snafus:

With travel, there's always a risk of issues such as delayed flights or lost luggage. These events are especially troublesome when you're on a tight travel schedule. For international trips, problems can arise with work visas or passports. 

Waste:

A productive and efficient business trip can be a worthwhile investment. However, it can be hard to ensure that a trip doesn't end up as a waste of time and funds. Failing to plan each aspect of the journey makes excessive spending and downtime much more likely. 

Stress:

Business travel is more stressful than teleconferencing, even for people who enjoy it. Frequent travel requires employees to spend extra time away from their families and hobbies. Therefore, it can lead to burnout.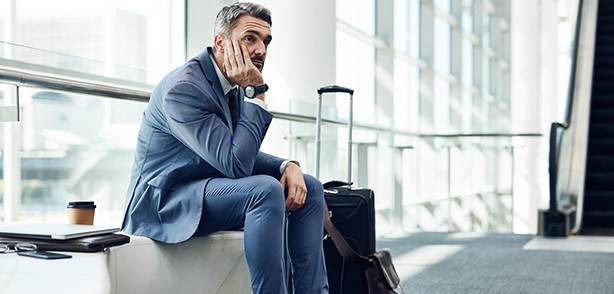 Category: Teleconferencing
Teleconferencing can handily resolve many of the disadvantages of business travel. It's convenient and tends to be inexpensive, especially compared to travel. Many teleconferencing providers offer tools and features that increase productivity. 
Pros of Teleconferencing
Speed:

Business trips often require weeks to plan. For last-minute trips, flight prices are high. A teleconference, on the other hand, comes together lightning-fast. Employees on opposite sides of the globe can be working on an issue face-to-face within minutes.

Convenience:

Need to meet with your team every day until a project is complete? Travel isn't going to work unless you have an unlimited budget. But, you can set up a recurring video meeting for as long as you need it. 

Cost-effective:

Small businesses may be able to teleconference for free. If you need something more robust, there are many affordable options. You may decide to purchase some teleconferencing equipment, especially in meeting rooms. All your employees need is the laptop or smartphone they already have. 

Productivity:

Modern teleconferencing solutions offer tools for

enhanced productivity

. For example, you can record your meeting and refer to it later. Options like screen sharing make it easy for people to work on a project together. 
Cons of Teleconferencing
Technical issues:

Conference call services were once notorious for static, garbled audio, and dropped calls. Adding video has the potential to result in issues like annoying lags and frozen video feeds.

Impersonal:

It can be hard to establish rapport, especially among people who haven't met in person. This can be especially troublesome for situations such as integrating a new employee into a team. 

Training:

Many teleconferencing programs are intuitive. However, in some cases, training is required to get the most out of them. Employees who struggle to use new software won't be excited about its benefits. If training is necessary, it takes time and money to implement. 
Best Teleconferencing Tools
Skype

offers meeting capabilities for up to 250 participants. Its features include screen sharing, instant messaging, and a whiteboard tool. For fewer than ten people, you can have unlimited free meetings, an ideal option for small businesses. 

Zoom

features free video meetings of up to 40 minutes for 100 participants. If you need to host longer meetings, the Pro package is $14.99 per month. Perks include high-definition video and voice. During video calls, Zoom automatically detects who's speaking and shifts the video to them. 

Webex

has more bells and whistles than some of the other options out there. It offers its own devices, from desktop camera options to smart whiteboards. There's a free option for meetings up to 40 minutes with 50 participants. Paid plans start at $13.50 per month. 
Want to learn more about tools that help businesses? Check out the Fora Financial newsletter.
[
cta-newsletter
]