December 10, 2019
The Best Inventory Management Software for your Business
A recent study found that workload is the main stressor for
46%
of American workers. Many business owners utilize
invoicing software
and
payroll software
to reduce tedious work. However, it's also important to have a strong inventory management platform. 
By using business inventory software, you'll be able to focus on other responsibilities that come with running a business. In addition, you can reduce or eliminate errors using inventory management software, and automate the process of ordering items.
What is Inventory Management?
Inventory management is the task of overseeing the flow of goods to a business, all the way from purchase to delivery. Usually, this responsibility is handled by managers or store owners. Effective inventory management ensures that your business has the products it needs at the best price possible.  
Inventory and stock needs differ depending on company size and industry. From specialized products to office supplies, managing inventory means ensuring your employees have what they need to do their jobs. Not to mention, you can increase your profitability by
20% to 50%
with inventory control. However, diligent efforts can generate even better results. 
Many companies will opt for ordering items in bulk or buying wholesale to cut down on costs. A given business will usually have established distributors from which they receive supplies. Although having fixed distributors helps with maintaining a regular schedule of inventory, inventory management software can make your job much easier. Keep track of invoices, payments, delivery schedules and eliminate overspending by finding the right software for your business. 
Finding the Best Inventory Management Software
With so many available programs for managing your inventory, it can be hard to decide which is best for your business. From simple software programs to more advanced software, finding the right inventory management software depends on how much support you need.
When selecting a program, you should consider the following factors:
Price point

User-friendly interface

Customer support features

Ability to integrate other software systems
inFlow
InFlow is an inventory management software that offers users the ability to fulfill invoices, manage purchases, restock and track profit. Providing the option to pay monthly or annually, inFlow has pricing options for small businesses, larger organizations, and manufacturers.
If you pay annually rather than monthly, you'll get a discount on their inventory management software packages. Not to mention, they occasionally offer discounts in the form of a number of free months for annual purchasers. Let's break down the cost-per-month based on their suggested annual packages.
Pricing:
The Entrepreneur Plan, for 2 team members, is $79.00 per month.
The Small Business Plan, for 5 team members, is $219.00 per month.
The Mid-Size Plan, for 10 team members, is $439.00 per month.
The Enterprise Plan, for 25 team members, is $1,319.00 per month.
They also offer custom plans.
Pros: 
A minimum of two different users can access the inFlow Cloud, but adding additional users  is encouraged. Basically, anyone in your management suite will be able to access the software if they need to track inventory progress. 

InFlow is secure. Backed by Microsoft Azure, they use a 256-bit SSL encryption to keep your data safe. 

You can upgrade, downgrade, or change your plan whenever you'd like through the inFlow app. Cut out the middleman and eliminate headaches by managing your plan yourself.
Cons:
Isn't compatible with some accounting programs, which makes exporting an unnecessary added step for some users. 

The free version of the software is limited, making it difficult to get a holistic view of the software before purchasing. 
Unleashed
With features like real-time stock visibility, product tracking, and industry-specific software, Unleashed is a viable programming option for business. The Unleashed Inventory Software options are divided into three different plans: Medium, Large and Large Plus.
Unleashed requires a full year of payments, regardless of whether you're paying the annual or monthly rates. Due to this, it's probably better to pay the less expensive annual rate. 
Pricing:
Pros:
Before committing to their service, you can schedule a 20 minute chat with an Unleashed Expert. They'll explain how their software could benefit your company. 

Unleashed offers inventory systems for specific industries, like Coffee Roasting, Food Manufacturing, Health & Supplements, Brewing, and Lighting. If your company is in one of these industries, this software was designed with your specific needs in mind. 

Unleashed software is user-friendly, which is ideal for people still learning the ropes. For example, their

Inventory Management Guide

offers users valuable information on inventory management techniques.
Cons:
Unleashed has a minimum 12 month commitment, which isn't the case with other competitors. If you choose to pay monthly, know that you'll be required to pay for an entire year regardless. 

The pricing for each level of service is based on standard support, and charges an additional $150 for "premium support." The increased level of support includes phone and live chat support, which is included in other software free of charge. 
Veeqo
Veeqo inventory software specializes in multichannel inventory management, centralizing payments across websites, marketplaces, and physical stores. From inventory forecasting to warehouse reports and automation, Veeqo gives users the ability to improve upon their current inventory management.
The price breakdown features the annual rate, as you'll save money by paying for at least 12 months of service. 
Pricing: 
Pros:
The Inventory Forecast feature allows users to predict stock purchases based on previous sales. Once you've established your inventory trends, you can automate future purchases using this feature.  

The Veeqo app provides insights on daily profit margin, sales revenue, and inventory status.

Veeqo has a special scanner that allows you to scan and track mass quantities of inventory items. Create a digital inventory management system by scanning items with the Veeqo scanner. 
Cons:
Veeqo doesn't offer a free trial. If you want to compare different inventory management software systems, you won't be able to try it out before purchasing.

 Veeqo has fees for extra features that could be a dealbreaker for some users. For example, the Veeqo scanner is over $500. You'll also be charged an additional fee to integrate your account with QuickBooks inventory management.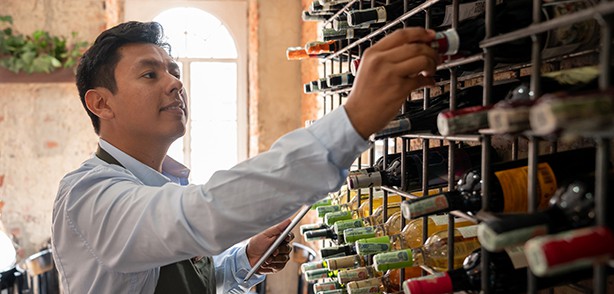 Fishbowl 
Designed to improve inventory management efficiency, Fishbowl is used by high profile users like Nasa, the U.S. Army, and Mercedes Benz. If you're looking to integrate QuickBooks, Fishbowl is the top Manufacturing and Inventory Management Software for doing so. 
Pricing:
This software starts at $4,395, although you'll need to call for a custom quote. 
Pros:
Fishbowl offers a 14 day trial. With their free web demo, you can ask important questions before purchasing their software. 

With their 100% Satisfaction Guarantee, you can receive a full refund if you aren't satisfied with the product. 

In addition to the software itself, Fishbowl provides training courses and customer support. The Fishbowl team is available via live chat, email, and phone calls.
Cons:
With prices starting at $4,395, Fishbowl is one of the more expensive inventory management system options. 

Fishbowl's features might be too extensive for small business owners with a small amount of inventory.
Ordoro
Ordoro works to make the user inventory management experience cohesive by integrating different software with their own. Sales channels, shipping accounts, and accounting tools can all be used in one place with Ordoro's integration system. They place the emphasis for inventory tracking and management on syncing and automating for a simpler customer experience. 
Pricing:
Pros:
Get alerts when you're low on inventory and at the reorder point with their automated inventory feature. 

The backend of Ordoro has analytic features which allow users to track metrics and compare them using QuickBooks and Xero integrations. 

Ordoro works with leading shipping carriers to offer top service to their users. Their carriers include UPS, FedEx, USPS, Amazon and DHL. 
Cons:
The difference between the Pro and Enterprise packages are significant. Their top tier includes API access, inventory allocation, advanced shipping, supplier integration, and workflow customization.

Although their entry level "Express" plan is inexpensive, its features are limited compared to other entry level inventory management plans. 
Cin7
Cin7 divides their inventory management software features by automation, integrations, warehouse management, and point of sale. By centralizing inventory information and focusing on location of distributor, their software aims to simplify the user experience. Cin7 issues dashboard-style reports to track your business growth and progress. They provide three different pricing tiers for businesses.
Pricing:
This software price starts at $299 a month and increases with extended features. Talk to a representative to get your price.
Pros:
Before purchasing a plan, you can book a 15 minute appointment to get a demo of the software. 

Cin7 offers a free trial, which allows you to shop around for other services while trying their software. 

Cin7 has specialized inventory management software for a number of industries, including Fashion, Food and Beverage, Electronics and Furniture. 
Cons:
You might be required to pay additional charges for customer service features that are free for other software systems. 

Other software options with similar price points offer more program integrations. This makes the programming only as valuable as the programs it supports. 
Regardless of which inventory software management software you select, make sure the program is serving your business. Any software you select should be paying for itself by saving you money, making your workload lighter, and achieving business growth.
If you liked the tips in this article, sign up for our email newsletter to get more business advice!
[cta-newsletter]