February 01, 2020
5 Best Budgeting Software Options For Small Businesses
In this post, you'll learn why budgeting is crucial to growing your business. We'll also cover the advantages of budget software and the best budgeting software options available.
When Your Business Is Growing, Budgeting Is Crucial
Any qualified financial planner will recommend creating a budget for your home finances. The same applies to businesses, too. A budget is a plan and helps keep companies on track with their financial goals. When business owners don't use a budget, they'll struggle when cash flow problems occur. Cash flow shortfalls will make it difficult for businesses to operate in a normal manner. Small business owners can benefit from
having a budget
, too. These businesses may feel it's too much effort to maintain a budget since the company is small. However, most businesses want to expand, and having a budget will help manage that growth. Having a budget may help businesses in subtle ways. For instance, a well-managed business will attract investors and capital. A budget shows these investors that you're serious about managing your business. Budgets can also appease investors and other key personnel in your company. Companies that provide you with funding want an assessment of how the company is doing. When you present them with a detailed budget, they can suggest adjustments as needed.
Budgeting: The Advantage Of Technology
Budgeting technology allows businesses to create what-if scenarios. These prove useful when planning for the growth of your business. You can test these scenarios and determine where you'll need to allocate capital. What-if scenarios can be extended to provide forecasts. When you create a scenario that aligns with your assumptions, you can use the data to project your financials. Using software for budgeting can also help you compare actual results against the budget. The software lets you create reports with helpful tables and graphs. This helps you analyze the differences and make future adjustments to your budgeting process. When the budgeting solution includes sharing with team members, your projections per department will be up-to-date. The teams enter their budgets, and you can run a report to track these entries. Before team solutions, analysts had to reconcile spreadsheets. When using technology for your budgeting, you can create categories and tags. These let you classify your spending and income into buckets that make the most sense for your business. Most budgeting software integrates with other systems businesses use. This may include banking, bill pay, and invoicing. Technology for budgeting encourages people to continue using the solution due to its time-saving features.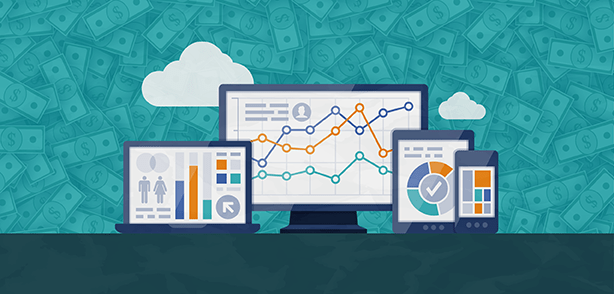 5 Best Budgeting Software For Small Business
Several
accounting software companies
are including budgeting features, which makes selecting the right package more complex. These packages often have similar features, but some may exclude features that could be useful for your business. The following sections describe the best budgeting software for small businesses. Three of the packages are part of a suite of accounting software, while the other two are standalone packages. Learning about the features of each will help you choose the right solution.
1. QuickBooks
If your business has been operating for any length of time, you likely know about QuickBooks solutions. It's one of the earliest accounting packages to emerge and continues to be a strong player. The company updates its product offerings frequently, and budgeting is part of that list. The budgeting module in QuickBooks allows you to create several reports. They include overview reports and comparisons. The comparison reports are further broken down by periods, depending on how you want to view the data. You can also view graphical representations of your budgets. When preparing your budget, you can enter data manually or use amounts from previous years. QuickBooks Online offers a budget wizard, which simplifies the process of creating your budgets. You can align the budget with your company's fiscal years and view the data by year, quarter, or month. If you need help creating a budget with QuickBooks, the company has a
useful article
on the topic. It describes the steps you can take to create your budget properly. Once you create your budget using these tips, the article describes how to use it.
2. Mint
Mint is a free financial solution. The service is geared towards individuals, but small business owners can use it as well. In fact, the company
published an article
that describes how Mint can be used for small businesses. The appeal of Mint is it helps users consolidate their finances into one place. It can be used for creating budgets, paying bills, and checking your credit score. The company claims to help you save money by displaying the latest financial offers. If you're looking for attractive financing rates or other offers, this could be useful. It's advertising, however. Mint is owned by Intuit, which is the same company that owns QuickBooks. If you're concerned about security, the company assures that it's safe and uses techniques that meet industry standards. If your financial institution determines that Mint was the cause of any problems, however, they could deny any claims you submit. This is true for all solutions that you integrate with your financial institutions. Mint
advertises in the software
to users and sells aggregated data to other companies. This is how the company generates income. Mint doesn't have accounting features, and the reporting aspects are not robust.
3. PlanGuru
PlanGuru
is a financial reporting solution that has budgeting as a core feature. It isn't an accounting package, however. The software imports data from other packages, such as QuickBooks and Xero. As budgeting is a main component of the software, the features are robust. The company states that it offers high-end features without the high cost. Within the software, users can click on video tutorials of each section. The videos pop up as a separate window, and when completed, the interface continues where it left off. This feature helps reduce the confusion when using the solution. Users can create analysis modules from existing modules or start from scratch. Functions for analysis include budgeting, forecasting, and strategic planning. The software allows users to categorize entries, and the categories can be rolled into groups and classes. One of the strongest features this package offers is the ability to create cash flow forecasts from balance sheets and income statements. This function helps with strategic planning and what-if analysis. On
Capterra
, reviews for the software are mostly positive. One user has been a fan of the software since 2003. Another user thought the software was good but wished the linking process was faster.
4. Sage 50
Sage 50
is a full accounting solution that includes a standard budgeting module. It also includes advanced budgeting functions as part of a package upgrade. The lowest-priced tier is $299 per year. Discounts are sometimes available via coupon codes, however. If your business requires forecasting budgets, you'll need to upgrade to a higher tier, which is $469 per year. Forecasting is part of the advanced budgets module, as is reporting by department. The Sage 50 solution got its start as Peachtree Accounting after Sage Group acquired Peachtree in 1999. Peachtree existed before most accounting solutions, even QuickBooks. The software has been criticized for its
dated interface
. However, the budget module is easy to use. It allows you to enter budgets for each category and you can apply the same dollar amounts for each bucket. Microsoft Office 365 users will appreciate the seamless integration with Sage 50. The company does charge for this feature, though. The overall prices for this solution can be steep for small businesses. The company offers training via its
Sage University
. There's no indication from the company whether it charges for access to this training.
5. Xero
Xero is a full accounting package that is known for its simplicity. The company doesn't charge based on the number of users, which is attractive to some business owners. The company bundles its budgeting solution under the category of
financial reporting
. You wouldn't likely choose Xero when you're looking for budgeting features alone. However, if you already have Xero as your accounting solution, the financial reporting should satisfy your budgeting needs. If you own a startup company, Xero has a
great guide
that details how to create a budget. This could be used for existing businesses, too. It's one of several guides the company provides to help your business with its accounting and financial operations. If your company hasn't chosen an accounting package, Xero is a good solution for many small business owners. You may have the financial reporting as part of the package. The solution integrates with Gusto payroll service, which may or may not be useful for your business situation. Xero's pricing is affordable for startup companies, but isn't clear whether financial reporting is included with the cheapest price tier. The
reviews for the software
are positive overall. Many of the reviewers feel the solution is attractively priced.

Our Favorite Option
Our favorite option is QuickBooks due to the company's history and the continued integration of financial functions. Intuit products are a favorite
among accountants
, and can streamline the process for your tax returns. In addition, it can possibly save you money on accounting fees. If you aren't ready for a full accounting solution, QuickBooks may not be the right solution for you. However, if you choose QuickBooks, you're not likely to go wrong with it. You'll find it has the functionality that your business needs and supports growth.
At Fora Financial, we provide high-quality articles and resources to help business owners succeed. Sign up for our newsletter to receive these resources when they're published.
[cta-newsletter]