January 24, 2019
How to Run a Successful Restaurant Catering Business
Of course, taking on this business venture will also require that you have enough financing, staff members, and 
equipment
 in order to flourish. Before you start advertising your catering company, you should review your business plan and be aware of the expenses that come with starting this type of business. That way, you can be confident that you're ready to successfully serve customers. In this post, we'll review eight ideas that you should consider implementing prior to starting a catering business.
8 Catering Tips Your Restaurant Should Consider:
1. Hire Enough Staff Members
In order to run a small catering business while maintaining your restaurant operations, you'll need plenty of experienced food-service professionals on your staff. Due to this, you may need to hire extra employees that will work solely in your catering division. Although you may be hesitant about spending more of your business's finances on recruitment costs, it will benefit the long-term 
success of your catering services
. Being understaffed could make your company less productive, and you won't be able to properly serve your clients. When you begin the recruitment process, make sure that you hire employees to tackle various areas of your catering operations; scheduling, food preparation, set up and take-down, and other tasks.
2. Market Your Catering Services
If you have loyal customers who frequent your restaurant, make sure they know about your new catering options! Chances are, your first customers will be people who are already familiar with your restaurant's cuisine and service. After that, update your website, 
social media profiles
 and other platforms to reflect your catering options. This way, patrons searching for catering services will be able to easily locate your business! Also, make sure you tell your existing customers to tell their friends and family about your catering options. You may be surprised at how many referrals you get from word of mouth!
3. Meet with Customers
Prior to catering events, schedule a meeting with each customer. This way, you'll be aware of their expectations, and any special instructions they may have. You could even use their home kitchen to prepare samples so that they can taste options prior to their event. Customers will appreciate this gesture and will appreciate the personalized service. Plus, making each customer feel like their order is important could guarantee their business in the future.
4. Follow Health and Safety Regulations
Since you may be transporting uncooked food prior to an event, you must ensure that you follow all safety guidelines. For example, different types of food may require additional coolers or other precautions (such as raw meat). Make sure that your business adheres to health department regulations, correctly handles food and equipment, and has necessary business licenses. If your entire staff is trained to perform according to these standards, you won't have to worry about putting an employee or customer at risk.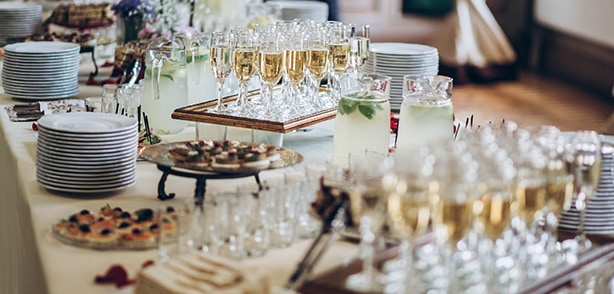 5. Partner with a Transportation Business
Support a fellow small business owner by hiring them for your transportation services! Your restaurant catering services will require a spacious vehicle that will have enough room to transport food, utensils, and potentially furniture like tables and chairs. You may require additional items, depending on the type of catering business you run. If you'd prefer to purchase a vehicle, make sure that you have the funds to pay for the upkeep! This can be a costly investment, so it may make sense to apply for a business loan (we'll discuss this more later in the post)!
6. Collaborate with an Event Planner
Another partnership that you should pursue is one with a local event planner. This individual will likely need a caterer for their events, so you could get increased sales by forming a partnership with them. Plus, you may get the opportunity to cater special events, such as weddings, sweet sixteen parties, or bar mitzvahs, that you wouldn't get the opportunity to cater otherwise.
7. Have Plenty of Space
Even if you have a large commercial kitchen for your restaurant, you may need additional space for your catering services. You don't want your catering staff and restaurant chefs to be cramped, as this could affect both parts of your business. If there's demand for your catering services, you might want to consider moving to a home-based catering business or renting another separate space. This will depend on how large your business gets, but it's something you should certainly consider as your catering services grow.
8. Apply for Alternative Financing
Start your catering business off strong by applying for additional working capital! With 
extra business financing
, you'll be able to afford the extra costs that come with offering new restaurant services. Maybe you don't have enough money to purchase a catering vehicle, or you're in need of financing to purchase coolers and other necessary pieces of equipment. By 
receiving a restaurant loan
, you'll be able to confidently run your restaurant catering business.
Conclusion: Invest in Your Catering Business
Now that you've read these catering tips, your catering business can hit the road and focus on feeding your hungry customers!
Editor's Note: This post was updated for accuracy and comprehensiveness in January 2019.