June 29, 2022
Real Estate Business Loans: How to Apply and Use Funding
As a result, real estate business owners often leverage
small business loan programs
to manage their unpredictable cash flows. Or, they utilize funds to make strategic investments in their real estate business that they wouldn't be able to afford otherwise.
Although you might be hesitant to take on business debt, a term loan may be the boost you need to get your real estate business off the ground. Without additional financing, starting or growing your business may be challenging.
This blog post will explain why real estate business owners benefit from business financing, how to apply, and how you can use funds.
How to Secure and Use Real Estate Business Financing:
Why Real Estate Companies Benefit from Business Loans:
Start-up costs can range between
$10,000 and $150,000
, depending on the type of business entity that you're starting and its location.
Typically, new business owners in the real estate industry need to afford costs such as:
Website costs

 

Branded materials

 

Necessary business licenses

 

Utility bills

 

Office space

 
As an established business owner, you might need a business loan to help
bridge gaps
in cash flow when projects are stalled or housing prices unexpectedly drop. Ongoing expenses that existing business owners face usually include:
Rent and utility bills

 

Employee salaries

 

Advertising costs

 

Insurance

 

Real estate investments

 

Technology advancements

 
Suppose your real estate business is already successful. In that case, you may decide to secure a loan to fund an expansion project. These projects include acquiring another firm, hiring more employees, or remodeling your office.
Real Estate Agent Business Loan Options:
There are two primary financing options to consider if you're interested in taking out a real estate business loan. They include:
SBA Loans
The U.S. Small Business Administration (SBA) provides backing on loans to incentivize banks and other lending institutions to underwrite loans to small businesses. Their options include SBA 7(a) loans, SBA 504 loans, and Disaster Assistance options.
An SBA loan can be an excellent option for financing your real estate business. These loans often have higher borrowing limits — the maximum amount for 7(a) loans is
$5 million
— and long terms. However, they can also be more difficult to obtain without a strong credit history. In addition, you'll need to prove that you haven't been able to qualify for traditional financing options.
It's important to note that SBA 7(a) loans can be used to buy fixed assets or obtain working capital for your business. However, this loan option can't be used to invest in real estate projects.
Alternative Financing
Alternative lenders and non-SBA-backed bank loans are also good options, especially when you don't require significant capital. While private loans may be easier to obtain in many cases, they also typically come with higher interest rates and more restrictive payback terms. However, many money loan providers are out there, so be sure to conduct research before applying!
In addition to these two standard financing options, there are other ways your real estate company can acquire working capital. For example, you can apply for a business credit card, pursue a line of credit, or ask family and friends for funds.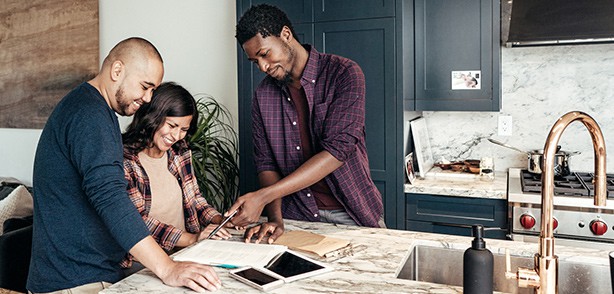 How to Apply for a Real Estate Business Loan
Applying for a
service business loan
can be a lengthy process and often requires you to provide significant documentation to the business lender. Many business owners find the loan application process daunting, but it doesn't have to be!
The basic steps you'll need to follow when applying for a real estate agent business loan are:
Review Your Personal and Business Credit Scores

: If your business is less than three years old, the business loan lender will likely evaluate your personal creditworthiness. Therefore, before applying, you must confirm that you meet the lender's minimum credit requirements.

 

Determine How You'll Use Your Loan Amount:

While this may seem like a given, you should be able to explain how you'll use the loan amount to your lender. If you plan to use your loan for a cost restricted by the lender, your application will be declined.

 

Prepare a Thorough Business Plan

: The working capital lender will use your business plan to help determine your ability to repay the loan. It'll also show the lender what assets you have available to use as collateral, if necessary.

 

Review Your Application and Submit It:

Once you ensure that all information on your application is correct, press submit! Then, be sure to answer any questions your business lender has as they review your loan application.

 
In addition, if you're applying for an SBA loan, consider visiting your local SBA office so they can help you navigate the application process. Although other lenders typically don't have in-person offices, they should have a phone line or email address that you can use to ask questions.
Conclusion: Evaluate Your Real Estate Business Financing Options
Before applying for a loan for your real estate business, you should ensure that the profit you expect to make exceeds the cost of the loan. That way, you can be confident that you'll be able to utilize the funding correctly. Then, once you've invested in your real estate business, you can repay the loan program on time.
Since the real estate industry can be unpredictable, you may want to run several scenarios and evaluate the various outcomes. Although it may seem obvious, the last thing you want as a small business owner is to take on debt you can't afford to pay back.
If you can't afford to make monthly payments, don't be afraid to ask your lender for help. The best business lenders will happily work with you and ensure you have the right loan term.
Editor's Note
: This post was updated for accuracy and comprehensiveness in June 2022.