September 29, 2016
5 National Coffee Day Pick Me Up Tips
Other coffee shop patrons may care about ambiance, and use your space as a place to relax or complete work. But let's be real, your customers may not be the only ones in need of a pick me up! Could your coffee shop use a revamp? If so, then it may be time to review your coffee shop business plan, and determine if there are changes that need to be made. It's
National Coffee Day
, so why not brainstorm some coffee shop ideas? This post will give you the jolt you need!
5 Ways to Use a Loan to Grow Your Coffee Shop
1. Dress Up the Décor
Your décor should reflect your coffee shop's vibe. If it is currently underwhelming, consider investing in improving your business's space. Update signage, spruce up your menu's design and buy new furniture. Of course, make sure that any updates you make reflect your business's brand. Make your coffee shop somewhere that you would want to hang out! If the interior isn't inviting, chances are patrons are going to find somewhere with better ambiance.
2. Amplify Your Options
Accommodate your on-the-go customers, in addition to creating a relaxing atmosphere for patrons who want to enjoy their coffee in-house. Provide durable to-go cups, but also offer sturdy options for customers who are dining in. This also goes for your menu, could you add more items? By expanding your menu, you'll likely drive more revenue, and give customers a reason to purchase more when they visit your establishment.
3. Sing and Sip
Another way to bring in more customers is to invite a local band or singer to perform at your coffee shop one evening a week. The musician will be thankful for the opportunity, and you'll have a new event to market to your customers. Of course, this shouldn't be an everyday occurrence, since some customers may just want to relax at your shop when it's quiet, and you likely won't want to pay a daily performer.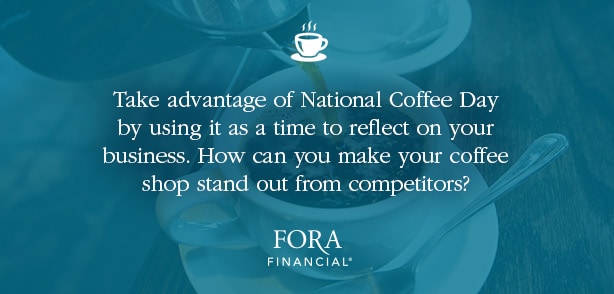 4. Hire a Super Staff
You may not always be around to oversee every aspect of your coffee shop, which is why you should
hire independent individuals
who can handle various situations. These employees should be able to interact with customers, open and close the store, prepare food and beverages, among other tasks. Don't have enough money in your coffee shop business plan to pay for hiring? Consider applying for additional
working capital from a lender
, so that you can invest in capable staff members.
5. Be Socially Savvy
Frequently updating your coffee shop's social media profiles will allow you to reach new customers, and connect with existing ones. But don't just stick with the status quo! For instance, in honor of National Coffee Day, write a blog post about fun facts about coffee, and share it on your Facebook page. Or maybe you could tweet an offer, where customers that visit your shop on National Coffee Day get a free small coffee with any purchase. If you're active on Instagram, ask patrons to tag your business's page in pictures they take at your establishment. This is a great way to get free publicity, and strengthen your customer relationships!  There are many
social media strategies to try
, so start implementing them into your marketing plan.
National Coffee Day: Invest in Your Business!
Take advantage of National Coffee Day by using it as a time to reflect on your business. How can you make your coffee shop stand out from competitors? With these coffee shop ideas it is likely that you will see a boost in both sales and customer satisfaction.