November 07, 2019
Accounting Software for Small Business: Reviews and Ratings
As a business owner, you probably don't have time to enter manual transactions and chase down entries from handwritten accounting books. However, the choices for accounting software are numerous, which can be confusing for business owners. 
Further, many small business owners aren't accountants, which makes choosing a package even more daunting. It can cause even the best businesses to avoid the selection process altogether. 
If you're faced with this situation, Fora Financial can help by describing the best accounting software for small businesses, which is the subject of this article.
Choosing The Best Accounting Software for Small Business
The competitive nature of accounting software for small business drives the prices of such software down. While this may be great for budgets, business owners become inundated with feature selection. Our analysis can help by narrowing the selection process down to the choices that make the most sense for our readers. 
No software solution will match 100% of the needs of any business. But, you can come close with your selections when you have a good subset at your disposal. It then becomes a matter of selecting the choice that matches your situations as closely as possible.
Intuit QuickBooks Online
The QuickBooks name carries a lot of weight in the business world. It is one of the pioneers of accounting software and is often a favorite among accountants. It was released in 2002 as a successor to Quicken software but geared towards business owners.
QuickBooks Online
is a complete small business finance software that has modules for payroll, inventory management, payment processing, and many other functions. It tends to be at the higher end of the price scale. However, it offers a tiered-pricing structure that allows most businesses to find an acceptable solution, with room to grow.
Reviewers on Capterra
rate the company at 4.2 out of 5 stars. Most users agree that QuickBooks Online offers a complete package with seamless integration. However, one user mentioned that there's no flexibility with the software and that businesses must conform to the QuickBooks way of doing things. The reviewer stated that the company doesn't seem interested in making changes in this area. For example, according to the user, when trying to incorporate credit card processing, Intuit forces you to take extra steps and may take functionality away from the software. Overall, this user is happy with most of the features of the software and is an active user.
FreshBooks
FreshBooks
is a cloud-based accounting solution that caters to freelancers. With the gig economy growing, it's no surprise this solution is growing in popularity. The software offers functionality that's perfect for self-employed individuals. It handles invoicing, time tracking, and collaboration with other contractors.
Business owners can use the basic version for tracking expenses, online credit cards, up to five clients for invoicing, as well as estimates for projects. The higher-tiers provide advanced functionality, including double-entry accounting reports, automated recurring invoices, scheduled late fees, and more.
Capterra reviewers
rated the solution
at 4.5 out of 5 stars. One reviewer stated that as her business grew, she found tricks within the FreshBooks software that accommodated that growth. Another reviewer felt the solution was useful but that he wasn't fond of the timer that starts before entering tasks to be timed.
Wave
Wave
charges no upfront fee for its accounting software. The option of having a free accounting software solution makes this an attractive solution for small business owners. However, it does have add ons that come with fees.
The free functionality includes invoicing, accounting, and receipt scanning. If business owners want to use credit cards with the platform, they'll be charged a percentage of the transaction plus a flat fee ($0.30 at the time of this writing). Bank payments are also charged at a fee of one percent. 
Most
reviewers on Capterra
agree that it's tough to beat the price for Wave. The average rating is 4.4 out of 5 stars. Some users feel the company should not release updates as frequently as it does, as this can disrupt their business processes. Changes are unexpected, which can cause delays in the operation of the software.
Sage 50cloud
Sage 50cloud is arguably the most expensive option on this software solutions list. It's a complete accounting package that may be right for medium-sized companies. It may be beyond the reach of smaller companies both in terms of price and features.
Sage 50cloud
can integrate with Microsoft Office 365. The reporting module offers a real-time dashboard with advanced financial reporting features. All pricing tiers include ePayments, bank reconciliation, and advanced intelligence reporting. The price for the lowest-tier is over $50 per month, which is for one user.
The
reviewers on Capterra
rated Sage 50cloud with an overall review of 3.8 out of 5 stars. One reviewer, who is an accountant, believes the software is geared towards accountants, which he listed as a positive aspect of the software. Other users felt that updates could break the software, which can cause problems during critical payroll functions.
Xero
Xero
is a cloud-based accounting software solution that comes complete with customer support on their mobile app. The solution isn't limited by the number of users, which makes it perfect for small businesses with multiple employees. 
The tiered-pricing structure allows business owners to contain costs, using only the features they feel are needed. Additional features can be added later. 
The software doesn't have a payroll module, although easy integration with Gusto is provided. That could be beneficial to users who don't currently use a payroll system but are planning to add one in the future. It could also be helpful to businesses already using Gusto. 
It may not be optimal for companies that use other payroll software as it is not apparent from the website if the software supports these alternative solutions. Xero does offer a special deal to sign up for Gusto, however.
Reviewers on Capterra
rated the solution a 4.3 out of 5-star rating.
Zoho Books
Zoho Books
is an affordable accounting software solution for businesses. This cloud-based software supports two users at the starting price of $9 per month. Users can be added on an a-la-carte basis, or businesses can choose to select a higher tier for more users.
The software is one of the easiest to use among the choices in this article. Users find the interface intuitive without the need to learn complicated accounting techniques. Zoho has other software solutions such as CRM Plus, and Workplace, that integrate seamlessly with Zoho Books. When businesses are ready to expand and need these different software packages, Zoho Books will be a natural fit for the accounting functionality.
Zoho Books has no integrated payroll module in its software. This will require business owners to find a third-party solution and work out the details of integration. However, one reviewer on Capterra suggested that it is not difficult to accomplish this. The overall
reviews on Capterra
rated Zoho Books at 4.4 out of 5 stars. 
GoDaddy Bookkeeping
Perhaps the two best features of
GoDaddy Bookkeeping
are its integration for eCommerce and its price. The solution integrates with Amazon, Paypal, eBay, and Etsy. The highest-priced tier for GoDaddy Bookkeeping is $14.95 per month, which includes all the features the solution offers.
The solution doesn't appear to be popular enough at the current time to be featured on Capterra. One of the few legitimate review websites that did feature the solution is
PC Magazine
(PCMag). Overall, PCMag rated the solution as Good and think that it's excellent for people who sell on platforms such as Amazon and eBay, but it lacked the features included in FreshBooks. 
Kashoo
Kashoo
is an affordable accounting package that appeals to freelancers. It offers features such as invoicing and expense tracking. It also has bank reconciliation features, although a few reviewers on Capterra suggested that this is the weakest aspect of the software. These reviewers struggled with connecting to outside entities such as their banks.
The software offers attractive pricing for the functionality provided and seems to be one of the more straightforward packages in terms of setting up and use.
Reviewers on Capterra
gave the solution an overall rating of 4.5 out of 5 stars. 
The cost of the software is $19.95 per month, which includes all of the features. There's no restriction on the number of users that can be assigned to use the software. The company offers webinars on its website to help users utilize the software.
Do you need an invoicing solution for your small business? Fora Financial can show you how to
select the perfect solution
.
How to Determine The Right Software For Your Needs
After considering our recommendations, the next step is to select a solution that's right for your business. It's a combination of determining your needs, considering your budget, researching the features for each software package, and having a list of questions to ask the software providers.
Determine Your Needs
When determining your needs, consider the functions that your business performs regularly. If you have staff, payroll services will be necessary. If you send invoices to your customers, that would be a function to include on the list. The goal is to match your business processes with the software you are evaluating. 
Try and list as many of your business functions as possible. Listing them in a spreadsheet is a useful method when matching the functions to the software. If you forget any functionality, the features listed in the software packages can be a helpful reminder. 
Figure Out Your Budget
The solutions above are affordable to most small businesses. However, it's a good idea to set a budget. This will help limit the choices to only those features that are necessary. 
You could decide to increase the budget when you discover a function that you forgot to list previously. However, by prioritizing your business functions, you can find the right software package that fits within your budget. Most of the software packages have options to upgrade whenever your budget allows.
If you work with an accountant, you could ask for advice on which software to choose. Many accountants charge hourly rates, and using the same software may help streamline the services they provide to you. Saving money on accounting fees could make up for the added cost of the accounting software. It is also likely to reduce errors by both you and your accountant.
Research Features Required
Your list of business functions and budget will help you to identify the features required for your small business accounting software. You can use the spreadsheet created from your list of functions to add which software package includes the features. Once again, your accountant can help you with the selection process and can give you an indication as to which features are critical and which are optional.
An overlooked feature by small business owners is reporting. If you choose robust reporting from a software package, you'll have access to insight from your business. This can be a golden opportunity to improve your processes by analyzing the data that is generated from the software.
Ask Plenty of Questions
The previous tasks are likely to cause you to think about questions. It pays to write these down, which you can do as a separate worksheet in your spreadsheet. 
The critical questions are concerning the features of the software included with the price points within your budget. It's disconcerting to select a software solution only to find out the features you want are available as an upgrade. This will cause you to spend more than your budget allows for. 
Ask your accountant for questions that you should ask of the vendor. They will focus on the tax aspects of the software. However, other services provided by the software may help in keeping you compliant with federal and state accounting rules.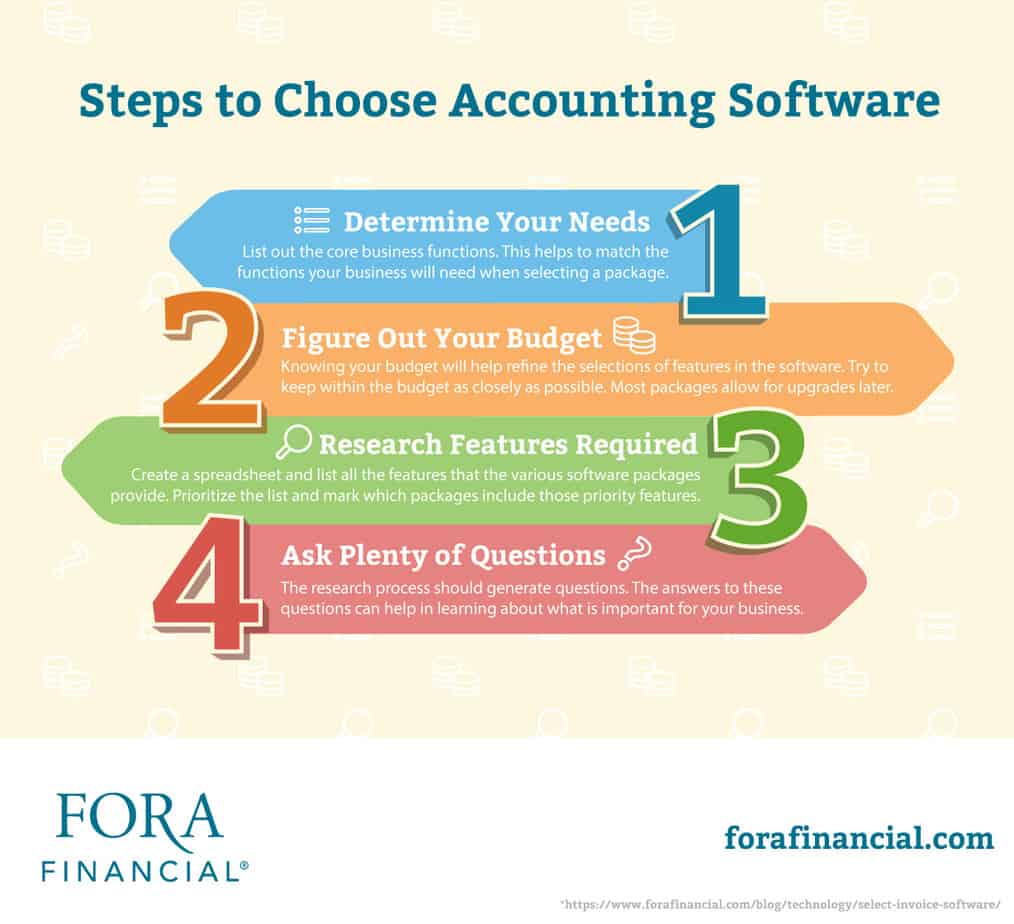 Share this image on your site:
Settling on a Solution Right For Your Small Business
With all the options available in accounting software for small business, you would think it would be easy to choose the right solution. However, the myriad of choices only serves to confuse the situation rather than simplify it. 
There will be trade-offs, no matter which solution you choose. Most of the solutions offer a trial period that can help when learning about the features included. However, it's hard to imagine you'll be able to "kick the tires" with the limited time given with a trial period. Software packages make it easier for businesses to manage their books, but it still requires time to set up the accounts and learn the system.
If you use an accountant, you can ask which solution makes the most sense for your business. It is possible to make the right choice without an accountant, though. The research you perform, along with the information in this article, should help you determine which is the right solution for your business.
Did you know at Fora Financial, we recommend several software packages to help small business owners? Learn more from our
Small Business Software Guide
. To take your business knowledge to an even higher level, why not subscribe to our newsletter
?