January 30, 2020
How to Find The Best Resources For Women Business Owners
In this post, you'll find resources on
funding assistance
, mentoring, online resources and more. Let's get started!
Funding Assistance for Women in Business
Female or otherwise, at one time or another, every business owner faces the prospect of raising money. With the multitude of financing options—each with various benefits and drawbacks—raising money can be overwhelming. This can be especially challenging when you're just starting a business, and the wrong choice can cause long-term ramifications to your business. In the following section, we'll highlight resources on government funding, grants for women business owners, and alternative funding methods for women (like small business loans). By the end of this post, you'll have all the educational resources you need to make yourself an expert on funding.
Government Funding Via The Small Business Administration (SBA)
Through the Office of Women's Business Ownership (OWBO), the SBA seeks to educate women business owners. One of their focuses is helping educate women of available government funding. Simply by
heading to OWBO's webpage
and browsing around, you'll find several useful resources on this topic. OWBO also offers award grants for women business owners through their Women's Business Center Grant Opportunities.
By following this link
, you can visit one of those centers to learn about grant opportunities. Another resource provided through the SBA is the
8(a) Business Development program.
This program grants special access and resources to economically and socially disadvantaged business owners.
Grants For Women Entrepreneurs
Whoever you are, the best place to start learning about grants for women business owners is
Grants.gov.
Grants.gov is a government website where you can access over
900 grant programs from 26 different federal government agencies.
In addition to being the access point for grants, the site also hosts the
Grants Learning Center
. There, you can learn everything you need to know about grants for women entrepreneurs, and for entrepreneurs in general. Another great resource is the National Institute of Health. Through their
NIH Central Resource for Grants and Funding Information
, you can learn about:
The basics of grants
The application process
Pre and post-award processes
Alternative Women-Focused Funding Methods
If you're not interested in government grants, alternative funding may be for you. Of course, with alternative funding methods come plenty of unique challenges. Backstage Capital, which has several great resources including a 
podcast about venture capital
and an
email newsletter
. Our
blogs on working capital
and other finance topics can also be a great resource for you. We cover topics such as business loans, business credit cards,
financing for nonprofit organizations
, and more. Offline, you can look for local, female-focused groups to join where you can learn from other entrepreneurs.
Resources For Mentoring and Guidance
Among the many challenges that business owners face is the challenge of finding a mentor. In the corporate world, you'll often have colleagues who can guide you, but entrepreneurs often find they have no one to turn to. Fortunately, just because you don't have a mentor doesn't mean you can't find one. In fact, there are plenty of mentorship programs and organizations—you just have to know where to look for them. Still, finding the right fit in a mentorship program can be challenging. In the following paragraph, we'll outline several tips for choosing the right mentor program.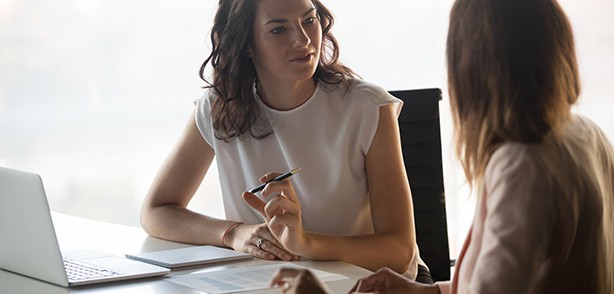 Tips For Finding Mentoring Programs and Organizations
If you haven't already, look for mentoring programs in your community. A simple internet search for mentorship programs or organizations in your city will surface plenty of options to choose from. For example,
Score NYC
is an organization dedicated to helping women find mentors. Working with an organization that is local helps make sure they understand your specific challenges. In addition, look into the programs and membership offered by the National Association of Women Business Owners (NAWBO). They have
several chapters throughout the country
, and NAWBO members have access to their mentoring programs. If you don't mind interacting remotely, another interesting mentorship-related organization is
MicroMentor
. This company actually connects virtual communities of mentors and mentees in a virtual community of entrepreneurs. You can search their database for specific types of mentors and find one that's a good fit for you. Finally,
there's 37 Angels
, which is actually an organization of female angel investors. However, 37 Angels is unique in that, when they invest in your company, they also connect you to mentors. The mentors they work with can help you a wide variety of things such as marketing and finance.
Online Forums and Resources
The best and worst thing about the internet is how easy it makes publishing educational content. On the one hand, you can learn just about anything you need to. On the other, it can be hard to know which sources to trust. Still, there's content out there that can truly transform the way you run your business. It's well worth wading through the mountains of not-so-helpful content to find the good stuff. Luckily, we've done some of that work for you by identifying several helpful message boards, forums, blogs, and articles. Here's what we found.
Message Boards and Forums
A great forum for female small business owners is the Reddit thread at
r/Entrepreneur
. Although the topics discussed apply to all business owners, they also address female-specific topics. Another similar resource is
Quora's Small Business
topic. There, you can browse through answers to questions posed in the past and ask questions yourself. Of course, while you have to take some answers with a grain of salt, there's plenty of good advice to be found. Lastly, discover great forums by searching for topics you're interested in and finding the forums that are talking about them.
Blogs And Articles
Like message boards and forums, you should find some great blogs simply by searching for the topics you're interested in. However, to make sure you start in the right direction, you should see this
list of great blogs for female entrepreneurs.
Another way to find the best blogs and articles is to check out the content of companies in industries you want to learn about. Often times, these companies will have great content because of their deep expertise. For example, HubSpot's Marketing blog is full of great insights for female entrepreneurs. Similarly, the software maker, Gusto blogs about many HR-related issues.
Women Business Owners Are On The Move
As previously mentioned, women business owners make up a large space of entrepreneurs in the U.S. They show no sign of slowing down. Still, part of what's fueled that growth is the fact that women have been so willing to learn from and collaborate with others. We can't afford to stop learning, especially considering how fast the world changes. So let's keep up the momentum, remain on the move, and stay hungry to learn. One final tip to find even more high-quality resources for women business owners is our newsletter. Sign up for it today and receive regular updates with the latest small business tips. [cta-newsletter]