September 08, 2017
Small Businesses: Time is of the Essence for R&D Tax Credits
If you haven't heard about R&D Tax Credits, you're not alone, but you could be seriously missing out on a cash savings opportunity.   After 35 years in existence, the R&D credit was permanently extended as part of the Protecting Americans from Tax Hikes (PATH) Act of 2015. The incentive is not just for big businesses!  With permanency came thoughtfully designed enhancements with small businesses in mind for Tax Year 2016, including offsets to alternative minimum tax and payroll tax. Yes, you read that right, payroll tax offset. Regardless of profitability, the new addition to the code allows for eligible companies to receive a benefit for their research activity expenditures by electing a Payroll offset (employer FICA social security portion).  An eligible company can claim a maximum benefit of $250,000 against payroll taxes each year under the new law. You might not know this, but your small business pays 6.2 percent on every employee in FICA Social Security taxes. That's $6200 for every $100,000 spent!
How do I know if my business qualifies for R&D credits?
Research and development (R&D) refers to the investigative activities a business conducts and spends each year to develop new or improved products or procedures. The R&D Tax Credit is available to any company that designs, develops or improves its products, prototypes, processes, techniques, inventions, formulas or software and must be fundamentally based in the sciences (i.e. computer science is A-OK, tech startups!).
What qualifies as an R&D Expense?
Your R&D expenses will include any of the following your business spends on an annual basis:
    W-2 wages paid to U.S.-based employees who worked on R&D projects
    Wages paid to U.S.-based contractors who worked on R&D projects
   Supplies used in R&D projects
The best part is the incentive rewards small businesses on expenditures that they are already paying, resulting in rewarding ROI.
Why didn't my CPA tell me about this?
Time: The R&D Credit has qualitative requirements that can be too time-consuming for an accountant that has many other line items to perform for each of their clients.
Complexity: The tax code changes from year to year, which often puts a CPA in a difficult position to ensure they are relaying the correct information to the appropriate clients.
Expertise: The accountant hasn't yet found a third-party specialist to help their eligible clients maximize their opportunities.
Price: Because documenting and analyzing the information needed to calculate and substantiate the credit is intensive, price can outweigh benefit for client if not efficient.
How can I determine my opportunity?
The majority of companies claiming credits can expect to receive 5-10% ROI for their R&D expenditures. There are specialty R&D Tax Credit providers that work in conjunction with your company and accountant and most offer free assessments of your opportunity. Once you've found a provider, it's always a good idea to loop your accountant into your plan to pursue credits to make sure they know to include it on your company's tax return for filing.  Most of the time, that first example ($6200 in tax for $100k spent) can we wiped out entirely!
We know it's a lot, so here's a recap for our visual learners: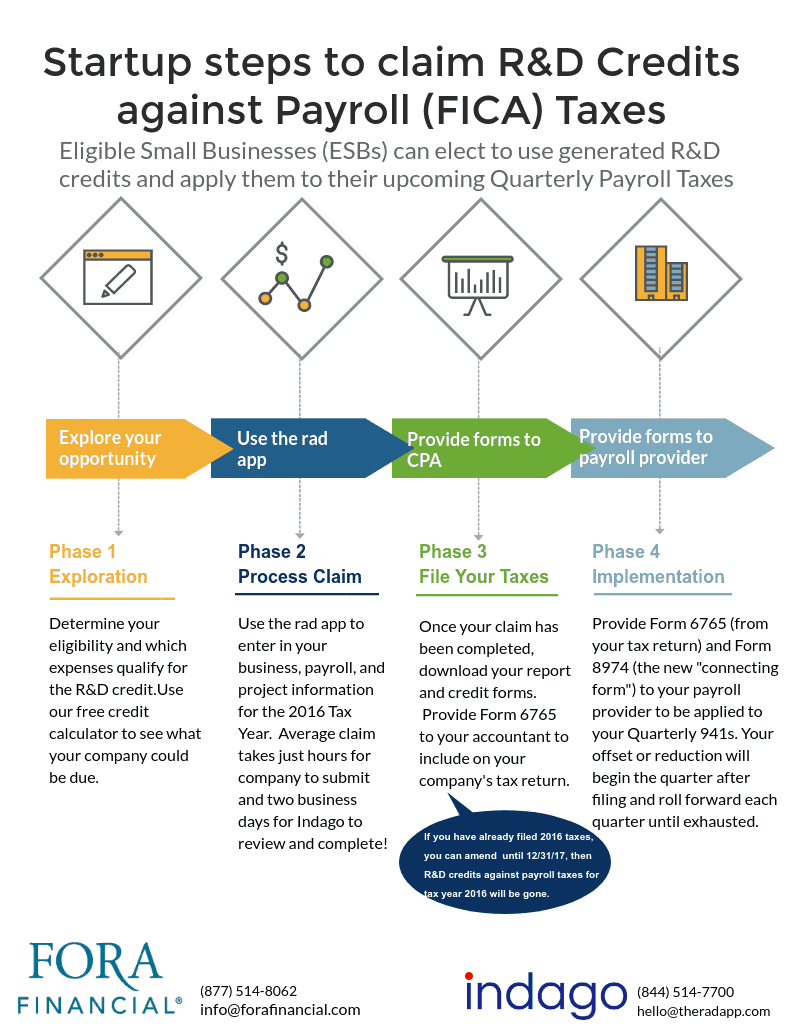 Ultimately, small businesses are in a better position than ever before to reap the R&D tax benefits the IRS has enhanced within the code. Whether or not you decide to pursue the credit this filing, the incentive is a
strategic tax planning
tool and an item to consider as part of your company's yearly tax planning.  It could be the difference of freeing up ten of thousands of dollars each quarter, so be sure to check what you could be due!