August 31, 2018
4 Things We Learned from ShopKeep's 2018 Small Business Pulse
In this post, we'll review four insights we gained from this year's edition of the Small Business Pulse. As you read, it's important to note that those surveyed were a mix of retail, quick service restaurant, full-service restaurant, and hybrid business owners.
What We Learned from ShopKeep's Small Business Pulse:
1. Cash Flow is Still an Issue for Business Owners
Studies in the distant and recent past
have shown that, when small businesses fail, it's usually because of cash flow. The Small Business Pulse proves this, as their survey found that 49 percent of small business owners consider 'Maintaining Profitability' as their primary business challenge.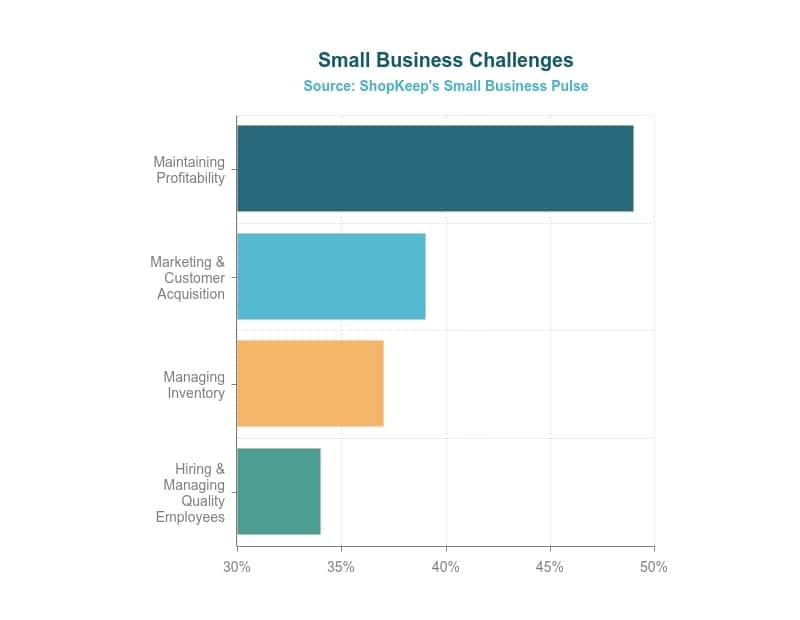 At least part of the reason for this is the long payment cycles that small business owners typically endure. According to
a Fundbox study
, 64 percent of small businesses wait longer than they originally agreed to for payments. This puts incredible stress on business owners to manage short-term cash flow fluctuations. One way you might avoid this pressure is to consider short-term working capital, inventory, or invoice financing.
2. Growth is More Important than Expansion in 2018
The
Small Business Pulse reports
that just 23 percent of small business owners are looking to expand, while 88 percent are focused on increasing sales. Considering the profitability and cash flow challenges mentioned earlier, it makes sense that business owners are focused on growing sales in their existing stores rather than expanding. You might see this as an indication that entrepreneurs are struggling to raise the cash they need to expand. However, consider that, in the run-up to the Great Recession, the huge demand for new retail, and other types of real estate, led to over-construction. This over-construction has caused
construction loan
default rates to balloon to 10 percent in 2008, which is about seven times what it is today. In other words, rather than a sign of a struggling small business industry, the focus on "growing in place" could be an indication that owners are taking a sustainable approach to expansion. Ultimately, that will be a good thing for both small business owners and the economy at large.
3. Most Business Owners Raise Capital for Inventory
When asked what they'd like to use capital for in 2018,
the most common answer
was inventory at 19 percent. That was followed by expansion (17 percent), marketing (15 percent), and equipment (11 percent).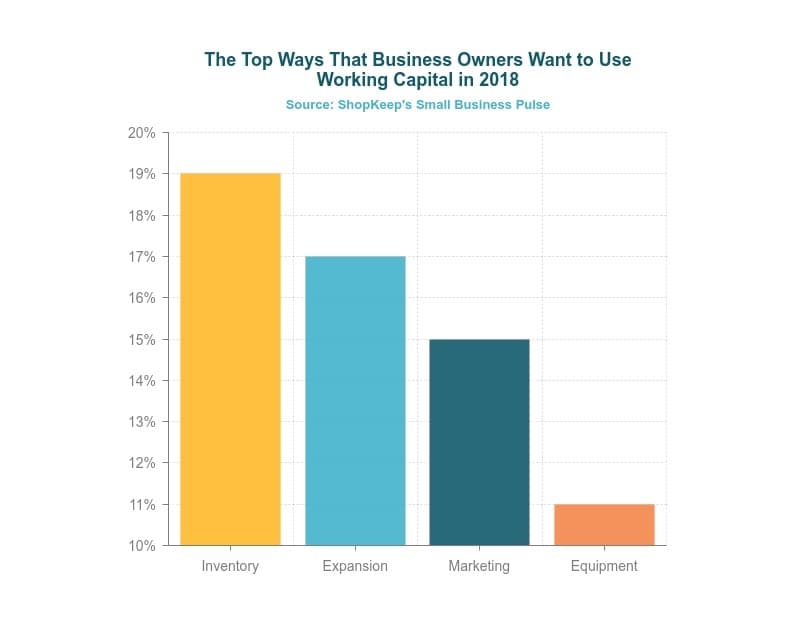 Again, the common theme of challenges to maintaining profitability is apparent in these numbers. More inventory supports higher sales volumes, expansion grows the sales base, marketing drives demand, and equipment drives production. However, about a third of business owners say accessing capital is difficult, another third claims that it's not difficult, and the rest say it's neither easy nor difficult. Since inventory and equipment funding is generally less restrictive, we suspect that many of those who said accessing capital was difficult aren't aware of all their financing alternatives.
4. Other Big Challenges: Marketing, Inventory, and Staffing
Besides maintaining profitability, the three most common challenges were related to marketing and customer acquisition, inventory management, and hiring and managing quality employees. Two of these challenges — marketing and staffing — fall in line with two of the three key goals identified by small business owners: improving marketing performance and improving in-store customer experience. Maintaining profitability still dominates as the primary goal. However, the fact that entrepreneurs want to increase sales doesn't really tell you
how
they plan on doing so. The fact that 61 percent of owners want to focus on marketing or customer experience suggests that entrepreneurs have identified these as two of the most important tactics for increased sales.
Conclusion: Small Business Success Comes Down to Capital
In small business, there are no magic tricks. It's the nitty-gritty: managing inventory, cash, staff, and capital investments that drive long-term success. Trends and market changes may take hold temporarily, but these principles hold fairly steady. This report reinforces that idea. Still, your business is unique. Trends that apply to small business owners in general may not apply to you. Remember that as you think through what these takeaways might mean for you to help inform your decision-making process in the months and years to come.