January 24, 2020
How to Optimize Invoice Payment to Free Up Valuable Time
act, you might even be able to get your payments in advance!
There's No Thrill To The "Get Paid" Chase
Cash flow
is crucial to all businesses. When you don't get paid on time, it can cause problems with your cash flow generation, which can in turn interrupt your business.
Sometimes, the problem can boil down to the wrong contact information or the wrong contact person paying the invoices. When this happens, you'll have to dig to find who is responsible for paying.
In some cases, stepping up your collections efforts is the only option left. You may decide to send letters or even to employ an agency to collect for you. These decisions are never easy, but sometimes necessary.
Sometimes Customers Provide Outdated Contact Info
There may be times when the contact information for your customers isn't up-to-date. The reasons aren't always clear, and it seems like a mistake that should never happen. 
Give your clients the benefit of the doubt by not accusing them. Of course, you should strive to maintain a good working relationship. When you receive the corrected information, let the customer know that you'll be sending an updated invoice, and will send them a confirmation once the invoice is paid.
Ask customers if they were happy with the goods or services they purchased. This is a subtle way to remind them that you provided a useful product or service, and that it's time to pay you for the work you provided.
Other Times You Aren't Talking With The Right Person
Your customers may not know who is responsible for making payments in their company. They may think it is one person when, in fact, it's someone else. 
The person who bought your products or services may not have the time to chase down the responsible party for paying invoices. If so, ask to speak with the owner. If the company is large, ask for the operations manager. Continue your search until you find the right person.
When you locate the responsible payer, notify them that you'll be sending an invoice, and tell them the number of days they have to submit payments. Also, follow up at a reasonable time to make sure they received it, and remind them of the payment methods that you accept. This can get the process moving so that you receive funds sooner.
Sometimes Letters Aren't Going To Cut It
At times, you may feel sending a letter is a good method to collect payments. However, it's easy for these letters to get lost. If you don't have the right contact information or if the customers ignore the letter, you'll be left wondering if anyone has received your letter.
Even if people read it, there's no guarantee they'll act on it. You could choose to send the letter with certification and return receipt. This costs more money, and still doesn't force anyone to read the document.
Not Offering Online Payments Is A Waste
You could prevent many payment problems by offering online payments. Companies are either afraid to implement this feature or aren't familiar with the procedures. When you move past your hesitation, you can work with clients to have them pay quickly.
When you provide online payments, you can offer a discount to customers who pay via this option. If your clients want to pay via recurring invoices, you can set up automated payments to speed up collections. You can offer future discounts to customers who submit prompt payments.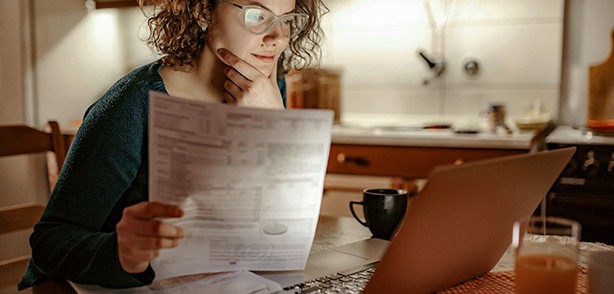 Know When It's Best To Call In Collections
Most likely, you'll face some customers who never pay. In this case, you'll need to put pressure on them. If they still aren't budging, it may be time to work with a collection agency.
The collection agency has methods to get your customers to pay. It's not a popular decision and you'll likely lose these customers, but it's not worth it to keep working with them if you'll have to continue chasing down payments.
At Fora Financial, we provide timely tips for business owners. When you sign up for our
newsletter
, you'll have access to these tips when they are published.
[cta-newsletter]
The Best Invoicing Software For Optimization
Using invoicing software will help you with your invoice optimization.
Most software packages
are built with optimization in place, which can alert you when customers miss payment deadlines.
The software can be used to send automated messages to your customers about the payment terms on invoice. This can be done via email or queue up the invoice on the printer.
Not all invoicing software is created equal. You'll want to find a solution that matches your needs. The following describes some of the best invoice software for optimization.
Freshbooks
Freshbooks offers invoicing
built into its software. It is cloud-based, allowing business owners to access it anywhere. The lowest pricing tier allows for five billable clients.
Users can analyze bills due for all invoices. With a simple checkbox, business owners can make any activity billable, which adds the item to an invoice.
Wave
Wave makes its software
available for free
. The company earns its money via online payments and payroll services. 
Invoicing is included as a free module. There are no limitations to the number of clients. Customers can be billed or have the option of paying online via credit card or bank transfers.
Square Invoices
Square
solutions are popular with small business owners due to the swipe technology on smart devices. The software includes an easy-to-use invoice component.
Customers can save their credit card details on file for convenience. This makes paying their bills effortless. Companies can offer financing to allow customers to pay in installments.
QuickBooks Payments
Many accountants use QuickBooks solutions, as the company has been around for a long time. Invoicing is included
in their software
. 
One feature that businesses find helpful is accelerated invoicing. This duplicates similar invoices for multiple customers. Payments are matched to invoices, which is another great time-saving feature.
Hiveage
For business owners who don't need extra accounting functionality,
Hiveage
is an invoice-only solution. It is web-based, so no software is installed. The tiered-pricing structure grows with your business.
The company prides itself on providing an easy-to-use solution. It states that customers can work with the software within minutes of use.
Xero
Xero
is a great solution for businesses looking for workflow options, such as approving invoices. The solution doesn't limit the number of users.
It can be set up to send automated payment reminders to customers, which is a great time-saving feature. The software also features an audit trail whenever invoices are altered.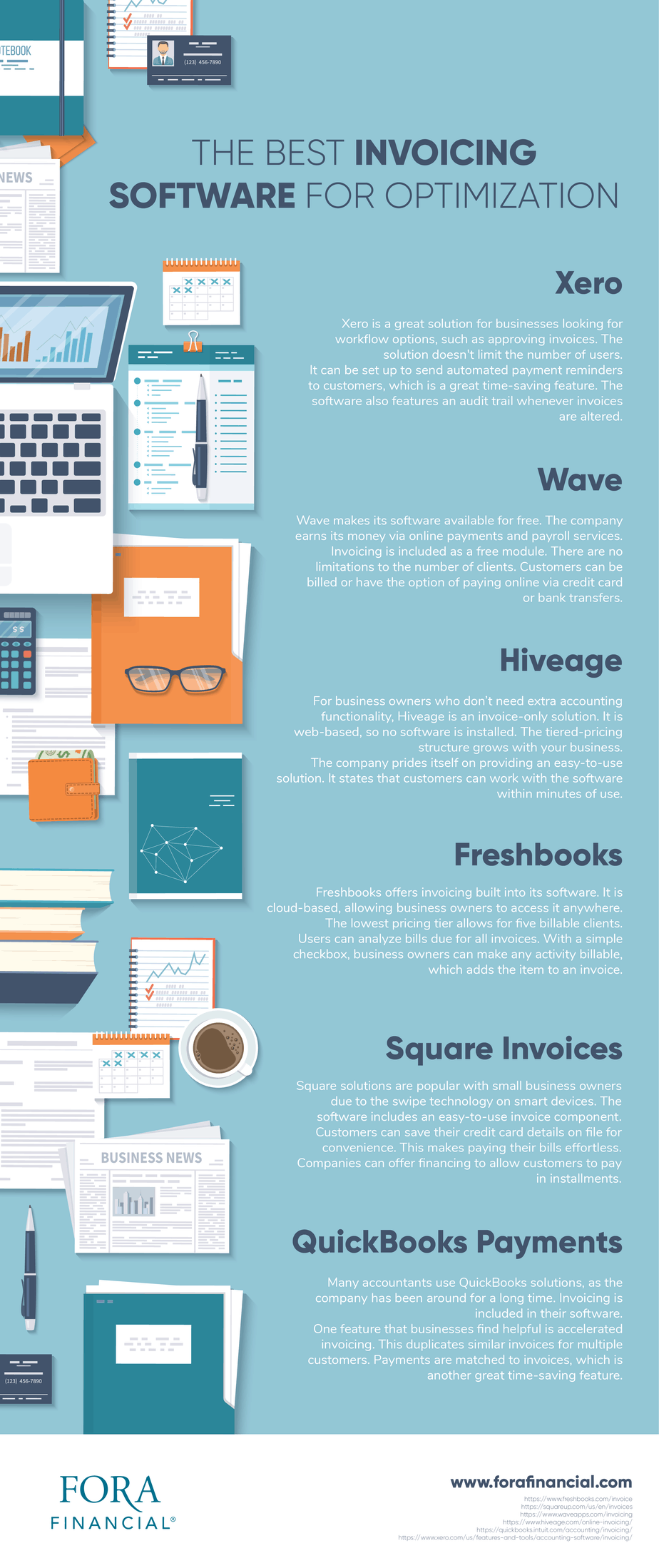 Collecting On Invoices Doesn't Need To Be Stressful
Optimizing the payment invoice process frees up employees to work on important aspects of their job. Payments are collected quicker as automation will handle tasks that employees may forget. There won't be a need to remind the credit department to send an invoice as the software handles it.
Software solutions won't hesitate to send reminders or invoices. This removes the fear of asking for payments as the software takes care of it for you. You can let your customers know that the invoice process is automated, which sets their expectations of receiving notifications or invoices.