August 06, 2019
How to Conduct Interviews that Lead to Strong Hires
On-boarding can be time-consuming, so it's imperative that you hire the right employee in one try. In this post, we'll explain how to successfully conduct an interview so that you can hire the right job candidate. By following this guide, you'll find a great new addition to your small business's team in no time!
How to Conduct an Interview in Four Steps
1. Ask Questions That Are Specific to Your Industry
Small business hiring processes require asking certain, typical questions. These questions can range from information about their work history, education background, and other basic inquiries. However, you should ask open ended questions pertaining to your business's industry. This way, you can ensure that the candidate has relevant experience. Every business is different. However, a good way to gain valuable insight is to ask the prospect if they keep up with industry news. For example, if you own a wholesale business, you could ask interviewees about recent wholesale articles they have read. Ask them to list a few industry trends; this will allow you to determine if they adequately understand the industry. In addition, you should ask your candidates about their experience with specific technologies and tasks relating to the role. Before the job interview, you should ask the applicant to bring samples of their work, if that's applicable to the role. The more that you can learn about an applicant's familiarity with your industry, the easier your hiring decision will be.
2. Ask the Right Small Business Interview Questions
When creating the structure of the interview, you should first consider the job description. What questions do you need to ask to determine if a candidate is the right fit? What skills or qualities does the person need to successfully manage the job's day to day responsibilities? Some applicants might have the necessary credentials, but what if they have an anger management problem? Or, what if they consistently fail to meet deadlines? Overlooking behavioral problems, character flaws and professional weaknesses can cause problems for your business in the future. To determine how the applicant performs in the workplace, ask questions about scenarios they might face on the job. These questions can include how they would handle difficult situations, how they make decisions, and how they remediate mistakes.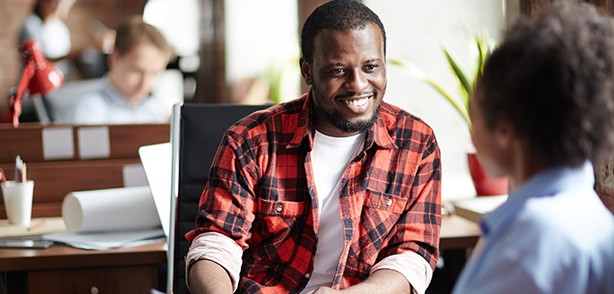 3. Ask About How They Set and Achieve Goals
To be a successful professional, it is pivotal to set personal goals, in addition to meeting an employer's metrics. Some of these goals could include reaching sales quotas, passing industry exams, and completing projects. In your interview process, it's essential to ask goal-related questions. By doing this, you can determine if the person will add or detract value from your business. Ask candidates to provide examples of how they have set and completed goals. Inquire about how they took steps to overcome setbacks. By doing this, you'll likely be able to envision how they could be an asset to your team.
4. Inquire About Ideal Company Culture
When you meet with applicants, it is crucial that you determine whether they'd fit in with your current staff. When employees work well with their peers, you'll likely see that their quality of work is elevated. So, when going through the hiring process, you should aim to select a great hire who will complement your staff.
Company culture
varies depending on industry, and each small business is different. Your business might be extremely relaxed, with employees dressing casually. Or perhaps your business is more corporate. Since company cultures can vary greatly, it makes sense to ask questions that assess a prospect's fit. For instance, if your company has a kickball league, you could ask the candidate about their hobbies. By asking this, you can determine if the applicant would be interested in taking part in company events. Another way to assess a prospect's fit is to ask about their ideal work environment. This can tell you about their work style and what job satisfaction means to them. For example, extroverted prospects could thrive in sales or customer service roles. In comparison, reclusive applicants might excel in a role that doesn't require a lot of socialization.
Conduct Better Interviews – and Hire the Right Employees!
Interviewing candidates can seem tedious to hiring managers and small business owners. But by asking the right questions, you can avoid recruiting bad hires. If you've had success recruiting new employees, share your tips with us in the comment section below!
Editor's Note: This post was updated for accuracy and comprehensiveness in August 2019.