December 22, 2019
Do You Need Business Flood Insurance?
While property insurance often covers fires, natural disasters and thefts, flooding and other natural disasters are often excluded from property insurance. Unfortunately, this means you'll probably need a separate plan for flood coverage. 
Not sure what to do if your business floods? We've compiled a six step guide to make sure you stay safe and protect your company in the event of flood damage. 
About the National Flood Insurance Program (NFIP)
The Federal Emergency Management Association offers the
National Flood Insurance Program
to help ease the impact on private and public property when communities flood. They execute their mission by providing affordable insurance for businesses, property owners and renters, and by encouraging communities to adhere to updated flood management regulations. 
If your business is located in a National Flood Insurance Program-protected community, you can secure a policy. Unsure of whether your area is covered? Contact your insurance agent to find out if your business operates is at risk of flooding.
The Importance of Buying Flood Insurance for Your Business
Whether you live in a flood zone, it's smart to have Business Flood Insurance to avoid costly retroactive payments. If your building floods, the excess moisture will make it more susceptible to mold, which can create health risks for employees and customers.
Here are some shocking
facts about flooding
, according to the Federal Emergency Management Association:
Flood losses in the U.S. averaged $2.4 billion annually for the past decade. 

A single inch of water can cause costly damage to building and its contents.

Due to severe weather, agricultural runoff, and regional events, everyone is at risk of flooding to a degree. 

Floods are the top natural disaster in the U.S.
Obtaining business flood insurance can give you peace of mind as a business owner, and reduces the chance that flooding would causing further damage to your revenue and operational capacity. Before purchasing this type of insurance, compare the best flood insurance companies to get the right policy. 
How Floods Can Affect Your Business
Aside from the physical damage and expensive repairs caused by flooding, every day your business is closed to deal with the aftermath will lead to lost money. Not to mention, flooding can permanently damage your business if you operate in certain industries, such as the food industry. If your business location is dilapidated due to water, patrons likely won't visit  your establishment. Flood insurance for business owners is essential to resolve these incidents quickly so you can get back to business as usual. 
Business owners have to deal with numerous problems after a flood. The loss of inventory and data, damage to expensive company machinery, and the destruction of important items can all affect your company long-term. While some businesses could get help from
business grants
or
small business loans
to survive the impact of a flood, not having insurance makes the recovery process that much harder.
What To Do If Your Business Floods
If your business floods, you'll have to take action immediately to ensure that you can get back to business as soon as possible. The first steps you can take as a business owner after flooding include documenting damages, trying to dry your space, and contacting your insurance agent to discuss next steps. 
Here are the first six things you should do following a flood that affects your business:
1. Perform safety checks, shut off electric, remove belongings
Your first priority after a flood is to ensure the safety of yourself and others. After you safely evacuate any employees from the building, turn the electricity off. Electricity and standing water can be extremely dangerous, cause further damages and injuries.
After the building is safe to enter, try to salvage any assets that weren't ruined by the flooding. We'll explain this further in the third step, but be sure to take pictures before removing any belongings. In addition, you might need to reference the state in which they were found when filing your insurance claim. 
2. Contact your insurance agency
Once you're ready to file an insurance claim, contact your insurance agent to begin the process. They'll likely ask for some basic information like your name, policy number, and contact information, so have that ready when you reach out.
Next, your insurance agent will advise you on the next steps in the claims process, which may involve more paperwork like a Proof of Loss. It's a good idea to keep documentation of the conversation for your personal records.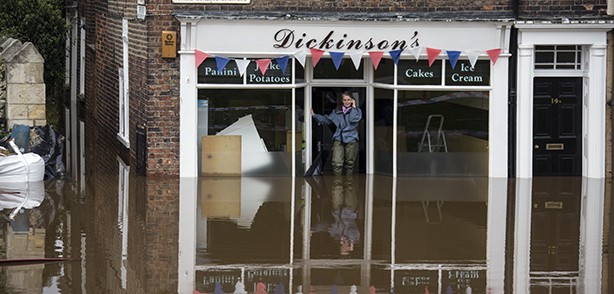 3. Document all damage immediately and thoroughly
After you've confirmed that everyone was safely escorted out of the flooded building, you should document as much as possible for later insurance claims. In addition to taking pictures and videos of the property affected by the flood, collect samples of the carpet and upholstery. The quantity and quality of different materials could result in a higher claim down the line, so the more evidence you have, the better.
In addition, appliances like stoves and washing machines can be documented via photos of the serial number before disposal. You should also submit receipts of flood expenses and cleanup services to  your claim adjuster.
4. Start the cleanup process
Cleaning up the aftermath of a flood can be daunting. After the arduous task of removing the water, there will likely be debris and water damage to tend to.
First, you'll need to remove any standing water with a pump or buckets. Then, remove any unsalvageable wet items and place them in trash bags.
Depending on the level of flooding, there could also be dirt and silt left after water is removed. Try to shovel this out as much as possible before it dries. Wall insulation and hardwood floors may also require special attention. 
It's a good idea to invest in professional cleaning services for areas you can't reach on your own to avoid mold. If you're cleaning on your own, try buying items in bulk to save. 
5. Ensure your business is secured during cleanup
Unfortunately, the cleanup process can take weeks to complete after a flood. While not all businesses close their doors after a flood, the total drying time can take months.
While you're getting your company's workspace back to normal, it's probable that you'll be subject to major losses in revenue. If you operate a brick-and-mortar store, consider pouring some attention into selling or promoting your products and services online. This will allow you to continue growing your business while you finish repairs.
After cleanup, you can try to turn this situation into a positive moment for your company. Consider throwing a reopening party to show off your new and improved space to customers. In addition, be sure to post about your reopening on social media, so patrons will be aware.
6. File Proof of Loss and follow the process
A Proof of Loss is a formal way of proving how much lost items are worth. As the policyholder, you'll fill out a proof of loss and submit it to your insurance company. Keep in mind, a Proof of Loss isn't a guarantee that you'll be granted a certain amount of money. It's simply a request backed with evidence of the damage. 
If your policy was administered by FEMA, you'll
send
your Proof of Loss to their offices via mail. If your insurance company is covering the cost, you should contact your insurance agent directly. 
Flooding Isn't Ideal For Your Business
At the end of the day, business insurance exists to protect your company from damage to their operations. In addition to damaging costly and irreplaceable business items, flooding can cause  your business to lose out on future sales. While flooding is often an unpredictable event, having flood insurance will give you peace of mind. 
For more information on the National Flood Insurance Program and how you purchase business flood insurance, check out their
website
.
Did you find this information helpful? Sign up for our email newsletter to get business tips delivered straight to your inbox.
[cta-newsletter]