March 01, 2018
6 Ideas for Employee Appreciation Day
Showing appreciation towards your employees
 is a necessity. Luckily, Employee Appreciation Day occurs every year on the first Friday in March! This day provides business owners like you with the opportunity to show employees that they value their hard work, dedication, and team spirit. If you don't know where to start, you're in the right place. We've compiled a list of employee appreciation ideas for that you can implement to show your staff that you care about them on Employee Appreciation Day.
How to Show Your Employees That They Are Valued
You don't have to have a big budget to celebrate Employee Appreciation Day. This list will provide businesses small and large with budget-friendly, employee appreciation ideas that will leave employees feeling valued, motivated, and excited about their careers.
1. Plan A Unique Off-Site Event
Can you believe that only 
24 percent of employees feel connected to their peers
? If employees aren't comfortable with each other it can cause an uncomfortable work environment and result in a lack of collaboration and productivity. What better way to unite your employees and improve company culture than to host a team building activity for Employee Appreciation Day? Before you plan an employee appreciation event, make sure it is an activity that encourages collaboration and increases employee interaction. For instance, consider taking your employees on an escape room adventure, schedule a painting party, or even take them to a murder mystery dinner show. Think outside of the box when it comes to planning your off-site event. This will show your employees that you put a lot of thought into planning, and that teamwork is important to their professional success.
2. Give Them the Gift of Health
For most people, their personal health is a top priority. Unfortunately, work can be time-consuming, so people are unable to find the time to exercise. What better way to show your employees that you're dedicated to their health and well-being than to jump-start their fitness plan? For instance, you could give each employee an activity tracker such as a 
Fitbit
, and encourage them to challenge each other daily. Make sure you tell your employees why you gave them the activity tracker, so they can see that their health and wellness matter to you.
3. Organize A Food Truck Day
According to a 
recent article by the Economist
, the U.S. now has over 4,000 food trucks nationwide. This means there are probably some great food trucks in your area that can provide your employees with tasty, local cuisine. Research local food trucks and organize a food truck event outside of your business. You could have either one giant food truck day or make this a monthly or quarterly treat. This is especially great because in addition to treating your employees, you'll also be supporting fellow small business owners!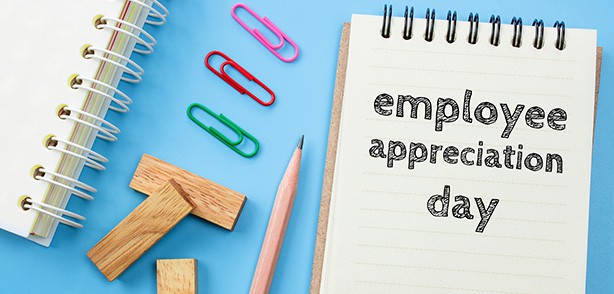 4. Make Permanent Workplace Improvements
To 
retain employees
, you must listen to their ideas. Although it can be easily to just listen to positive feedback, considering issues that you can improve upon will make your company an overall better place to work. For instance, have your employees mentioned that your office's chairs are uncomfortable? Or maybe they've mentioned that it would be nice to have a better coffee machine in the break room? If you've heard consistent complaints pertaining to your business's workplace or day to day operations, consider surprising them with one of their requests. Your employees will be thrilled that you took the time to listen!
5. Give Them a Day Off
Show your employees that you care about their work/life balance by rewarding them with an additional vacation day. You can surprise them with a day off on Employee Appreciation Day, or if you don't want to close your business for a full day, give them an additional vacation day that they can use when they'd like. Time is valuable and providing your employees with the gift of time will leave them feeling respected for all the hard work they do.
6. Surprise Them with Cool Gifts
People love free stuff! In honor of Employee Appreciation Day, consider making fun gift baskets for your staff. They can include branded gear so that they can represent your company (sweatshirts, bags, pens, mugs, etc.), gift cards to local establishments, and other items that you think they'd enjoy.
Show Appreciation Year-Round
Although we encourage you to recognize Employee Appreciation Day, valuing your employees is a year-round initiative. Remember, happy employees are good for business. If they are satisfied, they'll go the extra mile, and will be more likely to work at your company for years to come!
Editor's Note
: This post was updated for accuracy and comprehensiveness in March 2019.