October 11, 2019
10 Helpful Resources for Women Business Owners
In this post, we've compiled a list of 10 women business resources, so that you can improve your business plan and grow as an entrepreneur!
The Top 10 Resources for Women Business Owners:
1. The Women's Business Enterprise National Council (WBENC)
This resource
is all about helping female entrepreneurs grow their companies by giving them better access to opportunities in their fields. Members of WBENC can earn
certifications
and identify bid opportunities.
2. The Women's Business Development Center (WBDC)
The
goal of WBDC
is to impact the economy through supporting growth of businesses that are owned by women entrepreneurs. Aside from being women-centric, they have special resources for minority women, women with low to moderate incomes, and female veterans.
3. The National Association of Women Business Owners (NAWBO)
Joining a local chapter of the NAWBO
can connect you with a variety of local and global resources. If you join a NAWBO chapter, you'll have access to educational courses, networking events, and mentorship opportunities that'll connect you with fellow professionals.
4. Pathway Women's Business Center
For women who are just getting started on their business, it can seem overwhelming to learn the ropes of entrepreneurship. Luckily,
Pathway Women's Business Center
offers a variety of resources like free online financial literacy classes, government contracting seminars, document templates, and marketing tips.
5. Women's Leadership Exchange
There are many corporations that want to 
support women owned businesses
. Due to this, the Women's Leadership Exchange provides a platform through their Sell2Women initiative that allows companies to connect with women entrepreneurs, which benefits all parties involved.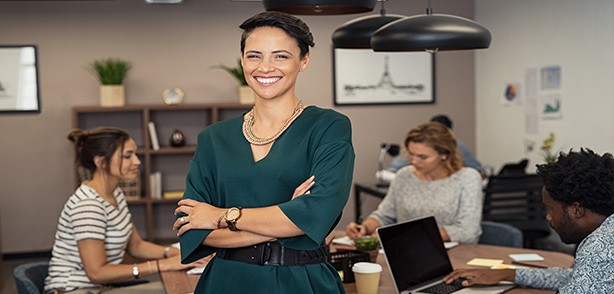 6. Small Business Administration (SBA)
The SBA is considered a great
resource for small business owners
, but many entrepreneurs don't realize that the SBA has division dedicated to women; The Office of Women's Business Ownership. In this initiative, the SBA offers over 100 women's business centers throughout the United States with the goal of helping entrepreneurs overcome obstacles that are unique to them.
7. Women on Business Blog
Founded in 2007, this blog is a great
resource for women
seeking career advice and entrepreneurial tips. The Women on Business Blog features regular posts from marketing guru Susan Gunelius, as well as guest posts from community members and experts.
8. Women's Net
Grants for women starting or growing a business can be hard to find and qualify for. However, the goal of Women's Net is to make it possible for women in business to jumpstart their dreams with their
Amber Grant program
. Each month, they provide one $500 grant. This is a great opportunity, and the application and process is fairly simple!
9. Score
Mentorship can help a women business owner learn and grow from a more experienced entrepreneur. That's why Score promotes their mentorship program! In addition, they have a
blog
, which boasts inspiring stories, cool infographics, and interactive workshops for business owners. Overall, it's certainly a business resource that you should frequently visit.
10. Eileen Fisher
While it might seem strange that a women's clothing company is on this list, the company does more than sell retail items – they also support women business owners.
Eileen Fisher
provides up to ten $100,000 grants each year to women entrepreneurs, and the company partners with Take Part to showcase women in business that inspire others.
Conclusion: Take Advantage of Business Resources for Women
One of the best things about these resources is that they connect women business owners who are at varying stages in their careers. Sometimes the most valuable resource of all is to know that there are other women out there who face the same obstacles, have the same questions, and who are going through the same struggles as you are. Whether you're starting your business or have been in your industry for years, it's important to take time to network with other women, seek out resources that are tailored to you, and search for opportunities that are specific to women in business. You might be surprised by how much this helps your business grow! Do you have other resource suggestions for women business owners? Which resources have been the most beneficial to you? Let us know in the comment section below.
Editor's Note: This post was updated for accuracy and comprehensiveness in October 2019.