March 09, 2021
Construction Insurance: How to Select Your Business's Plan
Let's dive deeper into what construction insurance is and how it works.
Why Invest in Construction Insurance?
If you're a business owner in the construction industry, construction insurance is well worth the investment. When starting out, it should be immediately added to your
construction business plan
. It can help you mitigate the inherent risks that come with job sites. These risks can come from workers, contractors, and expensive machinery and equipment. Without it, you'll put your construction company at a greater risk for third-party damages, bodily injuries, and litigation. With the right type of construction insurance, you can gain some much needed peace of mind.
Types of Construction Insurance:
There are a variety of construction insurance options on the market. Therefore, it's in your best interest to consider the nature of your business. Then, determine the ideal polices for your needs. Here are several types of construction business insurance you may want to look into.
1. Builder's Risk Insurance
Also known as course of construction (COC) insurance, builder's risk insurance covers buildings while they're under construction. With builder's risk insurance, you can choose to cover a number of property types, such as:
Foundations
Builder's materials
Paving and grading
Builder installed trees and plants
Scaffolding.
In most cases, builder's risk insurance covers the cost of damages from harsh weather conditions, fire, and vandalism.
2. Commercial General Liability Insurance
Contractor general liability insurance or commercial general liability insurance is intended to protect a business from property damage or bodily harm. Depending on where you perform business, commercial general liability insurance may be required. It's particularly important if you work on design-build projects or offer your services to general contractors.
3. Commercial Vehicle Insurance 
While it's designed for all types of businesses,
commercial auto insurance
is often purchased by construction businesses. It's vital for those who depend on commercial vehicles to perform their work. It can protect against costly expenses and lawsuits that stem from auto accidents. You may opt for professional liability insurance coverage, physical damage coverage, medical bills coverage, and uninsured motorist coverage.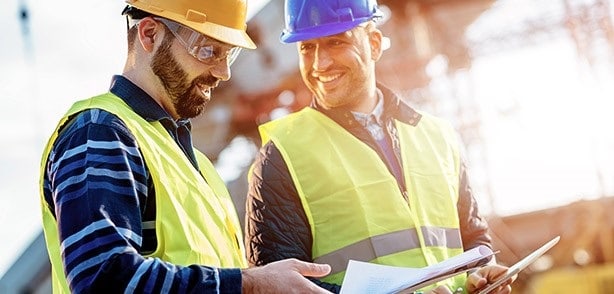 4. Inland Marine Insurance
Inland marine insurance may be worthwhile if your business frequently transports tools and equipment to and from work sites. This is because most
business insurance policies
don't offer coverage for incidents that occur during transport. For example, if your excavator was stolen from your truck, your typical business insurance probably won't replace it. Inland marine insurance, however will cover this loss.
5. Workers' Compensation Insurance
It's very likely that your state requires you to purchase
workers' comp insurance
, regardless of your industry. If any of your employees sustain an injury while on the job, it can cover their medical expenses and lost wages. Your business type and number of employees will determine how much your premiums will cost.
6. Contractor License Bonds
Depending on where you perform business, you may be required to purchase contractor license bonds. These bonds ensure that your customers receive the service they paid for and you perform your work as promised. They're essentially legally binding contracts that protect the customers.
How to Save Money on Construction Insurance
There's no denying that construction insurance can be expensive. The good news is you can reduce its cost if you:
Shop Around: Not all construction insurance policies are created equal. Do your research and obtain quotes from different insurance companies. This way you can land the best possible deal.
Bundle: Some insurers offer multiple types of construction insurance policies. If you purchase more than one policy from the same insurance company, they'll likely offer you a bundle discount.
Most insurance companies will consider a number of factors before they provide you a quote. These include your business credit history, how long your business has existed, project locations, and the size of your business. They will take coverage limits and deductibles into account as well. Generally speaking, the riskier your business and scope of work is, the more you'll pay for construction business insurance. Although you might want to choose an insurer with the cheapest premiums, you should also consider their reputation and customer service. Read reviews from current customers and check out ratings on the
Better Business Bureau
before you sign on the dotted line.
Safeguard Your Construction Business
You worked hard to build your business, so there's no reason not to protect it with construction business insurance. It can save you from thousands upon thousand of dollars in damages as well as injured employees and a damaged reputation. Best of luck with your search for the right construction insurance policies.