May 09, 2022
Trucking Business Loans: How to Apply for and Use Financing
Fortunately, by applying for a trucking 
business loan
, you can access the additional working capital you need. This blog post will explain how you can utilize a small business loan to grow your trucking business.
Trucking Business Finance Options: How to Select Financing for Your Business:
Although this post will primarily focus on trucking business loans, there are many types of loan options to consider, such as:
Business lines of credit

: If you take out a business credit line, you'll receive a set credit limit that you can borrow against and repay as needed.

Equipment financing

: If you need funding to afford business equipment, you may benefit from an equipment loan.

Commercial truck loans

: Similar to equipment funding, business owners can secure a commercial truck loan to meet their commercial vehicle needs.

Business credit cards

: Some business owners use credit cards to afford business expenses. Although they provide significant convenience, it's crucial to avoid overspending.

SBA loans

: The SBA provides financing to trucking business owners. However, you'll need to prove that your business couldn't secure traditional financing.
Before you submit a loan application, make sure to take time and weigh all your options. While most trucking business owners pursue term loans, you should also review other financing products.
When comparing business lenders, you should determine the typical length of their application processes, especially if you need financing quickly. Often, alternative lenders can provide approvals within 24 hours. In comparison, banks can take weeks or even months to get back to applicants.
Another aspect to consider when reviewing trucking business finance options is the application prerequisites. Below, you'll find a few standard business loan requirements:
Time in Business

: Some financing companies have a 

time in business requirement

, so startup business owners likely won't qualify.

Minimum Credit Score

: Most financing providers will want to review your credit score. Due to this, you'll need to raise your score before applying if you have bad credit.

Bank Statements

: In most cases, business lenders will request to review your bank statements. In addition to qualifying, these figures could affect your business loan repayment terms and interest rate.
Do you need financing to grow your trucking business? If so, click the link below:
How to Use Truck Financing:
1.

Expand Your Trucking Fleet
Typically, trucking companies with large fleets earn a greater return on their investment.
In addition to saving on the cost of shipping per mile, larger companies can save on these expenses:
Commercial Vehicles and Semi Trucks

Truck Trailers

Load Boards

Permits

Insurance

Fuel

Tolls
If you currently have a limited number of trucks, you may find yourself having to turn down jobs. If you have to turn down clients, this will hurt your business's overall bottom line.
By expanding your fleet, you can take on more jobs, which will increase your business revenues. Developing your fleet is essential for successfully positioning yourself in this competitive industry.
2.

Hire More Drivers
Having enough drivers is necessary for your trucking business to succeed. However, many hiring costs will need to be purchased first.
To start, you may need to invest in hiring costs, such as hiring a recruiter or posting on paid job sites. In addition, you must be able to afford:
Training

Commercial drivers licenses

Permits

Insurance

Possible union costs

Staff uniforms and personal equipment
Although these costs may seem steep, your trucking business will benefit from having more drivers. Using your small business loan can make this type of growth possible!
3.
 Update Trucking Technology
Currently, there are more high-tech solutions for trucks than ever before. Due to this, implementing new technology is one of the surest ways your business can establish a competitive advantage. If you wait to update your technology, you may fall behind your competitors.
There are many technology trends for trucks, including:
Improved camera systems

Enhanced routing systems

Electronic logging devices
These technologies can help your trucks operate more efficiently and become substantially safer. Of course, these technological advancements can be costly, so having a trucking business loan can make these investments possible.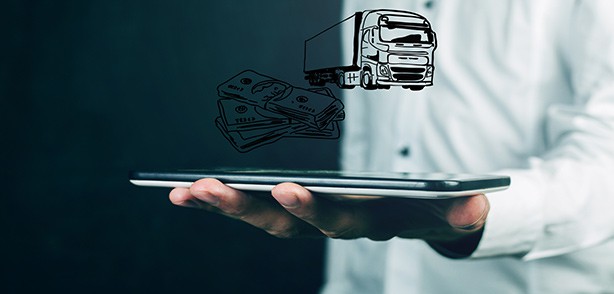 4. Improve Your Business Logistics
The transportation and trucking industries
 are very dependent on organized, seamless logistics. Your business will likely struggle to fulfill increased demands without well-planned logistical processes. In addition to logistical success, having logistics in place can help improve your business's revenues.
For example, 
UPS's policy
 of only using left turns when necessary was a logistical move. After making this change, the company used 10 million fewer gallons of fuel per year. Even if your trucking company isn't operating on a large scale, there are still logistical changes you can make.
Improving your company's logistics involves many different pieces. These advantages are often found by process engineers, operation experts, and even using automated data systems. By applying for a trucking business loan, you can invest in a system that effectively meets your needs.
5.

Save on Inventory
Usually, buying larger quantities can help your business save per unit. Over time, driving down marginal costs is one of the best ways to increase your trucking business' bottom line.
You can 
purchase more inventory
 for your trucking company using additional working capital. For instance, you can buy inventory such as:
Tires

Mechanical equipment

Lights

Other goods in bulk (which lowers your trucking business's annual expenses).
Conclusion: Truck Loans Can Help You Grow Your Business
Owning a trucking business can be a lucrative venture, as the trucking industry is vital to the economy. Without commercial trucks, the cost of moving goods to a specific location would increase by a significant amount.
Although the trucking industry is here to stay, only some trucking companies will succeed. Due to this, it's more important than ever to make strategic investments that will set your business apart from competitors.
After reading this blog post, you can probably identify at least one business area that you can improve. However, you may not be able to afford advancements without ample cash flow.
While the loan application process may seem daunting, applying for truck financing can help you pursue your business's goals. Once you have access to a business loan, you may be surprised at how quickly your business grows!
Editor's Note: This post was updated for accuracy and comprehensiveness in May 2022.