October 01, 2019
11 Ways to Master Restaurant Marketing
Because running a successful restaurant business can be challenging, it's crucial that you implement marketing strategies. Without having a strong marketing plan in place, it can be hard to attract and build a strong customer base. In this post, we'll review top 
restaurant marketing tips
, so that you can succeed in this competitive market.
How to Develop an Impressive Restaurant Marketing Plan:
1. Outline Your Marketing Strategies
Marketing and advertising are essential for any industry, but restaurants must be especially targeted in their approach to these areas. Meet with your team, brainstorm restaurant marketing ideas, and make a set schedule for your advertising plans. From there, you can start trying these different ideas, and track how effective they are. Below, we'll outline some of the ideas you can try.
2. Develop a Clear Brand
As long as your food is delicious, that is all that matters, right? Think again. Having a consistent brand theme is necessary. It'll help customers remember your restaurant and will hopefully attract new patrons too. Create brand awareness and incorporate it into all your marketing collateral. For example, you can use your branding in coupons, social media posts, flyers, and anywhere else that you advertise your business. Ultimately, you should make sure all your restaurant marketing strategies reflect your brand's identity. By doing this, you can make a lasting impression on customers, and hopefully gain more sales over time.
3. Promote Your Restaurant Online with a Website
Don't doubt the value of a strong website. A professional domain name, accessible menu, and attractive layout will make viewers more likely to visit your restaurant. If the site looks old, tacky or difficult to use, people will assume your restaurant will offer the same feeling. If you already have a website for your restaurant, focus on making improvements. Hire a professional web designer to update landing pages, reorganize your site, and give the design a revamp. Also, you can hire someone to optimize your website for search engines. This person can include relevant keywords in your copy, start a restaurant blog on your site, and conduct backlink outreach.
4. Get Active on Social Media Platforms
If your business doesn't already have social media accounts, you should start by creating profiles on multiple social media platforms. Not everyone uses the same platforms, so being active on numerous sites can help you interact with more customers. 
Facebook
, 
Twitter
, and 
Instagram
 are all good social media sites to join. Although you can share the same posts on each platform, you should try to get promote different content when possible. For instance, by featuring your restaurant's décor and menu on Instagram, you'll serve your loyal customers with more than food. It'll will make them feel like your restaurant is an experience. In comparison, LinkedIn is a better place to post about your business's culture and share information about open positions.
5. Create a Yelp Profile
Chances are, if you're in the restaurant industry, you already know all about Yelp.
Yelp
allows users to write reviews, post photos and check-in when they are at your restaurant. For free, business owners can create Yelp Deals, respond to customer reviews, and upload photos. If you'd like to take advantage of Yelp's other services, pay for Self Service or Full-Service Yelp ads. Yelp offers another avenue to advertise your business and interact with customers. If you don't already have a Yelp profile, start by
creating a listing
.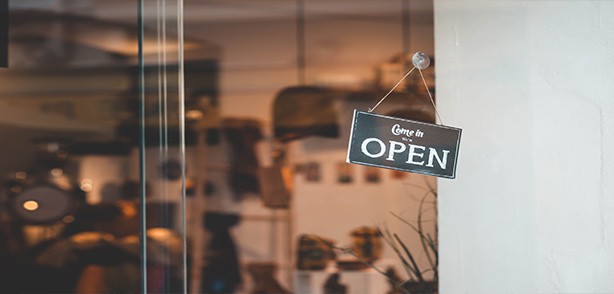 6. Offer Restaurant Coupons
Giving customers coupons is an easy way to attract them to your restaurant. People love to save money, and if they have a coupon to your establishment, they may be more likely to visit. Make sure to offer both physical coupons and digital versions that are accessible online or through apps like Yelp.
7. Start Doing Giveaways and Contests
Let's face it, people will always pay attention to the prospect of free stuff. For example, you can create a loyalty program. After a patron has 10 meals at your restaurant, you can give them an exciting reward. This could be free appetizer or a discount on their next bill. Another way to offer giveaways is to start a social media contest. Patrons could post pictures of your restaurant's dishes, and the best entry could win a gift card. When there's incentives involved, customers will want to participate!
8. List Your Restaurant on Online Reservation Services
Most people are familiar with 
OpenTable
, which lets restaurant patrons book reservations online, but there are a myriad of options. Small businesses can choose from services like Yelp Reservations, Resy, and NoWait. Some of these services are free, while others have monthly subscription costs for more extended offerings. Whatever you choose, it will make it easier for your customers to make reservations.
9. Try Email Marketing
Another way to tackle online marketing is to send out email newsletters. To start, you can hire someone to create a professional, creative newsletter that'll keep regulars up to date on your restaurant. Share current promotional deals, new menu items, and links to your social media profiles. If you take online reservations or offer delivery services, you can include links to those pages. This will make it easier for people to order from your restaurant.
10. Collaborate with Local Businesses
Supporting other small business will help you gain more publicity in your area. Attend other store openings, offer to cater non-profit fundraisers, and participate in local events. These are all excellent ways to network with customers and form relationships with other business owners.
11. Create a Mobile App
If you already have a robust marketing plan, you might want to consider marketing ideas that your competitors don't have yet. For example, many restaurants don't have their own mobile app because it can be complicated to get up-and-running. However, there's clear benefits to creating an app for mobile devices. On your restaurant's mobile app, you can give patrons the ability to order food, reserve tables, and directly contact your restaurant. If you already have a loyal customer base, this is a great way to foster that community.
Conclusion: Invest in Restaurant Marketing Efforts
These restaurant promotion ideas can help you elevate your business's marketing, and in turn earn more revenue. Even though these projects can take time and money, they can pay off in the long-run. If you want to run your restaurant for many years to come, marketing is a must! Let us know in the comment section below which restaurant marketing ideas you'd like to try!
Editor's Note: This post was updated for accuracy and comprehensiveness in October 2019.