May 12, 2021
Quick Business Loans: How to Find Fast Financing
Unfortunately, quick business financing solutions are typically more expensive than slower alternatives. Of course, missing deadlines on your obligations can be even more costly. Due to this, it can be smart to find a fast business loan even if it means paying a higher rate. In this post, you'll learn where and how to look so you can find financing quickly with the best possible terms. In addition to reviewing loan options with short approval processes, we'll explain how you can prepare to make the process as fast as possible.
5 Types of Fast Business Loans
If you're looking for quick financing, there are a few loan options you can rule out right away. Unless you have a strong, existing relationship, traditional banks won't be quick. Similarly,
other than disaster loans
, you'll be hard-pressed to find an SBA loan with a fast application process. That leaves you with the following quick and easy alternative financing options.
1. Small Business Loans from Online Lenders or Lines of Credit
Like traditional banks, many online lenders offer business lines of credit and term loans. Online lenders are a popular alternative to banks because of their quick funding processes and lenient qualification criteria. Still, you'll need to shop around to find the lender with the quickest funding process and best repayment terms. The good news is that it typically won't be hard to find online lenders who offer funding in less than five days. You can read more about lines of credit in our post explaining their
pros and cons
. If you think a term loan is a better fit for your business, check out
our guide on online business loans
.
2. Merchant Cash Advances
Merchant cash advances are a fast, flexible financing option for small business owners that make a large ratio of their sales through debit or credit. This is because MCA's are structured such that your remittances are made as a proportion of your credit and/or debit sales. This structure means that the more sales you make, the faster you pay your MCA back, and vice versa. If you're interested in pursuing this type of lump sum financing, make sure to learn about the
pros and cons
before applying.
3. SBA Loans or Government Disaster Loans
Regular SBA 7(a) loans are anything but quick; however, when natural or manmade disasters are declared, there are programs that provide emergency business loans. To find out if your business is in an area affected by a declared disaster, use
the SBA's declarations database.
Also, in times of disaster, there are often other programs—not just from the SBA—that may be available. That's why you should check with your local, county, and state governments to see if you may be eligible for any expedited disaster assistance.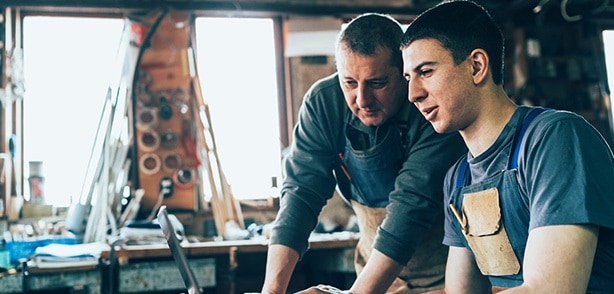 4. Microloans 
Microloans are just like term loans except that the loan amount is typically capped around $50,000. Because microloans pose less risk to the lender, the application process isn't as strict. Just keep in mind that different microlenders have different processes.
5. Invoice Factoring
With invoice factoring, you can typically get access to cash within a few days. However, invoice factoring is much different than typical kinds of financing. So it has some pitfalls you'll want to be aware of, which you can read about in our post on
the pros and cons of invoice factoring
. Before you deep dive on invoice financing, though, there are two key things to understand.
Invoice factoring isn't structured like a typical business loan. Instead, you sell your unpaid invoices at a discount in exchange for cash.
Your personal credit score and financial history aren't as important compared to a loan. What is important is your customers' creditworthiness and payment history.
How to Speed Up the Financing Process
Obviously, you can't force a business financing lender to speed up the process for you. However, you can help them work faster by preparing yourself. When it comes to financing, that means
having your documents complete and ready to go.
For traditionally structured types of financing, such as term loans and lines of credit, you need these six documents:
Credit report
Bank statements
Tax returns
Income statement
Balance sheet
Budget and future cash flow projections
If you're considering a cash advance, you'll also need to provide reports on your credit and debit card sales. For invoice factoring, you should prepare documentation of your past and current accounts receivables. On top of preparing these documents, be ready to answer any questions from the lender. The faster your lender gets the information they need, the sooner you can get your additional working capital.
Conclusion: Finding a Quick Business Loan Still Takes Preparation
Unfortunately, some types of financing aren't designed to disburse funds quickly. The good news is you can make it work if you:
Prepare well
Respond promptly to any questions from your lender
Look for the smallest loan possible
Work with online lenders
Consider alternative financing
Finally, remember this advice from John Wooden, the famed UCLA basketball coach: "be quick, but don't hurry." That is, while you must be fast to capitalize on opportunities, don't go so fast that you make preventable mistakes.