July 06, 2021
Payroll Loans: Why Business Owners Benefit From It
If you find yourself in a situation like this and need cash to cover payroll, you might benefit from a payroll loan. Payroll loans are short-term loans or advances that allow you to borrow a small amount of money to ensure that your employees are paid on time. If you take out a payroll loan, you'll likely have financing in your bank account within one business day. Still, payroll loans can be expensive, and the payroll funding company will want to be repaid as soon as possible. In addition, payroll loans shouldn't be confused with payday loans, which are short-term consumer loans that charge borrowers an average interest rate of 400 percent. In fact, payday loans aren't even legal in some states, unlike payroll loans. In this post, we'll explain what payroll financing is, and how business owners can utilize it to pay employees and pursue growth.
Everything You Need to Know About Payroll Loans:
The 3 Types of Payroll Loans:
A 'payroll loan' is a broad description for short-term financing designed to smooth a company's cash flow. If you can't meet payroll, you'll have more than just angry employees on your hands; in addition, you'll also have to answer to government regulators. Payroll funding solutions typically come in one of the following forms:
1. Short-Term Loans: 
This type of loan has short terms because they're meant to be repaid quickly. Many online lenders process short-term payroll loans in one business day, but you'll typically need to have the following:
A personal credit score in the 600s
Be operational for at least one year
Provide proof of business income
Provide a postdated check for the full loan amount to ensure that the lender is repaid.
2. Cash Advances:
Instead of taking out of loan, you can sell a portion of your business's future credit card sales in exchange for lump sum funding.
Merchant cash advances
can be more expensive than small business loans in some cases, but they're also easier to qualify for since your credit score isn't considered. Instead, only your business's credit card sales are examined.
3. Invoice Factoring:
If you have unpaid customer invoices, you can borrow money against that invoice using  
invoice factoring
. Through invoice factoring, you'll get a cash advance of up to 85 percent of the invoice total. Then, once you receive funding, you can use the unpaid invoice as collateral. Since the invoice is considered the collateral, you won't need to show business statements or credit history to qualify with a factoring company.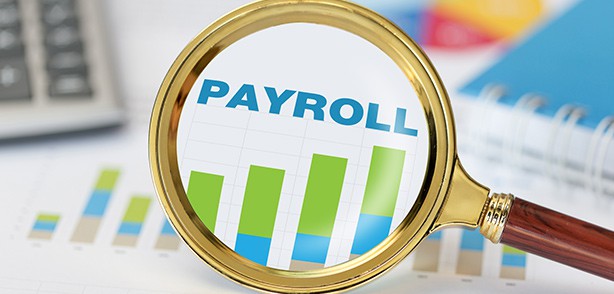 Who Benefits from Payroll Loans?
A payroll loan should only be used as a last resort in bad financial situations. Interest rates on payroll financing solutions can be as high as 30 percent, so you should consider all options before pursuing a loan from a payroll financing company. Below, you'll find a few situations in which a payroll loan might benefit your small business:
1. You're facing a short-term cash shortage
When you run a small business, cash flow isn't always a smooth cycle. Sometimes, paying for a big business expense (like an equipment repair) could leave you with a cash shortage. If you know you're getting paid by a customer in less than a month, a short-term loan could keep your business's cash flow stable.
2. You've hired extra workers
If you own a seasonal business, you might have funding fluctuations between your slow and busy seasons. For example, if you run a coastal vacation business, you could benefit from paying a staffing agency to recruit employees for your summer season. However, before the busy season picks up, you might not have enough revenue to pay your new help. Luckily, a payroll loan can fill that gap, so all employees get paid prior to the summer rush.
3. You haven't been approved for traditional funding options
If you can't get approved for traditional 
business loans
 but need to send paychecks out as soon as possible, a payroll loan could be your only option. Taking a hit on a 15-30 percent interest rate payroll loan is better than facing the consequences of not paying your employees on time!
Conclusion: Consider Payroll Loans and Their Benefits
Usually, payroll loans are easier to qualify for than SBA or bank loans. Plus, you'll receive the funding almost immediately, so you can pay your employees on-time. Still, you should thoroughly examine the terms and conditions prior to applying for payroll financing. Payroll loans should be a last resort for most businesses, not a long-term funding solution. You'll pay handsomely for obtaining quick cash, and the penalties for missing payments can be steep. Make sure you've considered all other avenues, including lines of credit, traditional business loans, and cash advances before pursuing payroll financing. However, know that payroll loans are available if you find yourself in a cash flow crunch.
Editor's Note: This post was updated for accuracy and comprehensiveness in July 2021.