September 26, 2016
Borrowing Money from a Loved One for Your Business? Think Again
If you're in a bind, you may have considered borrowing money from family or friends. While this may seem like the perfect solution, it could cause a strain between you and the person you're borrowing from. Consider the potential risks of asking a loved one for money for your business, and instead apply for a small business loan. In this post, we'll explain these risks, and why
working capital solutions from a lender
may be a better alternative.
It may be awkward
Do you want every holiday gathering to be uncomfortable because you haven't been able to pay back your parents? Probably not. By mixing business with pleasure, you may jeopardize these relationships. Borrowing money from family or friends for your business might seem like a win-win; you'll have funds for your business, and you'll be getting it from someone close to you. Unfortunately, this could become a source of tension, so apply for business working capital from a lender instead.
You'll feel pressured to repay the amount quickly
The individual you borrowed from may not realize how long it will take to pay them back. If they aren't a small business owner, they may not understand the wide variety of costs your business generates. You'll likely want to repay your debt as soon as possible, which could cause you unnecessary anxiety. By
applying for a small business loan
, you'll be given a set term and payment amount. The lender will tailor these factors to your business's needs, so you won't be financially stressed. If you borrow from a loved one, they may expect the entire amount repaid to them as soon as possible, which may not be feasible.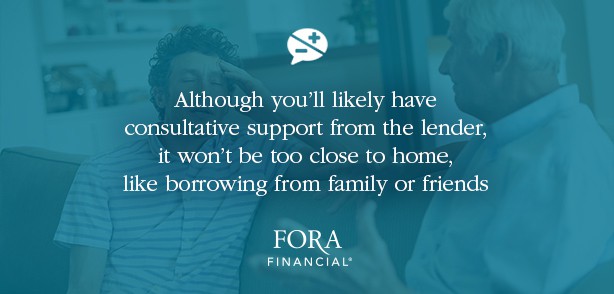 Borrowing won't feel the same as receiving a gift
If you have a wealthy family member who wants to give you money for your business, that's great! Their generosity will be a huge help to your business's future. But if a loved one is temporarily loaning you money, that is a different story. This could create a difficult situation, where you feel guilty for borrowing money, and they are worried about getting the funds back.
So here's why a small business loan is a smart alternative
Don't worry, just because you aren't borrowing money from family or friends doesn't mean you can't get the funds you need for your business! As we previously mentioned, there are working capital solutions that can be supplied to you by a recognized lender. These lenders will be able to assess your business's financial health, and provide you with a set funding amount and term that you can handle. Although you'll likely have consultative support from the lender, it won't be too close to home, like borrowing from family or friends! Hopefully you've been able to determine that borrowing from someone close to you might not be the best option.
Apply for working capital
from a lender, and you'll be receive the money you need, without any family drama ensuing!