December 22, 2019
Voice Shopping: The Future of E-Commerce for Small Business
If your small business wants to stay ahead of the competition, it's essential to understand what voice shopping is and how you can make it easy for your customers. Keep reading for more information. 
What is Voice Shopping?
Voice shopping
allows consumers to make purchases with their voice. Consumers can use a number of voice commands devices to buy just about anything. Whether they want to buy small things like socks or big-ticket items like TVs, they can use voice shopping to do so. 
There are two stages of voice shopping: the entering stage and placing stage. During the entering stage, consumers will enter purchasing information like their name, address, phone number, and credit card number. If they've already recorded these details in the past, they can log into their account and enable voice purchases. 
The placing stage is where consumers ask the system to order an item. Once the system informs them of the brand name and price, consumers can confirm the order. The system will place the order as soon as consumers state that it's good to go. 
While voice shopping makes the shopping experience fun and easy for consumers, it does come with some challenges. Speech recognition isn't always perfect and the devices that allow for voice shopping aren't cheap. In addition, many consumers are slow to adapt to this retail trend as it's still in the growth stage. 
Fortunately, these limitations are understood by voice command devices who are making strides to address them. The hope is that they'll be non-existent in years to come. 
Voice Command Devices
While there are a number of voice command devices on the market, the two most popular ones include:
Amazon Echo:

Amazon Echo's voice-controlled personal assistant is Alexa. If you want it to do something, all you have to do is say "Alexa" and it'll get the job done.  Alexa voice shopping has been around since 2014.

Google Home:

Google Home enables you to speak voice commands and interact through Google Assistant, it's virtual assistant. It was developed under the Google Nest brand in 2016.
Customers can use these devices to create a voice shopping list and plan their shopping experience in advance.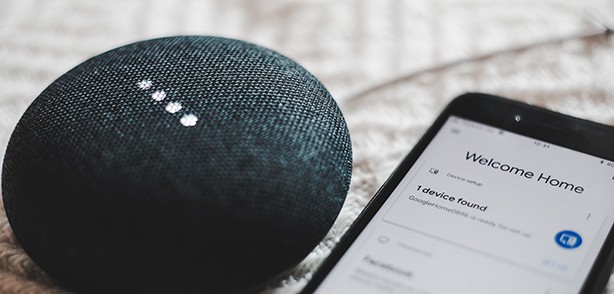 Popularity Growth in Voice Shopping
Market research firm eMarketer predicted that in
2019, 31 million U.S. consumers used  a smart speaker to shop
. By 2021, they believe this figure will increase to 38 million when more than four in 10 smart speakers feature shopping capabilities. 
While voice shopping is becoming more popular, there are still consumers who are weary of it,. Some worry that hackers could use their smart speaker and gain access to personal information. Others don't like that they can't easily view the products they're buying. These consumers prefer to use their devices to play music, check the news, and ask basic questions. 
How To Leverage Smart Speaker Popularity in Your Business
As a small business owner, it's in your best interest to leverage smart speaker popularity. So, how do you do this? Here are some tips.
Use Amazon Echo's Flash Briefing:

When an Amazon Echo user says, "Alexa, give me my Flash Briefing," Alexa will update them on topics they care about like sports, news, blog updates, and weather. They can skip briefs when they'd like and only listen to the ones that peak their interest. It's a good idea for your small business to  record and upload audio files to Flash Briefing so that consumers can receive daily content from your company.

Advertise on a Podcast or Begin Your Own:

It's not uncommon for consumers with smart speakers to listen to podcasts. Consider advertising on a podcast or beginning your own to create meaningful customer engagement and build brand loyalty. 

Create Exclusive Content:

If your small business publishes regular blogs, newsletters, or direct mail pieces, create exclusive content. This content will only be available for consumers who use an Amazon Echo, Google Home, or another voice device. Treat these consumers to special discount codes or insider information that others may not receive.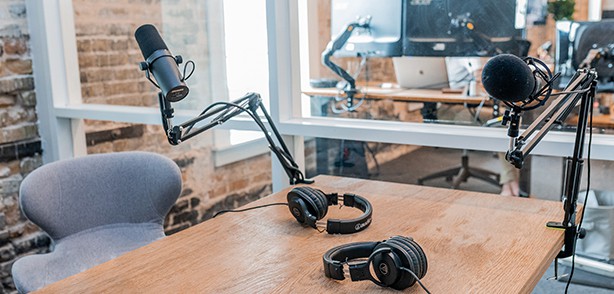 Adding Voice Control To Your E-Commerce Store
If you'd like to take advantage of voice shopping, you'll need to add voice control to your ecommerce store. To do so, follow these steps.
Ensure Easy Navigation:

Your e-commerce store must be as simple and straightforward as possible. Ensure that there's no clutter and the toolbars and call to action buttons are placed properly. 

Incorporate Meta Tags and Meta Descriptions:

Meta tags and meta descriptions are a must for voice search. Make sure these tags and descriptions feature phrases that voice searchers are likely to use.

List Your Products on Google Shopping:

Consumers who use Google Home may get search results from Google Shopping. Therefore, if you sell physical products, list them on Google Shopping. Doing so can get them in front of the right customers. 

Use Natural Language:

The average Google voice search is written at the 9th grade level, so make sure that your content flows naturally and is easy to read and understand. 

Claim Your Business on Google My Business:

You can use

Google My Business

to present important details about your company like hours, location, website, and reviews. Sign up for Google My Business and keep the information up-to-date so that it shows up in voice search.
Optimizing Your Store For Voice Search Queries
To optimize your store for voice search queries and maximize your profits, be sure to:
Use Long Tail Keywords:

Long tail keywords allow you to be more specific. The more specific you are, the more likely you are to succeed in voice search. Rather than "tennis shoes," your keyword should be "pink Nike tennis shoes for women."

Add Structured Data:

Structured data like

reviews

, ratings, and availability status can give you the chance to suggest details about your store to search engines. This can lead to higher search engine rankings, which are important for voice search queries.

Incorporate Questions and Answers:

When customers search for products via voice search, they'll use full sentences. So, they may say things like "Where can I buy an affordable cocktail dress?" or "Where can I get the best fridge?" Think about the questions customers may ask and include them on the product or

FAQ section

of your website.

Improve Loading Time:

Voice search customers don't want to wait. The faster your store loads, the more likely the voice search algorithm will prioritize it frequently. 

Understand Web Traffic Analytics:

Use Google Analytics and Google Adwords to determine which search engine phrases are bringing your store traffic. Then, implement these phrases in your content.
How To Get A Step Up On Your Competitors
Voice shopping is a retail trend that can help your small business grow. Make it a priority to add voice control to your store and optimize it for voice search. By doing so, you can get ahead of your competitors and take your business to new heights. If you need some help, don't hesitate to reach out to a digital marketing professional.
At Fora Financial, we strive to help small business owners succeed. Sign up for our newsletter today for more information on voice shopping and a variety of small business tips.
[cta-newsletter]