January 10, 2021
5 Ways to Use a Daycare Business Loan for Growth
According to 
Childcare Aware of America
, states spend more than $10 billion in government money for child care each year. Clearly, America is investing a large amount of money into the daycare industry. Therefore, you should utilize business financing to capitalize on this! In this post, we'll explain why you should use a daycare loan to expand and improve your business. By reviewing your business plan and considering how you can improve your business, you'll be able to serve even more families in your area.
How to Spend a Daycare Business Loan:
1. Invest in Emerging Technology
When you start a child care center, it comes with significant 
startup costs
. Not only do equipment, payroll, and real estate costs add up, but there are many other investments you should consider. If you want to set your business apart from competitors, you should invest in innovative technology that will benefit your current and potential clients, such as:
Attendance tracking software
Billing and payroll programs
Enrollment tracking software
In order to integrate technology into your daycare center, you should contemplate adding additional technology that could set you apart from competitors. Examples include:
Digital whiteboards
SMART Tables
Virtual reality learning games
Parents will recognize these innovations and want their children to have access to the latest technologies. Once you pursue a loan, you can confidently invest in these technologies without taking away funds from other areas of your business.
2. Hire More Staff Members
By hiring more child care professionals, you can ensure that the children you care for will have more attention. Or, you can increase the number of children that you're able to enroll at your daycare center. Typically, children in smaller classes receive more focused attention from their teachers. This is especially beneficial for children with learning disabilities. Due to this, you should aim to hire as many instructors as necessary. By being fully staffed, you can guarantee that your students receive personalized guidance. When you expand your staff, make sure to conduct background checks and thorough interviews. The children's safety should be your top priority, so it's crucial to conduct your due diligence before onboarding new hires. With your daycare loan, you should be able to invest in hiring top early childhood education specialists!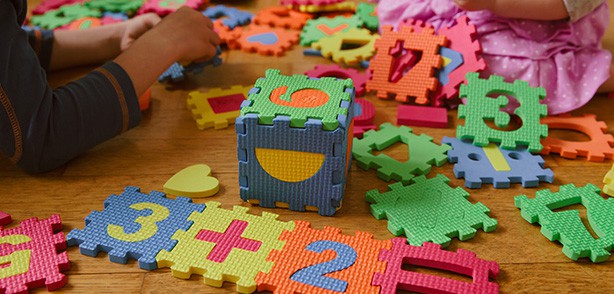 3. Increase Marketing Efforts
If you want to increase your customer base, you'll need to market your services to prospective parents. Although receiving word of mouth referrals is promising, you should still be utilizing social media marketing, 
print advertising
 and other promotions. As you start creating marketing campaigns, be sure to test out different ideas. That way, you can keep track of the campaigns that generate the most business.
4. Expand Your Daycare's Space
You won't be able to recruit new students if you don't physically have room to accommodate them, especially if you run a home daycare business. While staying at home and running your business has notable perks, it might limit you in terms of business growth. If you're serious about growing your child care business, consider moving to a larger space or expanding your existing location. In addition, if there's significant demand, you could open a daycare center in a nearby town or city. You'll be able to serve more families, which will translate into more revenue for your business. Of course, you should conduct extensive research to ensure that you're following the necessary licensing requirements and zoning laws that come with expanding your business. You should be able to contact your local government to learn more about these requirements.
5. Implement Health and Safety Precautions
Due to the COVID-19 pandemic, many small business owners have had to adopt new health and safety precautions. Its now more important than ever to protect your students and their families. Implementing health safeguards can be costly, which is why now might be the right time to pursue a business loan. With this financing, you can purchase health and safety items such as:
Masks and face shields for employees
Masks for your students
Air purifying systems
Cleaning materials
Social distancing stickers and signage
By investing in these precautions, parents will feel confident that you're doing everything in your power to keep COVID-19 out of the classroom!
How a Small Business Loan Can Help Your Daycare Business:
To pay for the upgrades mentioned in this post, your business may need to pursue additional working capital. Once you receive a daycare loan, you can afford these costs, and will likely see a boost in your business. At Fora Financial, we have provided 
small business loans
to daycare businesses across the country. If you're ready to start the application process, you can learn more about our financing options.
Conclusion: Invest in Your Daycare Business
As a daycare owner, you should be striving to register as many children as you can responsibly handle. By applying for daycare loans, you can pay for developments that will make parents feel confident in your child care services. Whether it is better education programs, improved technology, or additional instructors, you won't regret improving your day care business.
Editor's Note: This post was updated for accuracy and comprehensiveness in January 2022.