November 29, 2021
Our Guide to SBA Loans and Grants for Women Business Owners
Although women are providing substantial contributions to the small business world, they still face profound challenges. For example, many women entrepreneurs struggle to qualify for 
additional business financing
 so that they can pursue growth and increase cash flow. The Small Business Administration, commonly referred to as the SBA, is considered a key resource for small business owners. One of their main areas of focus is helping women business owners achieve their goals. Their impressive initiatives, such as the Office of Women's Business Ownership, have created opportunities for both women-owned startups and existing business. If you need additional financing to support your woman-owned business, keep reading to learn more about common types of SBA loan and grants. In addition, we'll explain how to apply for an SBA loan, and what the typical qualifications are.
Is an SBA Loan Right for Your Woman-Owned Business?
Before applying for an SBA loan, you'll need to prove that you can't qualify for traditional funding. In the sections below, we'll review both SBA loan and grant options, in addition to other funding programs. By weighing your options, you can select a loan with the best interest rates, loan amounts, and repayment options for your business's needs.
What Are the Most Popular SBA Loans and Grants Available to Women Business Owners?
The SBA offers a variety of diverse programs specifically designed to help women-owned small businesses. These include:
Women's Business Centers: The SBA has over 100 Women's Business Centers throughout the U.S. Among these center's initiatives is their commitment to connecting women-owned businesses with additional capital. To find a center near you, visit the SBA's website to see a full list of local organizations.
InnovateHER Challenge: Each year, the SBA provides federal grant financing to businesses that benefit women. In fact, in 2017, the InnovateHer Challenge winner was awarded $40,000! To enter, you'll first need to win a local InnovateHER Challenge, then you'll advance to the national level to compete further.
Women-Owned Small Business Federal Contracting Program: This program helps woman-owned businesses win federal government contracts. To qualify, your business must be at least 51 percent owned by one or more women. You'll also need to go through a self-certification process. To learn more about what it takes to qualify for this small business grant for women in business, visit the SBA website.
Small Business Innovation Research and Small Business Technology Transfer Programs: Does your business involve federal research and development? If so, you could be eligible for Small Business Innovation Research and Small Business Technology Transfer Programs.
8(a) Development program: The SBA 8(a) Business Development Program enables "small, disadvantaged businesses compete in the marketplace." As a woman entrepreneur, you could qualify, so consider applying for this development program.
SBA Loans: The SBA offers small business loans for women, in addition to financing options for entrepreneurs in general. Popular loan options include the SBA 7(a) loans, export loans, and 504 loans. To learn about the SBA's different working capital loan programs, check out our overview here.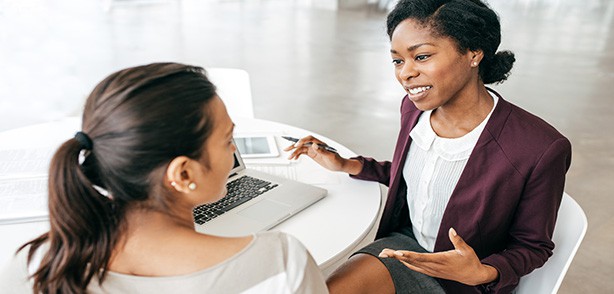 Who Qualifies for SBA Grants for Women/SBA Loans for Women?
To qualify for women business financing, you'll need a favorable personal and business credit score. Before you apply, it might be beneficial to review your credit report to see if you meet the online lender's score requirements. In addition, you'll need a well-written business plan. This plan should outline income and expense projections, in addition to historical trends on your annual revenue. As part of the 
SBA Loan underwriting process
, you'll also need to explain how you'll utilize the working capital. To do this, you may be required to create a 5-year revenue and expense projection estimation. For example, will you use the money for operational costs, such as marketing or payroll, or will you invest in collateral such as equipment or real estate? How you plan to utilize the term loan could affect your ability to qualify. In general, asset-based requests are more secure. This is because the equipment or real estate you plan to purchase can be used as collateral. If you run a nonprofit organization, it's important to note that you won't qualify for SBA loans.
How to Apply for SBA Loans
Applying for a business loan or grant money through the SBA can be a challenging endeavor, no matter who you are. If you're a woman with a new business idea or want to grow an existing company, start by locating a lender in your area that works with the SBA.
Other Business Financing Options to Consider
Although the SBA provides grants and loans to women entrepreneurs, you shouldn't limit yourself to SBA financing. Below, you'll find a list of other business funding options you should consider:
Conclusion: Invest in Your Women-Owned Business
Although the SBA gives female entrepreneurs many options for business loans and grants they aren't the only resource available to small business owners. Many financial institutions provide financing for woman-owned businesses as well. Whether you choose to grow your business with an SBA loan or grant program, or with an alternative lender, be sure to ask about special initiatives for women-owned businesses.
Editor's Note:
This post was updated for accuracy and comprehensiveness in November 2021.