March 18, 2021
Our Guide to Small Business Loans for Women
One of the first steps to opening a small business is securing financing. Regardless of the type of small business you hope to run, you'll likely need some money. The good news is that there are various small business loans for women that can help you turn your business dreams into a reality. In this post, we'll provide resources for women entrepreneurs seeking business financing. Although the process can seem daunting, with the right business plan in place you can secure the funding you need to grow your business.
Qualifications, Requirements, Paperwork and More:
While the qualifications and requirements of small business loans for women vary based on the loan type and financial institution, most of them stay pretty consistent across the board. If you'd like to take out a small loan for your business, you'll likely need the following:
Credit Score: When you apply for a small business loan, you can expect an alternative lender to evaluate your personal credit score. Of course, the higher your credit score is, the more likely you are to secure a lower interest rate and more favorable terms. If you've been in business for quite some time, the lender may check your business credit score as well.
Debt-to-Income Ratio: Debt-to-income ratio is your total monthly debts divided by your total monthly income. This indicates how risky of a borrower you may be.
Business Overview: Your business overview will include information on how your business operates as well as what products and services it offers to make a profit.
Explanation of How You'll Use the Funds: Most small business lenders will want to know how you intend to use the money you borrow. Keep in mind that some online lenders may restrict how you use the funds and only allow you to use them for costs like equipment or inventory. If you need funding for another expense, you may have to apply for funding elsewhere.
Business License: Your business license is essentially a permit issued by a government agency that grants you permission to conduct business. Be sure to obtain one before you start the loan application process.
Time in Business: Time in business refers to the age of your business. As you shop for a small business loan, you'll find that many lenders prefer to work with businesses that have been open for a certain time period. If you recently opened your business, you may benefit from waiting until your business has been operational for at least a few months before applying.
Different Types of Business Funding for Women
Fortunately, there are a variety of small business loans for women you can choose from. Here's a brief overview of several popular business funding options:
Business Line of Credit: A business line of credit is a short-term loan for an amount of money that you and the lender agree to. It's more flexible than other types of business loans because you can borrow up to a certain limit and only pay interest on the amount you borrow. It may be an option if you're looking for small business loans for women with bad credit.
Small Business Lending: Small business lending is a short-term loan you can take out if you expect to receive payments from customers or clients fairly soon. It can help you get through the business cycle and repay the loan once you collect your payments. Here at Fora Financial, we are pleased to help women business owners deal with cash flow shortages via small business lending.
SBA Loans: The Small Business Administration (SBA) is a government agency that supports small businesses. It offers several funding programs that you can take advantage of as a small business owner. If you have a low credit score, it might not be the right option to pursue. However, if you have a high credit score, you'll be more likely to get approved for this type of loan as its requirements are more rigorous than those of other loan types.
Traditional Commercial Lending: Traditional commercial lending is simply a bank from a loan. While it can be difficult to qualify for a bank loan, this option is certainly worth looking into as it offers low interest rates. If you get approved for a bank loan, note that you'll need to put up a personal guarantee and collateral.
Equipment Loans: If your small business requires expensive equipment, an equipment loan may be worth pursuing. Your lender can help you figure out whether you should lease or purchase the equipment and will ask you to prove that the funds are being used solely for equipment purchases.
Inventory Loans: Inventory loans are short-term loans that can allow you to purchase products you intend to sell. The products or inventory you buy will act as collateral in the event you cannot sell the products and are unable to repay the loan. They are some of the most useful small business startup loans for women if your business is inventory-focused.
Grant Programs: There are many small business grants for women business owners, but these programs are very competitive. This is because you won't have to repay a grant, unlike other funding options. We suggest looking into grant opportunities, but having a backup funding option in case you aren't selected.
Credit Cards: Many business owners find that having a credit card is a beneficial funding source. However, if you have trouble sticking to a budget, a credit card may prove to be too tempting.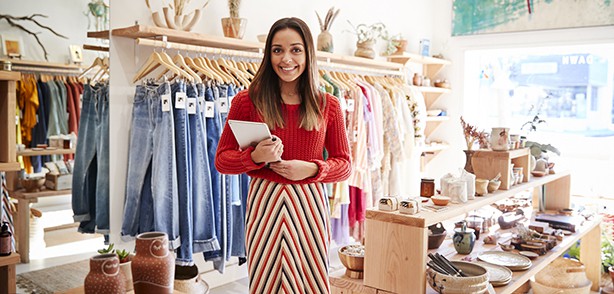 Our Recommendation For The Best Loans
In a perfect world, we'd tell you that one small business loan is better than the rest, making the process simple. The reality, however, is that each additional funding option has its own unique set of pros and cons. Therefore, it's a good idea to explore all of the small business loans that are available to women and figure out which one makes the most sense for your business. Consider the nature of your business, your current financial situation, future goals, and the specific requirements of each loan type. Once you do, you'll have an idea of which loan can help put your small business on the path to success.
What To Do When Your Funding Is Secured
Securing funding for your small business can be a great relief! Once you have the money, you can get your business up and running or allow it to grow. The next step may involve marketing your small business and gaining new and repeat customers or clients. If you're a current or aspiring women small business owner who would like more valuable advice, we encourage you to sign up for our newsletter. [cta-newsletter]