February 20, 2019
The Ultimate Productivity Guide for Small Business Owners
Once you review these tips, you can get organized and make the most of your time. Let's
8 Must-Know Business Productivity Tips:
1. Write Everything Down
Don't forget about a meeting or task again! If you adopt the habit of writing everything down, you'll be more likely to remember what you need to do. To do this, you could manually write a traditional to-do list, or use an online project management program, like 
Asana
. Regardless, having somewhere to store notes will be beneficial. You'll never regret writing something down, so make it a part of your routine. In addition to to-do lists, 
Evernote
 is a great organizational app that lets users generate lists and manage projects. This can be used to keep track of long-term projects and ensure that you're meeting your business goals. Add text, hyperlinks, voice memos, and even turn your work into slides to share with your team. The basic plan is free, but there are also packages with more storage and additional features.
2. Plan Ahead
You won't gain respect if you're constantly forgetting about meetings, phone calls, bill payment dates, or other responsibilities. In addition to writing everything down, increase your productivity by holding yourself to a schedule. Using a planner will help you avoid procrastination and abide by deadlines. Notorious for losing things? A digital planner may be your best bet. Some online planners even let people book appointments to meet with you during your open time slots. A few helpful planning services to check out are 
ScheduleOnce
, 
Weekplan
, and 
Doodle
. Become especially organized by developing calendars for specific areas of your small business that require consistent activity. For instance, this 
social media calendar
 will help you stay structured and know which platforms you're posting to each day.
3. Learn Self Control
In your role, you must eliminate distractions and stay focused to master small business productivity. You can't afford to spend time surfing the Internet or hanging out with friends during work hours. If you struggle with self-control, there are solutions that can help you foster efficient time management skills. While working online, we suggest using the 
Self Control app
. This application allows users enter specific URLS that distract them. Then, you can set a timer, so that you're unable to access the entered URL during that amount of time. Finish your work, and then you can reward yourself with social media scrolling or watching animal videos on YouTube.
4. Make Productivity a Team Effort
Even if you're incredibly productive, if your team isn't just as organized, things could still fall through the cracks. To make sure that your staff is productive, hold weekly meetings, or suggest productivity tools that will benefit their work styles. This will guarantee a compatible, cohesive workflow. If you're struggling with completing tasks or getting preoccupied, find an accountability partner who will keep you honest. Ask them to check-in with you on a weekly basis. Most likely, it'll inspire you to work harder, because you won't want to admit you've been slacking on your work.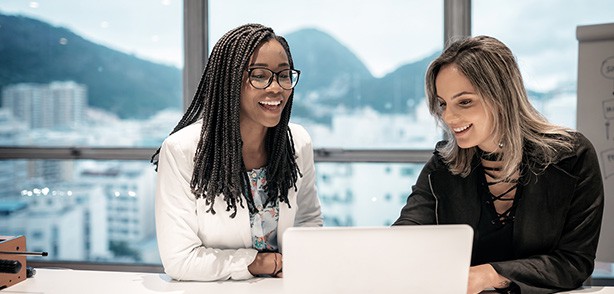 5. Securely Store Important Information 
Scrambling to find important documents is stressful and losing them could harm your company. Always keep sensitive information in a lockbox or other secure storage system, such as a password manager like 
LastPass
 or 
Dashlane
. File bills and other expense reports each month when you receive them. By making organization a habit, you'll never risk misplacing something significant.
6. Change the Way You Work
The way you approach tackling tasks may be what is stifling your productivity. Complete your most crucial work first, so that once you're finished you'll only have smaller duties left to finish. By starting assignments ahead of time you'll guarantee that your work is completed on time. In addition, you should make sure to account for day to day responsibilities when making your schedule each day. Even though simple tasks might not seem time consuming, they still take time out of your schedule.
7. Utilize the Time You Have
Everyone has more time than they think! Even the time you spend waiting for appointments, eating lunch, or other short periods can be used to complete small tasks. Take advantage of extra moments and use them for work instead of binge-watching Netflix or other non-productive habits.
8. Take Breaks
Although it's important to use your time wisely, you should also make sure you aren't overworking yourself. If you're working around the clock, you'll be more likely to burn out, which could affect the quality of your work. So, after a long work day, don't be afraid to turn off your phone and relax. Taking time away from your email inbox and other tasks will allow you to be refreshed and more productive later!
Are You Ready to Improve Your Productivity?
Efficiently managing responsibilities is part of the challenge of running a small business. By proactively implementing set ways to manage your work, you'll be able to 
flourish as a leader
. Focusing on your small business's productivity will make your job easier and you'll be able to better manage your responsibilities. Do you have other small business productivity tips to share? Tell us about them in the comment section below! We might even add them to this guide.
Editor's Note
: This post was updated for accuracy and comprehensiveness in February 2019.