May 16, 2022
The Top Pros and Cons of Prepaid Business Credit Cards
High-interest debt can torch your business finances and even harm your personal credit score. Due to this, many consumers utilize prepaid card issuers in the aftermath of a financial crisis. They can manage their finances while still having a card for spending by doing this.
We'll further explain what prepaid credit cards are in this post, so you can determine if they're the right financial product for your business.
What is a Prepaid Credit Card?
Prepaid credit cards allow you to set a specific spending limit because YOU must provide the capital, not a card provider or financial institution.
When you receive a prepaid credit or 
debit card
, you'll load it with a certain amount of cash. Therefore, if you want to buy something that costs more than your card's balance, you won't be able to.
Prepaid cards have numerous notable advantages but aren't without drawbacks as well. In the next section, we'll discuss the pros and cons of using prepaid cards.
What are the Pros and Cons of Prepaid Business Credit Cards?
The Pros of Prepaid Business Credit Cards:
1.
 Your Credit Score Won't Prevent You from Qualifying
If you don't have a high credit score, you might not qualify for a credit card with a decent interest rate. In fact, without a decent credit score, you may not be eligible for any credit card.
Luckily, you won't need to provide your credit history or financial statements with a prepaid business card. Because you aren't borrowing money from a lender, you won't undergo a credit check to receive a prepaid card.
However, unlike other funding options, a prepaid card won't help you build credit. Therefore, if you're pursuing a prepaid credit or debit card for this reason, you might need to select a different financing option, such as a business loan or line of credit.
2. You Can Manage Your Business's Spending
Spending can get out of hand when all you have to do is swipe a card to make a purchase. The transaction doesn't 
feel as real or meaningful
 without using actual cash. Studies show that consumers spend more when using credit cards.
With a prepaid card, you might not feel the pain of handing over cash, but you'll have to be aware of your prepaid card's balance.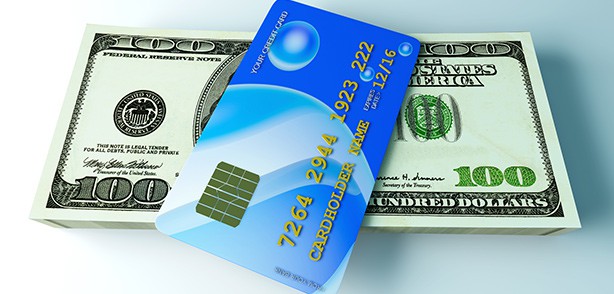 3.

You Can Set Limits on Employee Spending
If employees have access to your business's finances, you can monitor their spending with prepaid cards.
For example, if your employees frequently travel, giving them credit cards can make it easier to pay for business expenses. Plus, you can track spending for your books with a prepaid business card, but you can set limits on how much your employees can spend.
4.
 They're Cheaper Than Overdraft Fees
Many business owners use prepaid credit cards instead of traditional bank accounts because the 
overdraft fees
 on prepaid cards are usually cheaper than those on checking accounts. If you're constantly getting hit with $35 charges for taking out extra money in your ATM withdrawals, a prepaid card will prevent you from overdrawing your account.
Overdrawing fees can add up quickly, so consider using a prepaid card to combat this common issue.
The Cons of Prepaid Business Credit Cards:
1.
 It Could Be Difficult to Recover Funds If the Card is Lost or Stolen
Since your money is kept in a prepaid business credit card and not in a bank account, there's less incentive for recovery if it's lost or stolen.
A 
2016 statute
 limits prepaid credit card losses to $50 if the theft is reported within two days. However, that's still far less generous than the regulations regarding credit card misuse.
Due to this limitation, we suggest keeping funds in a secure savings account and loading funds onto your prepaid card in small amounts as needed.
2.
 You Can't Borrow Money from The Bank
One of the most significant advantages of a credit card is borrowing money that you don't have without paying interest fees for one month. If you're under your spending limit, you can make purchases without repaying the amount until the end of the billing cycle.
Credit cards help decrease spending because you don't have to pay off your balance right away. However, if you have a prepaid card, you aren't borrowing money, as it's your money loaded onto the card. Therefore, you can only spend the amount that you put on it.
3.

There Will Still Be Fees
Prepaid business cards might not have an interest rate, but that doesn't mean they're free to use; in some cases, there are fees for the following actions:
Setting up the card

ATM fees

Inactivity

Too much activity

Loading money onto the card

Certain transactions

Monthly fees for maintenance
4.
 No Points, Rewards, or Benefits
Credit card companies want you to use your card as much as possible, giving you numerous incentives. By using your credit card, you can earn:
Cashback rewards

Airline miles and hotel stays

Free business supplies
When you use a prepaid card to make purchases, you won't earn any rewards.
Considering all the fees involved with prepaid cards, a little reward for using them might be beneficial. Unfortunately, that's not an option with prepaid credit cards/prepaid business debit cards.
Conclusion: Consider Prepaid Credit Cards
Prepaid business credit cards might benefit your company, but you should conduct research to find the appropriate one. Read the terms and conditions, and ensure that the agreement fits your business's financial needs.
If you don't qualify for traditional credit cards, a prepaid business card could add value to your company's finances. However, if your credit score is high and budgeting is a breeze, a traditional 
business credit card
 is probably your best bet.
Editor's Note: This post was updated for accuracy and comprehensiveness in May 2022.