January 12, 2021
4 Free Business Credit Reports
In effect, your business score determines your eligibility for and the cost of various financing options. However, unlike a personal credit report, business credit reports are a bit harder to access. In fact, as of this post's publication date, free business credit reports aren't available from any of the major credit bureaus. That said, you can obtain summaries of your credit report and credit grades for free. In this article, we'll show you how to check your business credit report and score from Equifax, Dun & Bradstreet, and Experian. You'll also learn how these different scores are calculated, how often they're updated, and how to get free business credit information.
How to Check Your Business Credit Report
How you check your business credit report depends on which firm you want a report from. There are three major business credit scoring firms, Equifax, Dun & Bradstreet, and Experian. Below, we'll detail their free credit report summaries and how you can access their full reports.
Equifax Business Credit Risk Score
Equifax Business Credit Reports provides two scores to help you stay on top of your business's credit: the business credit risk score and the business failure score. The
Equifax Business Credit Risk Score
"predicts the likelihood of a business incurring a 90 days severe delinquency or charge-off over the next 12 months." Experian's business credit score ranges from 101 to 992—the lower it is, the higher the risk. Equifax based this score on four key areas:
Company size
Available credit limit
Time since oldest financial account opened
Evidence of unpaid bills, i.e. delinquent or charged-off invoices from a vendor
The Equifax Business Failure score is also included in your Equifax Business Credit Report but it's not considered a credit score. To access your Equifax report, you'll need to order a business credit report for $99.95 or a package of five for $399.95.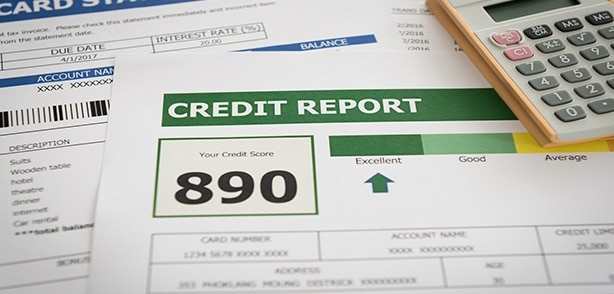 Dun & Bradstreet Business Credit Report
Dun & Bradstreet's (D&B) Business Credit report includes a PAYDEX Score which helps lenders make financing decisions. The PAYDEX Score is based on reported payment data and has a scale of one to 100. Your score is divided into three risk categories:
High risk: zero to 49
Moderate risk: 50 to 79
Low risk: 80 to 100
You can think of the PAYDEX Score as the business equivalent of your
FICO credit score
. It's based on your business's credit history and payment trends. The most effective ways to improve this score is to pay your bills on time and ensure your suppliers report your payments to Dun & Bradstreet. While you can't get your D&B score for free, they do offer
CreditSignal
for free which includes:
Alerts when your score changes
Monthly business credit activity summaries
Notification when your business credit file is accessed
With CreditSignal, you also get 14-day access to four free business credit score reports and ratings. For access beyond 14 days, you'll need to pay $61.99 for the
Credit Evaluator Plus Report.
Finally, to have a PAYDEX score, remember that you'll need to file for a DUNS number through Dun & Bradstreet's website. On top of that, the bureau must have payment records for you with
at least four vendors.
You can file for a DUNS number for free
on Dun & Bradstreet's Website. 
Experian Intelliscore Plus
Like D&B's PAYDEX score, Experian's score ranges from zero to 100, with zero being the riskiest. However, Experian's score differs from D&B and Equifax in that it brings in many factors other than your payment history. Experian's score is based on:
Legal filings from local, county, and state courts
Company background information from public records
Business credit history, including loan balances and payment habits
Size and age of the business
Any existing liens, judgments, or bankruptcies against the business
Free Business Credit Grades and Summaries
Other than D&B's free CreditSignal product, the only other option for free business credit information is through Nav. With Nav, you
enter your information
and receive a free summary of your D&B, Experian, and Equifax business credit reports. It's important to emphasize that business credit report summaries won't have the same detailed information a report will. Similarly, the credit "grades" Nav provides give you a rough idea of your business credit score but not a precise number. Of course, you can upgrade to a
paid version of Nav
for $29.99 per month, which all provide you with your full report and score from D&B, Equifax, and Experian.
The Best Business Credit Report for You
Equifax, Experian, and D&B are each well-known and trusted providers of credit information for businesses and consumers. Each one is updated regularly and used by lenders and financial institutions across industries. The best way to get a full picture of your business's credit history is simply to use all three. If you'd like to avoid paying but want some sense of your score, business credit grades and summaries can be useful. At the very least, low grades can be a good motivator to get your credit under control.