January 25, 2020
Four Low Cost Employee Incentives
Are your employees motivated? Do you find they aren't performing as efficiently as possible? While you could them offer more money, there are other low-cost ways to keep your employees motivated; you can offer them incentives.
Why Incentivize Your Employees?
You may be surprised to learn that offering employee incentive programs may inspire your staff to work harder. This also motivates them to stay at your company longer. Employee turnover is costly for companies large and small.
Higher pay isn't the only incentive. Employees want the highest pay possible, but receiving other benefits can also be attractive.
Many job seekers search for companies that treat employees well. You'll find several lists stating the best companies to work for. There's a reason why these lists are popular.
You can get creative with how you reward your employees. For instance, try offering discounts to employees for your services and products. Or, if you can afford it, give it to them for free. This is a low-cost method that many employees love.
Of course, you don't want incentives to eat into your profits, as this would hurt your business. Keep the incentives simple but valuable. As you'll read in this post, you don't have to spend a lot of money to keep your employees motivated.
Our Four Top Employee Incentives On A Budget
We have found four low-cost incentives that can inspire your staff to stay with your company. You can experiment with the different methods to see which are the best employee incentives.
One of the items is to customize your incentives for each employee. This requires learning what makes them tick. The benefits are obvious, as you'll show them that you've been paying attention.
A crucial aspect of keeping these incentives low-cost is to get creative. You'll see from the following choices that you have a lot of flexibility.
1. A Handwritten Thank You
People like to be appreciated. An easy way to acknowledge employees is to send them a handwritten thank you. When you do this, your employees will feel appreciated, and enjoy getting recognition for their hard work.
It's crucial to write your thank you letters differently for each employee. Your staff will talk and may start comparing notes. The gesture will backfire if they find the notes are identical. This will appear impersonal and ingenuine.
An easy way to make your letters different is to think about each person as you write. Jot down their specific contributions and how it has added to the bottom line of your business. Also, if you want to recognize particularly great work, consider including gift cards to a local coffee spot.
2. A Team Building Escape Room
Everyone needs a place to escape. It can help employees clear their heads and can be great for team building. Escape rooms are off site places that employees can go to participate in activities together as a team. They solve puzzles together or other activities where group interaction brings them closer.
Humans enjoy bonding, which is why social media has taken off. However, physical activity can help them feel connected in ways that social media lacks.
Escape rooms aren't specifically for employees of companies. They can be used for private events and parties. But, companies are finding they are a great source of team-building without having to send employees to exotic locations.
When employees participate as a team in these escape rooms, it may increase the chances of employees working together more efficiently with their job duties. This makes the entire team more productive.
You can work with the owners of escape rooms to find activities that your team enjoys the most. Some teams love physical activity, while others enjoy mental challenges.
3. Free Baked Goods
Set out a tray of baked goods in your company kitchen as a mid-week treat for employees. It's a great way for people to gather and enjoy a nice treat, compliments of your company.
If your office is near a bakery or coffee shop, you can contract with these businesses to provide the baked goods. If you purchase for them often, you may even be able to negotiate discounts.
In addition, you could take this incentive a step further by tying it to sales targets. In other words, when your team meets the targets, you can provide baked goods or even a catered lunch.
Another option is to ask your employees which local shops are their favorites for baked goods. You can alternate your selection of baked goods from the list of favorites.
4. Incentives Customized To Your Employee
When you learn more about your employees, you can tailor your incentives for employee needs. That solves both the appreciation and incentives for your program. The methods to implement this are wide open. You can get creative with this.
For example, you could implement a points system where employees can choose rewards from a menu of available items. Whenever they gain enough points, they can redeem them for the rewards listed. It's crucial to learn about your employees so that you can include rewards based on their interests.
Points could also be awarded as a team. The teams can negotiate rewards that would help the team with their jobs. This activity will help bring them together.
In addition, you may be able to implement an incentive for some employees to have more vacation time or paid time off. For instance, if you see some employees staying late every day, give them the option of leaving early on Fridays, or something similar.
The biggest challenge with customizing your incentives is making sure they're fair for all. For instance, people participating in points systems equate the points to dollars. This can get complicated if the rewards aren't in line with the amounts they calculate.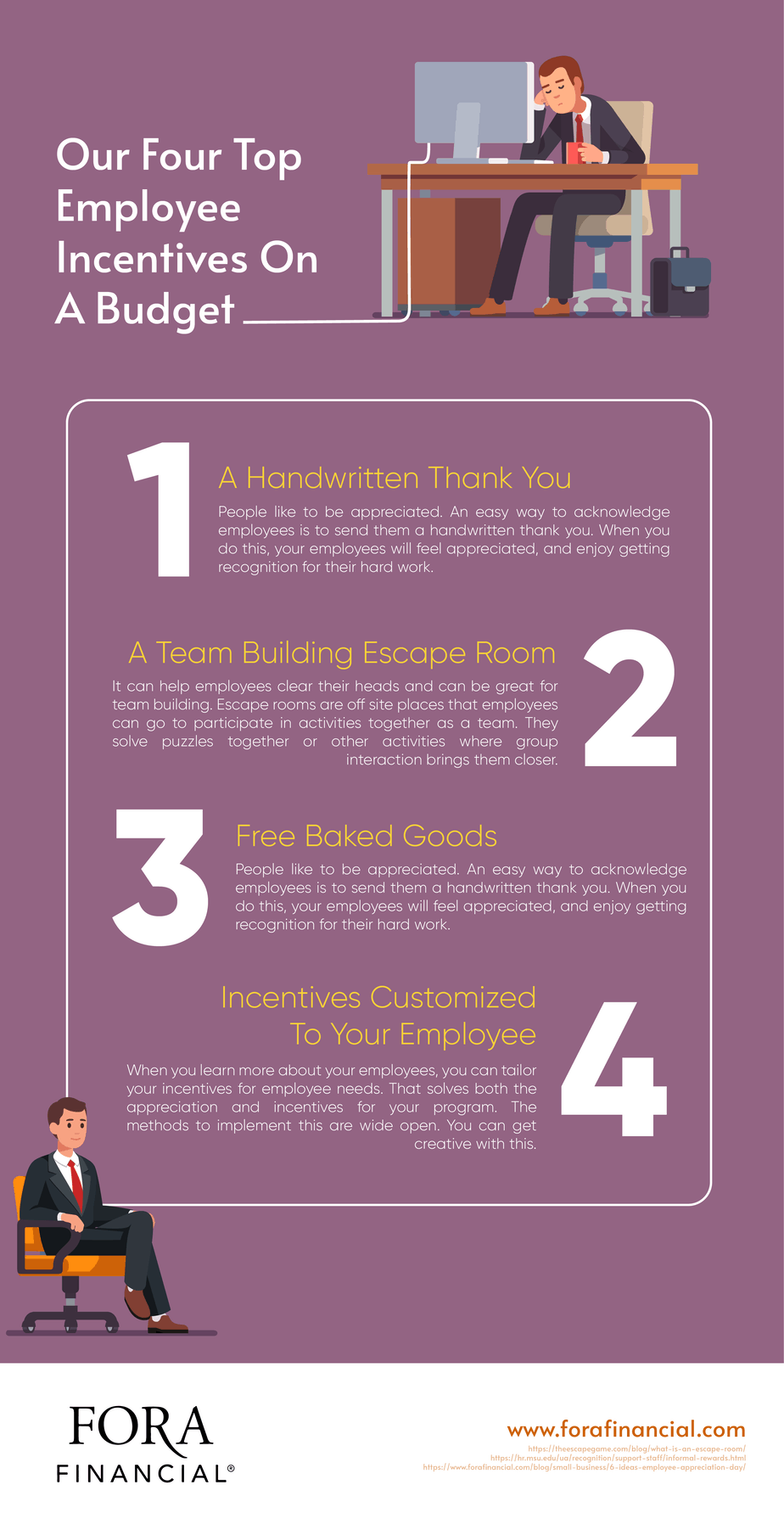 The list above is by no means exhaustive. Ultimately, you're limited only by your imagination. One incentive that you can offer your employees is online training. Several platforms have programs where employers pay one price for a certain number of employees.

If you decide to offer training as an incentive, try to match the skills you need to strengthen within your company with the training program. While offering training in skills outside your business can be useful on occasion, you want to maximize the incentives to your business needs.

Not all incentives are created equal, so you'll want to measure the effectiveness of the incentives you offer to employees. Some incentives are likely easier to measure than others.

One overlooked method in measuring incentives is to ask employees what they think. However, the true test is the retention of your employees. If you have employees sticking with your company, you are doing something right.