February 22, 2019
How to Determine a Paid Time Off Policy for Your Business
It can be challenging to ensure you stay well-staffed when employees are on vacation and to attract good employees to whom PTO days are an important benefit, all while adhering to state regulations. A PTO policy for small businesses addresses how an employee can bank hours for sick days, personal days, and vacation days. Employees can take PTO days and use them as they see fit, although most businesses require their employees to accrue pto with a maximum amount of days. In addition, some allow them to expire if unused. In comparison, some businesses offer
unlimited paid time off
, and employees can take days off as long as their work is completed. A lot of these components depend on the state's regulations. There are no federal laws governing vacation policy for small business, and a company's main consideration concerning paid time off policy is a function of
recruiting top talent
. In the U.S., PTO usually begins with two weeks per year plus paid federal holidays. The number of PTO days might increase with tenure. In some industries, PTO accumulates based on hours worked, and might be carried over from one year to the next or might be forfeited if not used within a specified period. Some states require unused PTO time to be paid off at termination, while others don't.
What Are the Top Paid Time Off Policy Factors?
A 
study from TSheets
 uncovered facts that impact a PTO policy for small business, which we'll review below. PTO is an important part of a benefits package, and many potential employees consider a business's PTO policy prior to accepting a job offer. However, it's also true that many employees don't use all their PTO. The study found:
1. Usage
In 2016, 70 percent of respondents did not use all their PTO. On a national level, that equates to 600 million unused PTO days. Employees with 10 or more days of unused PTO at year's end accounted for 26 percent of the study sample. The average vacation policy for small business gave employees 11 to 15 PTO days per year, although 16 percent of respondents got none. As a business owner, you should encourage your employees to take advantage of their PTO. This will allow them to have time to relax, so that they return to work feeling rejuvenated and ready to work hard.
2. Cognitive dissonance
The usage numbers conflict somewhat with another interesting finding, that 63 percent of workers wouldn't take a job that didn't include PTO. About 88 percent of respondents want their employer to provide PTO, and 85 percent said sick time is important. It seems that PTO is demanded but not always used. Nearly half of the study respondents complained that they were too busy to use all their PTO, yet a third said they'd be happier with more PTO. As a business owner, it's your job to encourage your employees to take advantage of their vacation time. If they're stressed about using it, help them find solutions. This could be making sure that someone can cover their work or allowing them to complete certain project once they are back in the office.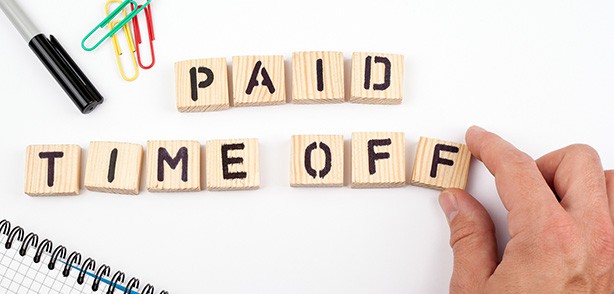 3. Parental leave
Regarding parental leave, the study found that only 11 percent of businesses provided paid maternity leave in addition to PTO, a figure swamped by the 72 percent of employees who favor this benefit. Also, approximately 8 percent of employers offer maternity and paternity leave on top of PTO. Paid leave for both parents is more important to younger workers. If you're interested in recruiting millennials, offering maternity and paternity leave could give you an edge.
4. Spending PTO days
According to the survey, a little under a third of respondents use their PTO days to take vacation time. About 5 percent of them travel overseas, while 25 percent stay at home. Some 28 percent indicated that they use PTO time to spend more time with family. Having PTO days gives your employees the freedom to take time to do activities that matter to them.
5. Trading salary for PTO
Survey says that 20 percent of employees would accept more PTO in lieu of a raise, and 62 percent would give up a raise to get more flexible work hours. The latter benefit is often a good choice for employers, since it costs almost nothing. If you're unable to give hardworking employees a raise, you might want to consider giving them some additional PTO instead. This can increase employee engagement, as they'll be motivated to work hard to have more days off. The Family and Medical Leave Act of 1993 requires covered employers to give employees unpaid leave for qualified family and medical reasons. 
State laws
regarding paid leave vary. For example, California doesn't allow paid vacation time to be forfeited, and any balance must be paid out at termination. In New York City, businesses with five or more employees must offer paid sick days.
How Can You Establish Your PTO Policy?
Given these recent survey results, the path toward your business' PTO policy rests on several considerations:
Have You Considered Your Specific Business? Determine the PTO days appropriate to your business, industry, geography and staffing needs.
Will PTO Days Roll Over? Decide whether PTO days will expire or roll over. If you allow employees to roll over time, make sure that they can easily access their pto bank so that they can manage their vacation time. Also, beware that an expiration policy might trigger an avalanche of turnover at year's end.
What Will Your Dispersal Method Be? You could give out an annual amount at the beginning of the year, or an accrual policy in which employees earn their PTO over time.
What Can Departing Employees Use Unused Time Off? Determine what to do with departing employees' unused PTO days. Some states require it be paid out at the end of an employee's tenure.
How Will You Ensure Employees Understand Your Policy? Publish your PTO policy and ensure all employees understand it. The policy should address all the key questions regarding earning and using PTO days.
How Will Employees Be Able to Request Days? Make sure that employees are aware of how they can request pto. This could be through your company's employee portal, by contacting their direct supervisor, or contacting human resources.
Will Your Management Team Be Involved? Ensure that your management team is aware of vacation requests, so that other team members can cover absent employees' work if required.
What Will Your Policy Be for Unscheduled Absences?  Although it's understandable that there will be unforeseen circumstances, determine how these instances will affect an employee's pto balance.
Will You Reward Tenured Employees? Consider giving additional time off to employees who have put in significant years of service. For example, employees who have worked for your company for more than three years might receive five extra days per year.
Conclusion: Having a Paid Time Off Policy for Your Employees Is Crucial
It isn't difficult to set up a PTO policy, and other nearby businesses can give you sensible recommendations. If you offer PTO, make sure your payroll system accounts for it correctly. Having a suitable paid time off policy will promote employee retention and contribute to your future recruitment efforts!
Editor's Note
: This post was updated for accuracy and comprehensiveness in February 2019.