January 25, 2020
How to Maximize Cash Back On Your Business Credit Cards
If your goal is to maximize the cash back you receive on your business credit cards, you've come to the right place. Below, we'll share some valuable tips and tricks that can help you make the most out of these useful financial tools. 
How Do Cash Back Business Credit Cards Work?
Every time you use your
cash back business credit card
for an eligible purchase, the credit card company will pay you a percentage of the purchase price. You'll receive this money at the end of your billing cycle or statement period. While most cash back rewards pay 1 to 2 percent of your purchase in cash back, some pay 5 percent or more. 
For instance, let's say you have a 1 percent cash back business credit card. If you've spent $10,000 on new equipment for your business over the course of a billing cycle, you'll earn $100. To redeem your $100, you can request a check in the mail, set up direct deposit into a bank account, or earn a statement credit. In some cases, you may be able to redeem the cash for gift cards to retailers you frequent. 
There are two main types of business cash back credit cards:
flat rate cards and bonus category cards
. Flat rate cards offer a flat cash back rate on every purchase. These cards are simple because you get the same rewards rate every time you use you them.
Bonus category cards, however, are a bit more complex. They offer a credit card cash back on specific categories like transit and gas stations, so you have to be mindful of how you use them. 
Digging Into Bonus Categories
While
bonus category cards
require a bit more thought than flat rate cards, they can help you earn more cash back. One card, for example, may offer 5 percent cash back on purchases at office supply stores. Another card may offer this same high cash back rate on internet, cable, and phone service purchases. 
If you spend a lot of money at office supply stores  and wholesale clubs on internet, cable, and phone services, these bonus category cards may be a good option. It's important to understand that most cards put limits on bonus category cash back rewards. The card that offers cash back on office supply purchases may give you 5 percent on the first $25,000 you spend in a year. You may get 1 percent or 2 percent after you've reached the $25,000 limit. 
To stay on top of bonus categories, put a small piece of masking tape on your business cash back cards. Label the masking tape with their bonus categories. This way, you'll know which cards to use when you're making business purchases. If you have multiple cards with bonus categories, this strategy is essential. 
Driving Your Card Selection By Your Spending Habits
Your business is unique and unlike any other business out there. Therefore, take a close look at your business spending habits before you choose the best cash back credit card. Here are some questions to consider.
Do you travel often?

If you frequently travel for business, opt for a cash back card that doesn't charge foreign transaction fees. Also, find a card that rewards you with cash every time you make travel-related purchases.

Do you take clients out to eat?

You may entertain clients regularly and spend a lot of money at restaurants. If this is the case, consider a card that offers cash back for dining purchases. 

Do you drive frequently?

If you travel to meet with clients or deliver packages regularly, choose a card that offers higher rewards for gas station spending.

Do you use a lot of office supplies?

There are some industries where paper, pens, envelopes, notebooks, and other office supplies are widely used. If your business is in one of them, go for a card that rewards you well for office supply purchases. 

Do your business needs constantly change?

If your business needs are always evolving, you may not have specific spending categories. A flat rate cash back card may be the best choice.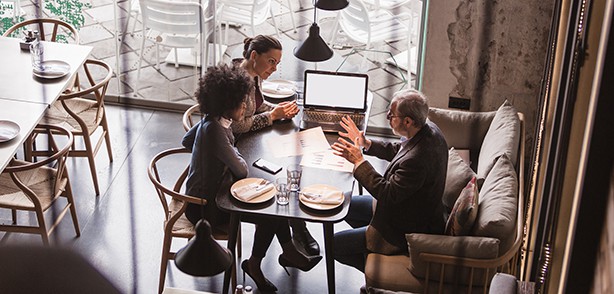 Analyze Potential Returns And Annual Fees
Business credit cards often come with annual fees. Generally speaking, the higher the fee is, the more perks you'll get. However, this doesn't mean that an
annual fee is always worth it
. Before you opt for a business credit card with an annual fee, do the math. 
Determine how much you'll need to spend on the card to make the annual fee a wise investment. If a business cash back credit card charges a $95 annual fee and you think it's feasible for you to earn more than $300 in cash back in a single year, go ahead and sign up. 
Maximize Expenses On The Card
The more you spend on your business credit card, the more your earn in cash back rewards. To maximize expenses on it, follow these tips.
Pay Vendors:

If you've paid vendors via check in the past, ask them if they're open to credit card payments. You'll find that many of them are open to this payment method. Why pay a vendor $12,000 per year via check when you can pay with a 1 percent cash back credit card and earn $120?

Buy New Equipment:

Depending on its cost, you may be able to put your new equipment on a business credit card. If you're confident you can pay your balance in time, this may be a better option that taking out a small business loan. 

Fund Travel:

There's no reason you can't put airfare, hotels, rental cars, and other travel-related expenses on a credit card. In fact, if you travel often for business this may be the easiest way to maximize your credit card expenses. 

Treat Clients:

If you wine and dine clients on a regular basis, you can use your business credit card to pay for them. Restaurant meals and golf outings can add up quickly so you might as well cash in on them. 
Provide Employees With Ancillary Cards
If your employees use their personal credit cards to pay for business expenses and submit reimbursement forms, it's time to make a change. Instead,
provide them with ancillary cards
. By going this route, you can receive cash back on their purchases and maximize your rewards. 
Fortunately, most credit card issuers won't charge an annual fee for ancillary cards and allow you to put limits on them. Most employees actually prefer to use a business credit card rather than their own personal card. This is particularly true if they're struggling financially and have problems with credit card debt. Due to this, they'll likely be thrilled once you inform them of this change. 
Keep Up With Changes In Credit Card Rewards
It can be exciting to find a business credit card that works for you, especially when you consider the countless options out there. However, the card that works for you today may not be a good fit a year from now. The reality is that credit card rewards programs are not set in stone.
If the card you currently use offers 5 percent cash back on travel expenses, this may eventually change. There may come a point where the cash back rewards changes to 3 percent rather than 5 percent. Therefore, it's important to stay on top of changes in your credit card rewards as much as you can. 
Visit the credit card issuer's website every few months to review the rewards. If you have any questions about them, don't hesitate to contact customer support. When you're clear on what the rewards are and how they work, you can avoid unwanted surprises down the road.
If you find out that credit card rewards changed and no longer work for you, find a replacement and
cancel the card
. Pay off your remaining balance and cash in any rewards you may have. Then, reach out to your issuer to go through the cancellation process. Once you've cancelled your card, cut it up and cancel any automatic payments. 
Our Final Thoughts
With a cash back business credit card, you can get paid for everyday business purchases. As long as you pay your balance in full every month, a business credit card can be a valuable financial tool. 
Just make sure you choose the right one for your unique spending habits and preferences. If you come across a few that meet your needs, it may be a good idea to apply for and use all of them. This is particularly the case if they have different bonus categories. 
At Fora Financial, we strive to help small business owners like you succeed. Sign up for our newsletter today for more small business tips. 
[cta-newsletter]