February 01, 2020
How to Develop A Business Continuity Plan In Case Of Disaster
That's where a
business continuity plan
(bcp) comes in. With a business continuity plan, you can protect your organization from the unexpected. It can allow you to continue operations and recover from a disaster quickly. In this post, we'll further explain what a business continuity plan is and how to develop one.
What Is A Business Continuity Plan?
A business continuity plan ensures that key business processes can continue in the event of a disaster or emergency. It's a necessity if you'd like to protect your organization from profit losses and damages. Here are a few events that may arise and make a business continuity plan invaluable.
Natural Disasters: Hurricanes, winter storms, fire, floods, and earthquakes are all examples of natural disasters. These disasters can pose serious health and safety threats to your commercial property and employees.
Man-Made Disasters: Man-made disasters like gas leaks, chemical explosions, and factory fires can occur as a result of negligence or error. They can negatively impact your business and disrupt productivity.
Utility Failures: Utility failures may occur when utility providers fail to service your business. They can include power failure, water service disruption, or phone line loss. These failures can make it challenging for your team members to perform their daily responsibilities.
Cyber Security Attacks: Cyber security attacks are common in today's digital world. An attack such as an information leak or ransomware can hinder your technical assets and tarnish your reputation.
When you take time to develop a business continuity plan, you'll know exactly how to proceed if disaster strikes. Essentially, a business continuity plan enables your organization to be proactive, reducing the risk associated with unexpected events.
Why Are Business Continuity Plans Crucial
If you're a busy business owner, you may be tempted to put a business continuity plan on the backburner. However, doing so can cost you a lot of time, money, and headaches down the road. The truth is that all businesses face unexpected emergencies at some point. By creating a plan to safeguard against them, you give yourself peace of mind. With a business continuity plan, you can:
Guide Your Employees: You can't expect that your employees know what to do when a disaster occurs. Therefore, you should create a business continuity plan and train them in advance. This way all employees will be on the same page and there will be less confusion and stress during unexpected situations.
Cover Losses That Insurance Will Not: Contrary to popular belief, an insurance policy isn't a business continuity plan. While insurance may take care of some losses, it won't protect against lost customers, market shares, and other crucial components.
Continue to Profit: Most organizations strive to maximize their profits. If your business has a strategic continuity plan in place, profit loss will be less of a concern during a disaster. Your employees will know what to do to continue operations and earn money.
Examples Of Success
There have been many organizations who have successfully
recovered from a disaster
because they had business continuity plans. Here's a few examples:
Cantley Technology: This IT company experienced an unexpected emergency when lightning struck their office building, destroyed equipment, and burned its computer hardware. Luckily, they had a continuity plan in place. Cantley had transferred its client servers to a remote data center with continual data backups. While employees were forced to move to another office, clients didn't experience any service interruptions.
Gaille Media: Gaille Media, a digital marketing agency, was affected by Hurricane Harvey. The flood damage was so severe that its employees couldn't enter the office building for three months. Since they had a business continuity plan, the hurricane had no affect on their operations. Gaille Media stored the majority of its data on the cloud, so staff were able to work remotely throughout the hurricane and afterwards.
Without business continuity plans, both Cantley Technology and Gaille Media would've faced far more harm than they did. Had their competitors faced the same types of hazards that struck them, they may be out of business.
4 Pointers For Successful Recovery Plans
Developing a successful business continuity plan may seem like a daunting task. When you consider the following emergency management tips, however, you'll find that it's actually quite simple. As long as you devote time and resources to it, you should have your plan up and running in no time.
1. Determine Needed Documentation
Critical documents are an essential component of any business continuity plan. Keep in mind that not all documents will apply to every business. In most cases, however, documents such as bank records, current contracts, insurance policies, and tax returns will be necessary. The documents that are important are the ones that are specific to your operations. After you determine which documents are important for your business, it'll be your job to protect them. To do so, you should store multiple copies in paper and electronic formats. This strategy will ensure you have access to them regardless of what type of emergency situation arises. Remember that if you only have paper copies of these documents, a fire could easily wipe them out. On the other hand, electronic only copies could be risky if your server crashes.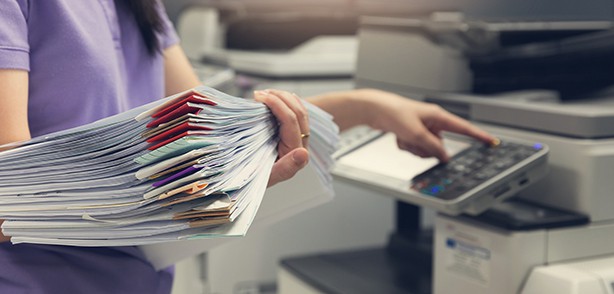 2. Identify Key People Involved In Operations
Examine how your business operates and ask yourself who the key players are. Most likely, they'll be members of your management team. After you've determined your key players, arrange a meeting with them to discuss a business continuity plan. Explain why it's important and how it can protect your organization in the event of a disaster. Answer any questions and address any concerns they may have. Once the key players commit to the plan, find a
business continuity plan template
and use it to assign various tasks. This way the plan is a team initiative and a combination of every key player's efforts. In addition, this strategy eliminates the need for one individual to create the entire plan from scratch. When a solid plan is in place, key players can train other employees and pinpoint areas for improvement.
3. Don't Be Afraid To Hire Professionals
If you feel overwhelmed while developing a business continuity plan, rest assured there are professionals who can help. For instance, let's say you own a law firm. Unfortunately, you're a prime target for ransomware attacks, wire transfer fraud, and other cyber attacks. It may be in your best interest to hire an IT company that can proactively monitor, prevent, and respond to threats. While they may not be able to guarantee protection from all potential threats, they can greatly reduce your risks. This will give you peace of mind going forward. Consider your business's industry and location to determine the types of professionals that can aid with your plan. Hire a business consultant or visit the
Disaster Recovery Institute International
to find a list of certified disaster recovery professionals. In addition, you and your team can get certified in disaster recovery planning. This will make you feel more confident during a disaster.
4. Take Potential Disasters Seriously
As a busy business owner, it can be tough to take a business continuity plan seriously. This is especially true if you try  to dedicate most of your resources to money-making activities. However, if you make business continuity a priority, rather than an afterthought, you future self will thank you. When you're proactive and anticipate future obstacles, you're more likely to get ahead of your competitors in succeed. Think of a business continuity plan as a way to protect your business and all the hard work you've put into it. Remember that every business experiences challenges along the way and it's better to be safe than sorry.
Disaster Doesn't Mean Disaster (For Your Business)
A strategic business continuity plan can turn a disaster into a minor inconvenience. It can ensure that when a fire, earthquake, or cyber attack hits, everyone in your organization knows what to do. In addition, a business continuity plan can allow you to continue to serve your customers and uphold a positive reputation. At Fora Financial, we strive to help business owners succeed. Sign up for our newsletter today for more small business tips. [cta-newsletter]