October 02, 2019
How to Celebrate National Women's Small Business Month
In this post, we'll share five ways that you can network with other women entrepreneurs, expand your skills, and benefit your business's future. Business ownership isn't easy, but we're here to help!
5 Tips for Women Entrepreneurs During National Women's Small Business Month:
1. Get Involved
By joining a professional group, you'll meet women business owners who share your entrepreneurial spirit. Check out organizations such as your local 
National Association of Women Business Owners
 chapter, 
American Business Women's Association
, or 
Catalyst
, to name a few. In addition, the Small Business Administration might have a chapter in your area. These organizations will provide you with invaluable networking opportunities, in addition to discounts, access to events, and other prospects.
2. Be a Mentor, or Find One
Networking is pivotal for business owners. Regardless of where you're at in your career, finding a mentor will help you learn more about your industry and give you someone to approach for advice. As we mentioned above, joining a professional organization is a great way to go about this; you can probably connect with potential mentors in these groups. Plus, don't forget to reach out to existing connections! Having a pre-established relationship with someone could make them an ideal mentor. In addition to finding a mentor, give back to young women who want to start careers in business. For example, you could mentor someone by helping them as they start their business or make other major career decisions. Lastly, you can mentor aspiring women entrepreneurs is to speak at a local college or event. By doing this, you can give back to your community and raise awareness about the opportunities for women in business. Plus, you may even be able to find future employees or interns!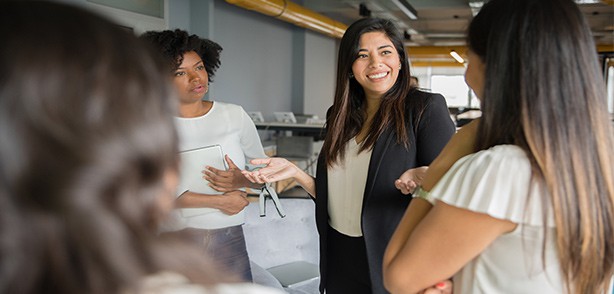 3. Hone Your Skills
Personal development should be a top priority! Consider areas of your small business that could be improved and the skills that you'll need to make these updates happen. Maybe you want to foster team unity and could work on your leadership abilities by reading a motivational book. Or, perhaps you're interested in trying out new social media marketing ideas. If this is the case, you could sign up for 
HubSpot's free Inbound Marketing Certification
to learn more about using marketing to generate sales. Ultimately, whatever your goals are, you'll always benefit from investing in yourself!
4. Read Up
It might be time for a trip to the bookstore! Expand your small business knowledge by reading
books by female entrepreneurs
. Their expertise will likely inspire you to try new things, give you advice on business-related topics, and much more.
5. Share Your Story
Spread the word about your business! Be proud of your company and how much you've grown; and share it with other women in small business. Explaining your passion for small business will 
help you network
, advertise your brand, and establish yourself as an influencer in your field. Publish a bio about yourself on your business website, participate in panels at business events, or take other opportunities to talk about yourself. Don't be shy, it'll bring value to your business in the long-run!
Conclusion: Celebrate Being a Woman Entrepreneur (And Support Other Women in Business)
Throughout National Women's Small Business Month, reflect on your journey as a small business owner. It's the perfect time to reflect on how far you've come, while also setting new goals. If you run a woman-owned business, please share your story with us in the comment section below!
Editor's Note: This post was updated for accuracy and comprehensiveness in October 2019.