October 18, 2019
Inbound Marketing: What Every Business Owner Should Know
Inbound marketing turns traditional "outbound" marketing on its head by providing content and experiences designed to attract customers.
As Hubsp
o
t explains
, "While outbound marketing interrupts your audience with content they don't want, inbound marketing forms connections they're looking for and solves problems they already have." Of course, to understand how inbound can help your business, you'll need to know more than its definition. In this post, we'll break down how to create an inbound strategy and share some examples so you can understand how this type of marketing can help your business.
What Is Inbound Marketing?
A successful inbound marketing program attracts, engages, and delights customers. It'll help to think about each of these functions — attract, engage, and delight — as three different stages of inbound marketing. In the attract stage, the goal is to bring prospects to your website by, for example, publishing blog posts and content offers that provide value. Once you've attracted prospects to your website, you need to engage with them through social media, sales calls, emails, or chatbots. Finally, to delight customers, your team must solicit their feedback, provide expert advice, and ensure customers are successful with your product or service. By delighting your customers, the idea is that you'll turn them into advocates for your brand.
How to Create an Inbound Marketing Strategy:
To create an inbound marketing strategy, you need to lay out a plan to specify how your business will attract, engage, and delight your customers. In larger enterprises, there are usually different departments, such as sales, marketing, and customer service, that create and execute separate aspects of the inbound marketing strategy. If you own a small business, you may need to rely on one department to handle your entire inbound marketing strategy. In any case, it's best practice to document your strategy at every phase. At a minimum, your inbound marketing strategy should tell you:
Who your target audience(s) is.
What type of content you'll create, who will create it, and where you'll publish it.
How and when your sales team will engage with a prospect.
How, when, and where to provide information to and solicit feedback from existing customers.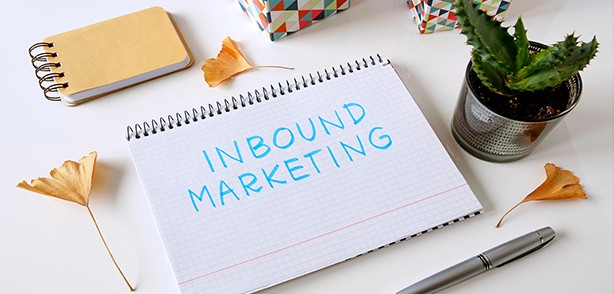 Inbound Marketing Examples:
Inbound marketing comes in many different formats but not all of them will make sense within your strategy. The good news is you don't have to reinvent the wheel when it comes to inbound marketing. You can take a few hints from the following examples and see if something similar could work for you.
1. A Company Blog
Starting a blog that educates and/or entertains your target audience is one of the most tried and true methods of attracting customers with inbound marketing. Our blog, the
Fora Financial Blog
, is an example of this in action. By publishing content that answers questions about small business finance, we attract business owners who might be interested in our loan products. For example, our post on
How Much Collateral Is Needed to Get a Secured Loan
provides value to and attracts the type of business owners who will find our finance options useful.
 2. Social Media
You can use social media channels to attract, engage, and/or delight your audience. For example,
Hootsuite
has
one Twitter account
dedicated to helping existing customers and
another account
dedicated to attracting and engaging with prospects. Review the feeds of these separate accounts and you can see how Hootsuite uses social media to execute on their inbound marketing strategy in all three stages.
3. Email
When you've attracted a prospect to your website and enticed them to provide their email address, you can use email to engage and drive them towards a purchase. For example,
Airbnb
does this by using a personalization strategy that enables their system to send emails to customers based on their search history on the site. So, when a customer searches for accommodations in Portland but doesn't finish booking, Airbnb will send that customer an email when additional rentals become available in that city. Additional examples of inbound marketing tactics include search engine optimization, guest posting, influencer marketing, publishing an eBook, creating a video, and more.
Conclusion: Inbound Marketing Is a Long-Term Approach
As you can see, inbound marketing goes beyond the traditional functions of the marketing department. In fact, when it's done well, inbound becomes a methodology that permeates your entire organization because it relies on the alignment of marketing, sales, and customer support. If that sounds like a big project, that's because it is, but it shouldn't deter you from doing it. There's a reason inbound teams are
13 percent more likely
than outbound teams to feel that their organization's
marketing strategy
is effective. However, you should recognize that this strategy won't produce results overnight and you must think seriously about the resources you'll need to invest in your inbound marketing program. Has your business started an inbound marketing strategy? Tell us your top tips in the comment section below!