January 24, 2020
How To Attract Customers in 8 Creative Methods
Customers are the lifeblood of most businesses because they buy your products or services. Finding customers can be a challenge, but one that business owners can overcome.
Getting new customers can be difficult, but the good news is that it isn't impossible. It takes a bit of planning and learning techniques that can increase the odds of finding customers and increasing sales.
Concentrate on finding customers who will be interested in what you have to offer. Otherwise, you'll be wasting time that you could be spending to build your business.
Getting New Customers Can Be Difficult
Business owners struggle to find potential customers. One underlying reason is they don't use the right techniques. Another reason is they overemphasize selling.
It's natural for business owners to focus on the core functions of their businesses. However, obtaining new customers is just as important. When the well dries, you don't want to scramble to find your next customer. Learn to build your customer base, and you won't have to stress about attaining sales.
How To Attract Customers: Our 8 Methods
To attract customers, you should follow a process. Once you develop that process, make it part of your business tasks. Put it on your to-do list, or have someone do it for you.
These eight methods can be used to attract more customers to your business. By using these methods, you'll increase the potential of finding more customers. You may get to the point of having turn a few away, but that's a good problem to have.
1. Market Research Identifies Potential Customers
Conducting market research can help you target the right customers. Many business owners try to target everyone, which they learn isn't the best way to find new customers.
Spend the least amount of time possible on your customer acquisition by targeting the right people. Marketing companies suggest creating a customer persona or avatar. This is a fictitious profile of your ideal customer. For instance, if you target men of a certain age group, create a persona around that type of person.
One technique on how to attract new customers is to analyze your competitors. Who are they targeting? Check out their social profiles to see who's following them. You can target them, too.
2. Determine Where Your Customers Reside
Do you ever scan blogs or forums related to your business? They contain valuable information about the interests of your customers. It's a great tool to find out what questions these customers are asking, too.
Don't overlook your social network when using this method, as word of mouth marketing can often lead to referrals. Many customers will engage in discussions with friends about their interests. They'll ask their friends or followers for advice on products or services.
Check out question and answer websites, too, such as Quora.com and ask.com. Some marketers like to manipulate these websites, so you'll need to read them with a critical eye.
The data you gather from your existing customers can help you determine demographic information. You can use this information to locate people with similar characteristics.
3. Obtain A Deep Understanding Of Your Industries
Subscribe to industry trade magazines and associations to better understand your ideal market. These publications usually require paid subscriptions, but the useful information you'll have access to will be worthwhile.
In addition, you'll learn about the experiences of colleagues and competitors in your industry. Plus, you'll also receive other useful resources.
Keeping tabs on financial news in your industry can provide great insight. Financial news channels often report on companies in that industry. Check out press releases to find news about competitors or the industry.
Lastly, set up alerts on websites such as Google Alerts and IFTTT.com. These services will send alerts to your email whenever a certain event is triggered. For instance, you can enter a keyword related to one of your products to learn about any updates.
4. Positioning And Differentiating Your Business
Can you describe why your business is different? Why would customers want to buy from you rather than your competitors? When youdefine your differences, you can use that to position your brand and attract new customers.
Sometimes, positioning works even if you have similar features as your competitors. If your customers perceive you as being different, they'll buy from you. For instance, offering exceptional customer service will help your company stand out.
Try to differentiate on features other than price, unless there's a reason to do so. Competitors will lower their prices to try and drive you out. It's a race to the bottom, and no one wins, not even the customers.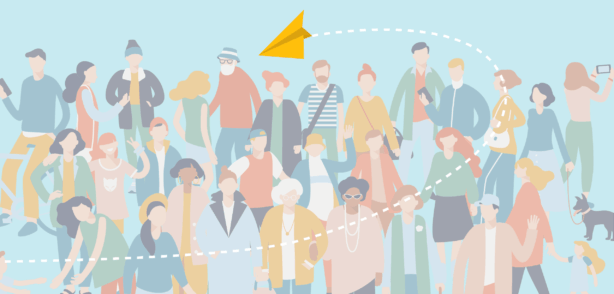 5. Develop Messaging Directed At Your Target Market
Old tactics for getting the word out are no longer effective. Your target market wants to feel connected not just to your products, but to your brand. The reason why many companies are working with brand ambassadors and influencers is because it works.
The message you deliver shouldn't be a sales pitch. Consumers are now trained to see right through that scheme. How often do you pay attention to banner ads on websites? They may catch your attention on occasion, but most people ignore them.
People don't want to be sold. They want products and services that help their lives in some way. That is the message you want to get across. When you do this, you'll have little trouble convincing customers to buy.
The content that you create on your website or social media should reflect the customer persona defined earlier. This is your target market.
6. Cultivate Partnerships And Relationships
The internet is a giant collaboration machine. Use this to your advantage. People like to share ideas and knowledge, and your business should collaborate with others when possible.
When you establish partnerships and nurture relationships, you won't have to sell. You can offer helpful solutions. People share these solutions, and their friends become buyers.
Offer a free newsletter with helpful advice and tips. By doing this, you can build an email list to build relationships. Provide valuable information in your newsletter without too much selling. Otherwise, you'll lose the connection.
Work with companies that are part of your supply chain. Developing strong relationships opens the door to new opportunities.
Also, remember that customers love appreciation, so it's crucial to reward existing customers. Help repeat buyers become brand ambassadors. They'll do your selling for you. However, you must treat them well and keep them engaged.
Consider creating an affiliate program. Highly motivated affiliates can bring in legions of new customers. It's a low-cost method, too.
7. Don't Be Afraid to Spend on Marketing
Marketing is powerful when implemented correctly. Small business owners tend to skip spending on their marketing strategy. They fear they'll spend too much money and produce too little results.
Seek out the services of successful marketing companies and spend money on the campaigns they create for you. You can work with these companies to stay within your marketing budget. However, when they produce results that work, you'll likely increase your budget.
Small businesses often spend money on out-of-date techniques that don't produce results. After these campaigns fail, they end up reaching out to marketing companies.
You could try to learn marketing techniques on your own and then use them for marketing your business. Devising a marketing plan takes a lot of time to master, though. If you have plumbing problems, do you call a plumber or go to school to learn how to be a plumber? Unless your business is marketing or plumbing, concentrate on your core activities.
8. Follow Up With Existing Customers, Gain Referrals
If you sell a great product or provide services to customers, they'll recognize your work. They may even talk about you to colleagues and friends. However, your customers are busy, so they may not talk about you as often as you'd like.
When you follow up with your customers, they may have more work for you or need more of your products. If they don't currently need your services, don't be afraid to ask if they know anyone who does. Most customers will be happy to pass your information along to their colleagues.
Sometimes, customers need a reminder, so consider following up. Don't pester them, but let them know that you'll touch base in a month or so. They'll usually welcome this exchange.
One tactic that has worked for businesses is to ask for testimonials that you can display on your website or LinkedIn profile. Potential customers will be impressed when they see patrons' glowing reviews about your company.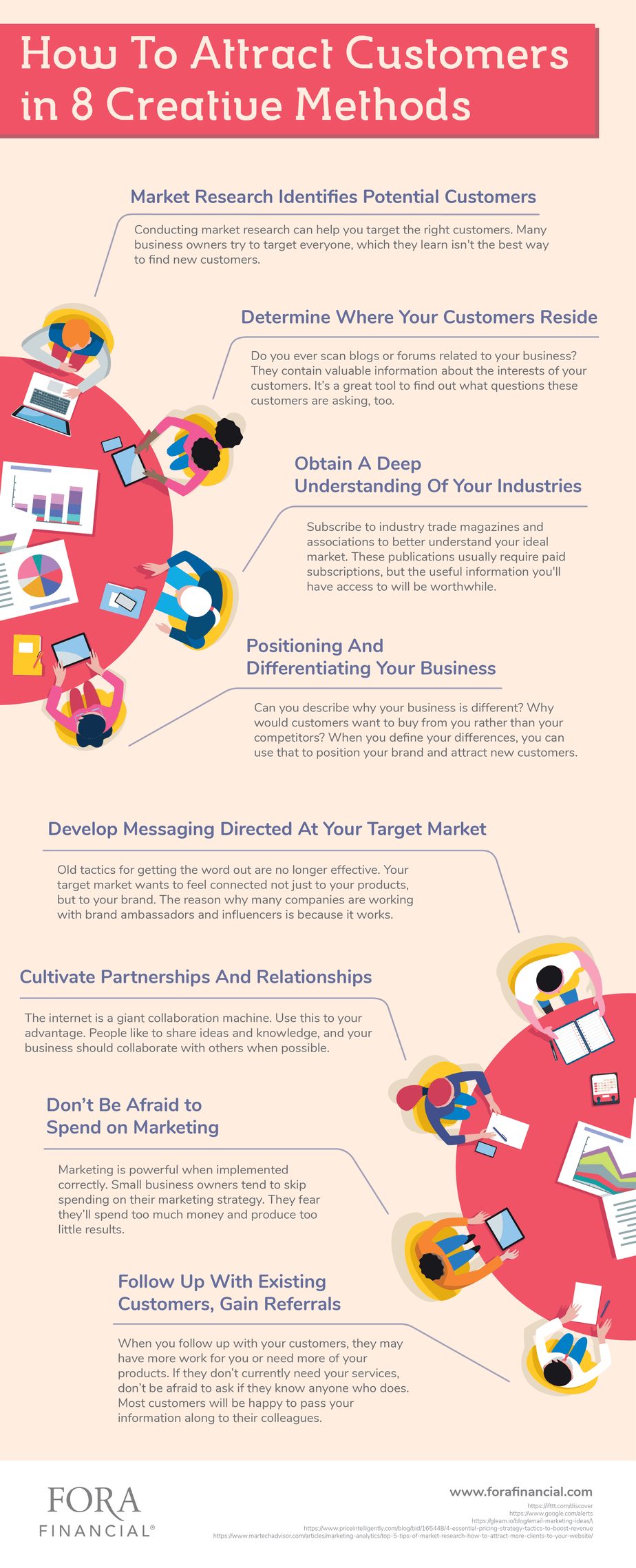 Getting New Customers Isn't A Puzzle
The key to getting new customers is to pursue them actively. Most business owners fail to gain new customers. They don't have a plan, or they approach the task haphazardly.
The methods described in this article will make the process of getting customers easier. It helps you define a system that can be used to generate leads and get the customers your business deserves.
At Fora Financial, we enjoy creating useful tips for small business owners. You'll find top techniques that will help your business succeed.