October 12, 2018
5 Ways to Utilize Customer Reviews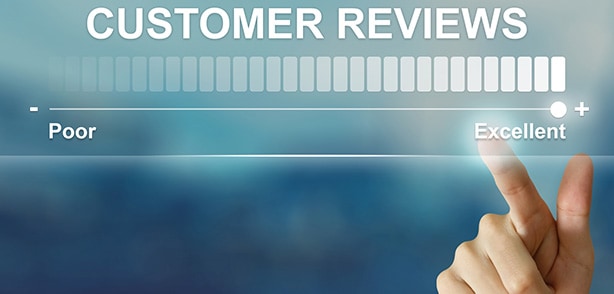 As a small business owner, word-of-mouth advertising can be a powerful tool to grow your business and increase your customer retention rate. In a recent survey conducted by Alignable, 85 percent of small business owners overwhelmingly agreed that word-of-mouth referrals are the best way to reach and acquire local customers. However, knowing how to get referrals — or increase them if you already have positive word-of-mouth — isn't necessarily black and white.
Fortunately, you can use customer reviews to generate positive buzz for your business and attract new customers. According to BrightLocal's latest Local Consumer Review Survey, 85 percent of consumers surveyed said they trust online reviews as much as personal recommendations, and 73 percent of consumers said they trust a local business more if it has positive customer reviews.
Since many of your potential customers are likely to rely on reviews to determine whether to give you their business, it's not only important to ask your existing customers to leave reviews but to also use the reviews you receive effectively. To give you some ideas, we've compiled a list of ways you can utilize customer reviews to your advantage.
How to Utilize Customer Reviews to Earn More Sales
1. Post Customer Reviews to Your Website
Posting customer reviews and testimonials to your website can be a great way to build your business's reputation without spending a ton of money on a formal advertising campaign. You can do this by including general reviews about your business on the main pages of your site or by allowing customers to post reviews of specific products or services that you offer.
Before publishing reviews, ask customers who have provided their feedback if you can include their pictures or first names to increase authenticity.
2. Include Customer Reviews in Marketing Collateral
In addition to posting reviews to your website, you can include positive testimonials in your company's marketing collateral to build your brand. Examples may include promotional posters and signs, welcome packets sent to new customers, or coupons and flyers that you distribute to advertise your products or services. One or two well-placed quotes from real customers can be a compelling way to demonstrate your credibility and attract interest in your business.
3. Turn Reviews into a Case Study
If you own a service-based business, case studies can be an extremely effective way to show prospective customers exactly how you can help them. If you receive a positive review about a specific service that you offer or a unique problem that you helped a customer solve, consider expanding the review into a case study that provides additional details. People often connect well with real stories, and case studies allow you to tell a story backed by concrete examples of how your business delivers results.
4. Use Negative Reviews to Learn from Your Mistakes
Realistically, if you ask your customers for reviews, some of them will be negative. While you may not want to include these reviews in your marketing materials, negative reviews can be a great way to identify mistakes you've made or problems with your operational processes. If you're consistently receiving negative feedback on certain areas of your business, consider re-examining your approach to see if there's room for improvement. Sometimes trial and error is the only way to discover what resonates with your customers.
5. Improve Relationships with Your Customers
Similarly, you can use your reviews as an opportunity to repair relationships with dissatisfied customers and maintain relationships with happy customers. Although you don't have to respond to every review you receive, your current and prospective customers will likely appreciate the acknowledgement. In fact, one study from Bazaarvoice found that seven out of ten consumers changed their opinion about a brand after the company replied to a review.
Consider thanking your customers that leave good reviews and reaching out to dissatisfied patrons to see if there's a way you can fix the situation or improve their experience next time. The happier your customers are, the more likely you are to get referrals from them in the future.
When utilized effectively, customer reviews and testimonials can be a great way to advertise and grow your business, especially on a limited budget. Remember that the best way to get reviews from your customers is to ask and be creative in your approach. Not only can you use their experiences to potentially attract new customers, you can also use negative feedback to correct mistakes and continually improve your business.