A Unique Mall Faced Challenging Times
When Dickson Shreffler's antiques marketplace needed a helping hand, a long-term relationship was born.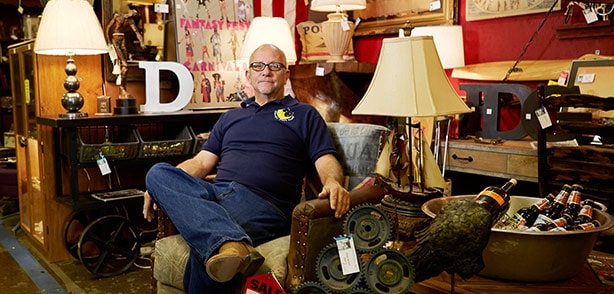 Dickson Shreffler expanded Charlotte-based mall into a large warehouse in 2008 – just as the economy was contracting. He needed a lift, and fast.
Seeking additional working capital, he contacted Fora Financial CEO and co-founder, Jared Feldman. Seeing the promise in Dickson's retail track record, Jared took a chance on The Sleepy Poet Antique Mall. And as Fora Financial grew, so did Dickson's business. The two of them now enjoy a warm friendship.
"With Fora Financial's transparency you know what you're getting into," says Dickson. He has since received funding, both Revenue Advances and Term Loans, nine more times. He most recently received funding for an online advertising program. "Funding's very easy," says Dickson. "And as the business grew and I took more advances, the terms got better."
Dickson has since expanded his business to include a location in Gastonia, NC.
With Fora Financial's transparent process you know what you're getting into.
Dickson Shreffler
Owner, Sleepy Poet Antique Mall, Charlotte, NC