June 24, 2019
What is a Revolving Line of Credit?
Businesses often seek financing to make ends meet, especially in the short periods of time or during times of growth. There are many types of credit financing products to choose from, but one option that may be a good fit for your business is a revolving line of credit. In this post, we'll explain what a revolving line of credit is and how it can benefit your operations.
Revolving Line of Credit Explained
In a nutshell, a revolving line of credit is an open-ended financing product that operates similarly to a revolving credit card. It carries a maximum line of credit, and funds may be drawn up to this amount, as needed. Once your business gets an influx of cash, the draws are then paid back, either all at once or in regular payments. As the line balance is paid off, the credit becomes available again. If your business maintains a good standing with the lender, the account won't be closed, and can remain open indefinitely.
What Are the Advantages of a Revolving Credit Line Compared to other Financing Options?
You may be wondering why business owners choose a revolving line of credit as opposed to other financing options. Here are some of the top advantages:
Compared to business credit cards, revolving lines of credit usually have a more competitive interest rate, often just a few points above the prime rate for borrowers with good credit.
A revolving line of credit can be more cost-effective than a term loan, as term loans require proceeds to be paid out in a lump sum at closing. In comparison, lines are only drawn upon when needed. This means that you'll pay interest only on funds while they are being used on a line.
Typically, business loans can't be added to and don't allow the credit limit to be "reused," even after paid off. With a revolving credit account, the available credit increases as payments are made, giving it more flexibility than an installment loan.
What Are the Benefits of a Revolving Line of Credit?
Probably the most widely stated benefit of a revolving line of credit for a business is having cash available when there's a short-term cash flow deficiency. Whether your business experiences unforeseen expenses, has slow paying customers, or needs to 
purchase inventory
, having a revolving line of credit can be invaluable. In addition, if you want to expand your business, you'll likely need additional cash to start this project. With a revolving line of credit, you'll have funds available for buying equipment, marketing materials, inventory purchases, and other expenses. Then, once the profits from the expansion begin to roll in, the line can be paid back. Another benefit of having a revolving line of credit is that you can potentially negotiate a better deal on purchases when you "pay cash" or take advantage of deep discount situations that require fast payment. The revolving line of credit gives you almost instant liquidity, while still retaining the repayment flexibility over time.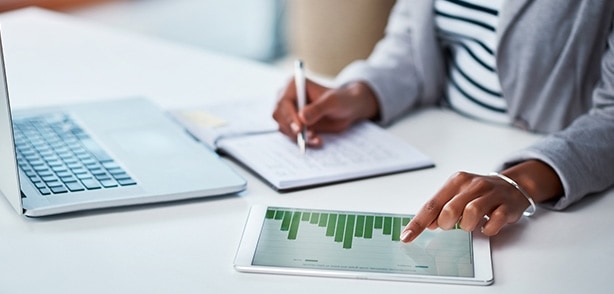 How to Apply for a Revolving Line of Credit
Most revolving lines of credit for business are offered through traditional banks or finance companies. Before filling out an application, consider these components:
Credit Score: Revolving lines of credit can sometimes have strict credit score requirements, so you should determine what your business and personal credit scores are. If you have items that can be resolved, do it before applying. For items that can't be removed from your credit history, write a professional letter of explanation for the delinquent item, so that the lender understands what happened and how it will be resolved.
Cash Flow: While lenders understand that a business can have cash flow ebbs and flows, they usually won't lend to a company that is constantly "cash poor." When applying for a line of credit, show historical trends for cash flow, and have a plan for paying back any draws that you plan to use.For example, a retailer that needs lots of inventory in September may show that sales during the holiday months of November and December will provide the required amount needed for payback.
Line Amount: A mistake that many businesses make is requesting a line amount that isn't realistic for their revenues. While it may seem like a good idea to ask for as much as you can get, this can often end in a decline notification.Generally, lenders like to issue revolving lines of credit with limits equal to about 20 percent of the business' yearly revenues. That means that if your business earned $200,000 of gross revenues last tax year, a reasonable request would be in the $40,000 range or less.
Use of Funds:Before applying, consider how you'll utilize your business line of credit. While revolving credit lines are flexible and great for many uses, the financial institution might want to know how you'll use the funds.If you're buying equipment or inventory, have specifics ready to show. On the other hand, if cash will be used for marketing, prepare a simple marketing budget. By explaining your plans, it'll likely help you get approved for a line of credit.
Conclusion: Revolving Lines of Credit Might Be Right for Your Business
Revolving lines of credit can be a great financing product
for small business owners. While it won't be the perfect fit for every situation, it can be a viable alternative to expensive financing options or charging all purchases to a business credit card. Ultimately, you should conduct research before making any decisions. While a revolving line might be right for some businesses, your company might benefit more from a different option. For instance, you might benefit from a cash advance, auto loan, equipment financing, or a term loan. Once you take time to weigh your options, you should be able to pursue the best option for your business!
Editor's Note:
This post was updated for accuracy and comprehensiveness in June 2019.