May 06, 2021
Peer-to-Peer Loans: Are They Right for Your Business?
Peer-to-peer loans can give entrepreneurs the chance to borrow money from private investors rather than banks, credit unions, and other traditional lenders. In this post, we'll take a closer look at P2P lending so you can decide whether it's a good option for your unique situation. We'll also compare peer-to-peer loans to other business financing options, so that you can fully understand your options.
How Do Peer-to-Peer Loans Work?
There are numerous online platforms that focus on P2P lending. Once you find a platform, you can submit an application. The application will ask you for basic information about yourself and your business, such as:
A thorough business plan
Bank statements
Other relevant financial documentation
After you apply, the platform will review your application and
credit score
. This will help them decide whether or not to approve you for a P2P loan. The higher your credit score, the greater your chances of approval. A higher credit score can also help you lock in a lower interest rate. Upon approval, the platform will match your loan with prospective lenders or investors. They'll decide on your loan amount and terms. If you decide to move forward, you'll repay the business loan with interest via fixed payments, which are usually monthly.
The Pros of a P2P Loan
There are several advantages of a P2P loan such as:
Simple Application Process: You'll find that most P2P lending platforms make it easy to apply for a loan and secure funding. You may apply online and receive an instant decision. Depending on the P2P lender you choose, the money may be deposited to your bank account that same day, within 24 hours, or within a few days.
No Collateral: Since P2P loans are unsecured, you won't have to put up any collateral such as your commercial property. This can give you some peace of mind because you won't have to risk losing your business assets.
Flexible: With a P2P loan, you may choose a business financing option that aligns with your unique needs. You can find investors who offer you various loan amounts and terms.
Easy Access: If you can't get approved for a loan option from a bank, the SBA, or another business lender, peer-to-peer lending may make sense. It can give you access to significant funds, even if you don't have a good credit score.
Bad Credit Scores Are Accepted:
Many private investors will approve you for a P2P loan, regardless of your credit history. Keep in mind, however that if you have bad credit, you'll likely pay a higher interest rate which can cost you thousands of extra dollars.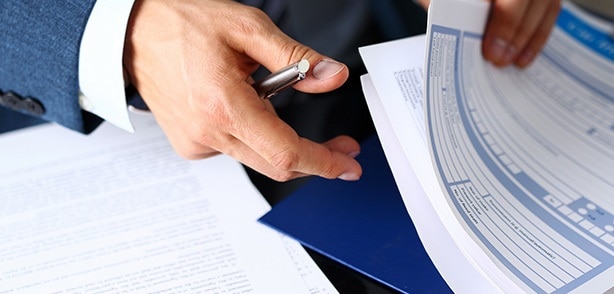 The Cons of a P2P Loan
Just like any financial product, a P2P loan comes with several drawbacks including:
Fees: You may be on the hook for fees in addition to interest. Your lender may charge a fee to set up the loan and connect you to an investor. Other potential fees include origination fees, non-sufficient funds fees, and late payment fees.
High Risk: While you can take out a P2P loan with poor or fair credit, you may borrow more than you afford. This can put the financial security of your business on the line. Also, missed or late payments may hurt your credit and make it difficult for you to secure financing in the future.
May Need Additional Funding: If you need to borrow a large sum of money, P2P lending may not cover the full account. There's a chance you'll need to turn to other sources for additional funding.
Is P2P Lending Safe?
Unlike CD or savings accounts, peer-to-peer lending sites are not backed by Federal Deposit Insurance Corporation (FDIC) insurance. This makes them a significant risk for individual investors because they won't have any protection against the money they lend. So, is P2P lending a safe financial solution for borrowers? It depends as not all P2P lending platforms are created equal. Some of them are safer than others. Before you sign on the dotted line and commit to a peer-to-peer loan, do your research and make sure the lender is established. Read reviews and check out their rating on the Better Business Bureau (BBB). Also, look at how they safeguard your information and check out their loan rates. If you have privacy concerns or find the
APRs
are sky-high, it's in your best interest to look elsewhere for financing.
Conclusion: Consider a Loan From an Alternative Lender Instead of a P2P Loan
While a P2P loan may seem like a good option at first, you'll be better off with a small business loan from an alternative lender. An alternative lender is a safer option because you'll deal directly with a reputable financial institution like a bank, credit union, or online lender. You won't have the "middle man" of a platform and rely on a private investor to distribute your funds in accordance to your loan agreement and enjoy better protections. There's also a good chance you'll be able to receive all the money you need and won't have to worry about looking for other funding sources. Additionally, you may be able to land a lower interest rate. If you'd like to start the funding process and determine your business's alternative financing options, please click the link below for a free quote!