December 15, 2021
How to Successfully Secure an Emergency Business Loan
In these scenarios, it makes sense to look to emergency small business loans as a solution. However, not all emergency business loans are the same. From emergency lines of credit to online term loans, plus many other funding options in between, there are numerous ways you could obtain emergency financing. To help you navigate this challenging situation, we've created this guide to emergency business loans. In the following sections, you'll learn what emergency business loans are, how they can be used, and how to qualify for one.
What is an Emergency Business Loan?
An emergency business loan is any financing option that provides financial relief to your business after some kind of disaster. While precise terms will vary, an emergency business loan is usually short-term and offers fast approval and funding. This is because most business owners in this situation need additional financing to sustain their operations during challenging times. Local, state, and federal government agencies often facilitate emergency business loans and grants after disasters. However, in certain scenarios, lines of credit, online loans, and other forms of additional working capital can also serve as emergency business loans.
5 Types of Emergency Business Financing:
If you're a small business owner seeking an emergency loan, it means you need cash quickly. Although you might qualify for government-sponsored emergency loans, you should still research other types of financing. By weighing your funding options, you can select a emergency loan option that fits your needs. To help you do that, in the following section, we'll summarize each of your emergency financing options.
1. Emergency Line of Credit
A
business line of credit
 works similar to a credit card. The key distinction is that with a line of credit, you withdraw cash when you need it, rather than make purchases on credit. For emergency financing, a line of credit is worth considering because it's generally easier to qualify for than a bank loan. In addition, you can use a line of credit for anything, whereas other types of financing restrict how you use funds. If you're interested in this type of financing, you can apply for a line of credit with a bank or an online lender. Usually, an online lender will be faster and have less stringent approval requirements.
2. Invoice Factoring
Invoice factoring allows you to sell your unpaid invoices to a factoring company. The factoring company pays you a lump sum, usually 
between 70 and 90 percent
 of the invoice total. Because you can sell your invoices for cash in a few days, invoice factoring can be a powerful tool for handling emergencies. Also, collateral, credit score, and financial history aren't major factors in the invoice factoring approval process. What matters is the payment history of your customers. Typically, this means it's much easier to get approved for invoice factoring than traditional financing. Finally, since you're selling your invoices for cash, you can use the money for any business expense.
3. PPP Loans
The SBA offers PPP loans on a rolling basis. At this time, the SBA isn't accepting SBA loan applications. PPP loans are usually forgivable, use of funds is flexible, and loan amounts are fairly large. Plus, PPP loans don't have stringent credit or collateral requirements. To learn more about PPP loans, read our write-ups on 
first
 and 
second draw PPP loans
.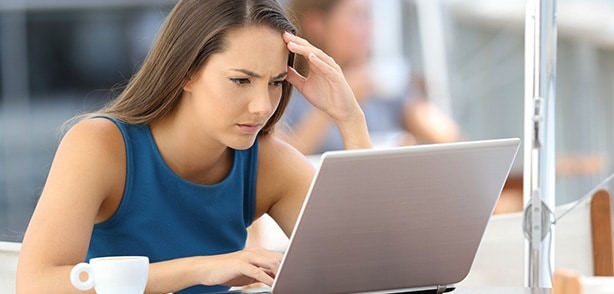 4. SBA Disaster Loans
In areas where a natural disaster has been declared, the Small Business Administration (SBA) provides low-interest rate loans for businesses of all sizes. The SBA also provides disaster loans to business owners who have experienced financial issues due to the COVID-19 pandemic. Currently, emergency business loan applications for 
Economic Injury Disaster Loans
 (EIDLs) is open to you through the SBA if:
You're a small business owner that has 500 or fewer employees or a nonprofit organization of any size.
Your business has suffered substantial economic injury as a result of the COVID-19 pandemic.
These loan programs are relatively easy to qualify for but the application and funding process hasn't rolled out well. Many applicants say they've
waited weeks or months for funding.
 Plus, EIDLs are capped at $15,000 which can be too low a loan amount to be useful for some companies.
5. Online Term Loans
Traditional term loans aren't always viable as emergency small business loans because the time to funding is too long. However, some online lenders can fund your term loan in as little as 48 hours. Just keep in mind that a term loan, even if it's through an online lender, will require strong financial history. In many cases, you may also be required to put up collateral. Plus, you may be restricted to using the funds for a specific purpose. Still, if you're in dire need of funds and you have a strong financial history, an online term loan could be a beneficial option. You can easily apply online with a lender after you've carefully vetted them. [cta-freequote]
6. Merchant Cash Advances
If your business receives frequent credit card payments, you may qualify for a cash advance. Although they can be used in emergency situations, you won't qualify if you can't show proof of frequent credit card payments. This is because you won't repay the advance with set monthly payments; instead, remittance will be based on your credit card payments at the time.
Emergency Business Loans: What's Right for Your Business?
The right emergency business loan for you depends on your financial situation and how your business has been affected by a disaster. Before you apply for this type of financing, you should ask yourself the following questions:
How much money do you need?
When do you need the business financing, and how long can you survive without it?
What's your financial history like; can you show bank account statements, a strong credit score, and other factors to prove yourself?
Answering these questions will help you think through what the best option is for you. For example, if you need a smaller sum to spend on a variety of expenses and you have good credit, a line of credit may make sense. Alternatively, if your credit score is an issue, invoice factoring could be a better fit. In any case, what's important is defining the financing problem you're trying to solve. Then, you can do a more informed evaluation of the emergency
business loan options
presented above.
Editor's Note: This post was updated for accuracy and comprehensiveness in December 2021.