October 18, 2021
6 Things to Look for in the Best Business Lenders
In many ways, your chosen lender will be like your business partner, so you should weigh your options prior to deciding. Ideally, you'll be able to cultivate a long-term relationship with your lender. If nurtured, a good relationship with your lender can pay off in many ways. For one thing, you'll be able to access business financing more easily. Plus, as you build a relationship, the entire financing process will become more efficient. To help you find that perfect lender, we'll list and explain the key factors that differentiate one lender from another. That way, you can determine which business lender will be the best fit for you.
What You Should Consider When Selecting a Business Lender:
1. Flexible Funding Options
Every small business owner has different funding needs and risk appetites. Plus, the financing you need for next year may not be the same as the financing you need for the year after that. The best lenders understand this, so they offer flexible financing options, which include different types of loans, varying terms, and a range of loan amounts. If you're going to work with an alternative online lender, make sure their financing options match your needs and preferences. If you can, try to find a lender that offers flexible enough funding options to match your future needs too. That way, you can continue to work with a familiar lender as your company grows and changes. In addition, you may have a specific financing product in mind. Due to this, you should research each lender and their financing options, which may include:
Term Loans
Merchant Cash Advances
Equipment Financing
Lines of Credit
Invoice Financing
2. Quick Funding Process
Depending on the type of business loan you're seeking, the length of funding processes can vary greatly. For example, if you apply for an 
online term loan
, it might be funded within one week. In some cases, your funds could be released within 24 hours. However, if you seek a bank term loan it could easily take months to fund. On the other hand, a Small Business Administration (SBA) loan may fund relatively quickly, but you'll first need to prove that your application for traditional funding sources has been declined. All this to say, you should calibrate your expectations based on the type of small business loan program you're looking for. Beyond that, though, it's critical to find a business lender who can execute a quick funding process. Business opportunities don't stay around forever, and you don't want to lose them to a slow funding process.
3. Excellent Customer Service
It's always nice to do business with people that are polite, prompt, and transparent. It's even better to do business with people who can guide you through the loan process and anticipate your needs. Because of this, you should pay close attention when you first engage with any lender. How they
handle your questions
and requests will give you a sneak peek into what their customer service will be like throughout their small business lending process. If they aren't helpful to their loan applicants, it's possible that their customer service won't improve.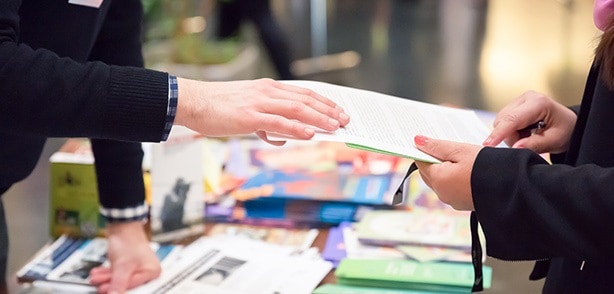 4. Good Reviews from Past Customers
As with most other things you shop for, you can find reviews on virtually any lender. Simply conduct an online search for "[your lender's name] reviews" and you'll find reviews on your potential financing provider. Then, you can read reviews from businesses funded by that lender and determine if they could be the right fit for you. Although reading online reviews can be helpful, it's best to talk to someone you know and trust. So, don't hesitate to tap your network to see if anyone has worked with business lenders in the past. Just remember: one bad review shouldn't stop you from working with a small business financing lender. If there's a pattern of bad reviews, though, it's best to find another, more highly rated option.
5. Qualification Criteria
Nothing's more frustrating than taking the time to 
apply for a small business loan
 only to get rejected. To avoid wasting time, you should research whether you'll qualify for a business loan from this lender prior to applying. Of course, you still might not qualify, but you can at least determine if you meet the basic qualification criteria, such as:
Business Bank Account: To qualify, most lenders will require that you have a seperate bank account for your business's finances.
Minimum Credit Score Requirement: In most cases, your business will have to have a decent credit score. If you have a bad business credit score that's lower than the lender's requirement, you likely won't qualify for their financing. In some cases, the lender may review your personal credit score.
Time in Business: Some lenders won't work with new business owners, and instead will ask you to wait to apply until you've been operational for a certain length of time.
U.S. Based Requirement: Although there are some lenders that will work with business owners worldwide, many U.S. based lenders prefer to provide funding to small businesses operated within the U.S.
Monthly Sales Minimum: Typically, business lenders won't provide funding to business owners that don't meet a monthly sales minimum. This requirement is in place because it helps them ensure that the owner will be able to repay their loan balance on time.
If you are seeking a cash advance instead of a term loan, your lender may focus on your business credit card sales instead of your overall sales number. This is because you'll remit your balance based on your future credit card sales.
Tax Returns: In some cases, the business lender may require that you submit your most recent tax returns to get a better look into your finances.
Lender review websites and individual lender websites usually provide information about minimum qualification criteria. If you can't find it, ask the lender directly about their minimum criteria before you apply. Generally, they'll be able to give you a good idea of whether it's worth your time to apply or not. If you need access to additional cash flow to grow your business, click the link below to get a free quote from Fora Financial!
6. Reasonable Terms and Conditions
When it comes to business financing, everything is in the details. Many lenders advertise favorable rates and quick funding but when you get into the details, 
your costs can change quickly
. Therefore, when you're considering a business lender, make sure you understand all their terms. It's very easy for one working capital loan to appear like a superior deal only for it to cost you more because of a policy, fee, or interest rate that you didn't fully understand.
Conclusion: Take Time to Find the Right Business Lender
It's a good idea to be pragmatic in your search for the best small business lenders. Your focus should be to get a favorable deal quickly and with minimal risk to your business's future. Still, if you think you might have future financing needs, don't underestimate the importance of forming a strong relationship with your lender. Look for the lenders who understand your individual situation and can work with you. A lender with both great service and well-suited financing options is a great asset for your business.
Editor's Note
: This post was updated for accuracy and comprehensiveness in October 2021.