March 21, 2020
How To Successfully Negotiate Upfront Payments in 5 Steps
Upfront payments are a type of transaction in which a customer pays for part or all of a service before completed. Although it can be stressful to negotiate your first upfront payment, it'll become easier in time.
Benefits of Upfront Payment Terms
There are numerous benefits of negotiating upfront payments, including:
Builds Trust: An upfront payment can build trust between you and your customers. It's a guarantee that upon completion, you'll receive the full payment.
Improves Cash Flow: Cash flow can be a huge issue, especially if your services translate into many long-term projects. With upfront payments, you won't have to worry about late payments or the stress of not getting paid at all.
Covers Out-of-Pocket Expenses: Most projects require expenses like supplies, software, and labor costs. If you receive partial or full payment upfront, you'll be more likely to afford these expenses, and have additional working capital to spare.
How to Negotiate Upfront Payments
If you're new to negotiating upfront payments, rest assured that it's not that difficult. Once you start negotiating upfront payments, the process will come naturally to you.
1. Be Professional
The reality is, we live in an information age. This means that a client will likely conduct research about your business in advance. For this reason, it's your responsibility to create a professional online presence. Make sure your social media profiles and website are professional, displays 
positive reviews
, and include your contact information. In addition, you may benefit from creating profiles on third-party websites, such as:
Google
TrustPilot
Yelp
Angie's List
When you communicate with a potential client, it's your job to display professionalism. Respond promptly and explain how they can benefit from your services. A professional presentation may be all it takes to convince them to pay upfront. [cta-newsletter]
2. Know The Worth Of Your Product Or Service
Most clients are perfectly fine with paying providers upfront. Not only does this show them that you're a true professional, it also provides them with an upfront cost. Typically, they'll prefer to know the cost upfront rather than receiving an invoice that's higher than they anticipated. Therefore, it's essential to know the worth of your product or services. After all, you want to get paid fairly and avoid missing out on jobs because you're too expensive. Conduct research and determine what your competitors charge. You can do this by visiting competitor websites or attending industry networking events.
3. Pre-Determine Upfront Costs
Once you know the details of a prospective project, determine the amount of money you'd like to charge upfront. After you select a price, create a written proposal that includes a summary of the project and price breakdown. At the end of your proposal, include your invoice payment terms. State whether you'd like partial or full payment upfront, the payment methods you accept, and the payment deadlines. Email the proposal to the prospective client and note that you'll gladly answer any questions they may have.
4. Negotiate Payment Rates
The key to getting paid upfront is thoughtful negotiation, which revolves around flexibility. You may want your client to provide you with 100 percent upfront payment. However, they may not feel comfortable with this, especially if they're a new customer. In this case, you may have to settle for 50 percent upfront and 50 percent upon completion. In addition, you should be flexible with the types of payment you accept. Some clients prefer making online payments, so you should consider accepting payments through PayPal, Zelle, or other platforms. However, other customers may not be comfortable entering their financial information online. Inform these clients that you're more than happy to accept a check or credit card payment if they prefer. Lastly, give prospective customers time to make their upfront payments. Don't expect them to pay the full amount on the day they sign your proposal. Instead, give them a few weeks to submit payment. Of course, this time frame may be shortened if there's an urgent deadline. In other cases, you may benefit from setting up a recurring payment system for repeat customers.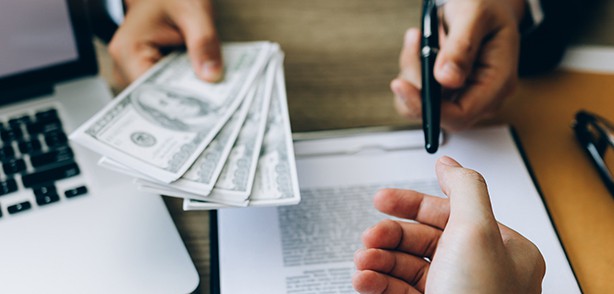 5. Provide Reassurances For Long-Term Work
Even if you have a great online presence and appear professional, your clients and customers will still want reassurance. First, guarantee that you'll complete their project on a date you both agree to. Put this deadline in your proposal so they have written confirmation. You can also offer a money back guarantee or create a 
refund policy
. This way prospective clients will know they have nothing to lose.
Conclusion
If you're a small business owner, negotiating upfront payments can greatly enhance your business. With upfront payments, you can protect yourself emotionally and financially. Plus, you won't have to worry about customers disappearing without paying; instead, you'll be able to build trust, improve cash flow, and ultimately set yourself up for success.