May 28, 2019
8 Credit Repair Companies That Can Help Your Business
Ultimately, having poor credit can harm your business. Due to this, you should consider paying a company in the credit repair industry to help you improve your scores. However, as with any vendor, you'll need to conduct due diligence to find a reputable credit repair company. Before hiring a credit repair company, check out our review of eight reputable services. Hopefully, you'll be able to get negative items removed, and improve your credit history.
The Top Credit Repair Companies for Small Business Owners:
1. Lexington Law
This firm's credit repair services are broken into three service levels with prices ranging from $89.95 to $129.95 per month. With the most basic package, Concord Standard, you'll pay for
Lexington Law
to ensure that your credit reports are accurate. With the more expensive packages, PremierPlus and Concord Premiere, you'll have access to additional tools. These include credit monitoring, personal finance tools, and credit improvement analyses.
2. My Credit Group
For $89.95 per month,
My Credit Group
will contact collection agencies, credit bureaus, and your creditors to improve your score. This company emphasizes its personal approach to credit repair, which includes a free consultation to assess your unique needs. They'll handle anything that may be hurting your score including collections, foreclosures, inquiries,
tax liens
, and more.
3. Credit Saint
Credit Saint
offers three packages ranging in price from $79.99 to $119.99 per month. Credit Saint prices these packages based on what they call the "aggressiveness" of each package. So, if you only need a little help getting items removed from your credit report or improving your score, you can save money with a smaller package. For example, with the most affordable service, Credit Saint will challenge late payments, identity thefts, inquiries, collections, and charge-offs. With the more expensive services offered, they'll also challenge judgments, repossessions, and bankruptcies. In this way, you can choose your service level based on how aggressive you'd like your credit repair to be.
4. The Credit Pros
Credit repair services from
The Credit Pros
include three packages that cost between $69 and $149 per month. They also offer a credit monitoring package for $19 per 30 days, but that doesn't include typical credit repair services. Each one of their credit repair packages includes an initial consultation. They'll also contact credit bureaus to correct any issues on your credit report.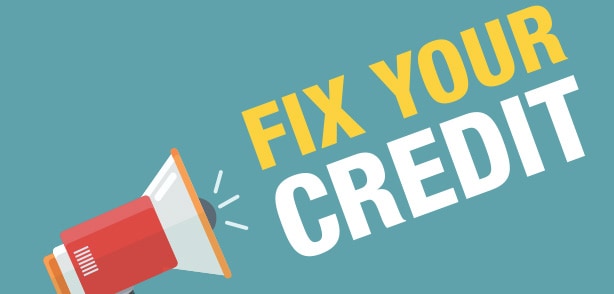 5. The Credit People
With
this firm
, you have two options. The first is a monthly package that costs $19 to start and $79 per month. The second, a six-month service for a flat rate of $419. Both provide the same services — you just pay for them in different ways. These services include debt validation, inquiry validation, toll-free customer service, and 24/7 account access.
6. Sky Blue Credit
Sky Blue Credit's
services cost $79 per month. They start with an analysis to identify the items on your credit report that should be disputed. Then, their services focus on raising your score through not just credit repair but also score assistance. That means they'll help you identify actions you can take to help improve your score even more.
7. CreditRepair.com
Like Credit Saint,
CreditRepair.com
prices their service packages based on how aggressive you'd like to be. Their basic package starts at $99.95 per month. Credit Saint's services follow a three-step process. They'll pull your credit reports, create a game plan, and then contact creditors and credit bureaus. Finally, once the initial work is completed, you'll get a score tracker and dashboard to monitor your progress.
8. Ovation Credit
Credit repair services from
Ovation Credit
are broken down in two packages which cost $69.00 and $99.00 per month. The cheaper plan includes personalized dispute options, financial tools, a case advisor, and add-on options such as Identity Optimization. The other plan includes all the features just mentioned. Plus, you'll have access to unlimited dispute and goodwill letters, as well as TransUnion Credit Monitoring.
Conclusion: Make Improving Your Credit Score a Priority
It's important to note that these credit companies will charge a one-time fee at the beginning of your contract. These fees vary by company from $69.00 to over $114.00 but aren't always available on their websites. Be sure to ask about their one-time fee so you're not taken by surprise. Other than that, with these eight credit repair companies in mind, you should be able to achieve a
stronger credit score
. Any company you work with is legally required to be honest and forthcoming in their abilities to improve your credit. This is due to The Credit Repair Organization Act. Of course, aside from hiring one of these companies, you should adopt healthy financial habits. Below, you'll find some of our top tips for improving your credit:
Get free credit reports.
Pay credit card statements and other bills on time.
Contact a credit bureau if you see incorrect or negative information on your report.
If you've successfully improved your credit score with the help of a credit repair company, tell us about your experience in the comment section below!