May 18, 2022
The Top 12 Small Business Startup Costs To Expect
Starting a new business can be exhilarating. Still, for first-time entrepreneurs, that thrill often coincides with fear that their venture will fail.
For instance, you might worry about financial burdens, like if you'll be profitable in the long term or how much you'll spend on starting the business. If you're unfamiliar with startup costs, they are the expenses you'll incur before your business generates income.
Unfortunately, it's common for new business owners to jump into planning without considering if they can afford necessary small business startup costs. This often leads to the business being unable to sustain itself.
If you aren't meticulous about financing planning initially, you could risk your business's future. In this post, we'll examine how to calculate startup costs so that your business can become a success!
The Top Small Business Start-Up Costs To Be Aware Of:
1. Research Expenses
Before starting a business, you could conduct market research about your prospective industry. Some startups neglect this step, which causes them to be unable to execute their ideas.
To avoid this, consider hiring a market research firm to assist you in the assessment process. Of course, you'll have to pay these experts, so include this in your budget.
2. Equipment
Most new businesses will have an immediate need for equipment. For example, if you start a moving company, you'll need to purchase a truck. Or, if you open a restaurant, you'll need to buy stoves and other kitchen equipment. Depending on your industry, the equipment can be costly, especially if multiple employees need their own equipment.
Luckily, there are numerous types of equipment financing available, ranging from loans to leases to lines of credit.
If you're concerned that you won't be able to afford the necessary equipment, you might benefit from applying for equipment financing to get started. Regardless, if your business requires equipment, you should account for it in your budget.
3. Fees
When starting a business, you'll need to choose a business entity, which will determine how your business's taxes are structured. For instance, if you incorporate your company, it'll be a separate legal entity, and you'll need to file articles of incorporation with your state.
We suggest reviewing the Small Business Association's (SBA) state-by-state breakdown to determine how much it'll cost to incorporate a business in your state. Even if you skip this step, for now, you'll likely need to register and apply for federal or state licensing.
Some businesses, like those in the agriculture or aviation industries, require federal licensing, while service-based industries like hairdressers and dentists need to have professional licenses.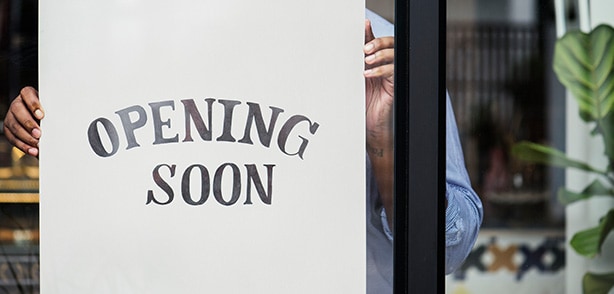 4. Office Space
Whether you rent or purchase a business location, it'll be pretty expensive. Due to this, many small business owners operate from their homes to save money.
If you get locked into a long-term lease, you could be paying a considerable amount of money. Plus, you'll have to factor in utilities and other operational costs. Even if you can afford it, you'll need to handle tasks such as:
Negotiating a lease

Designing a layout

Buying furniture

Setting up equipment
It's also important to note that you may need to pay rent before starting your business. Thus, if you put down a security deposit and pay rent before opening your business, that is considered a startup expense.
Another popular option is co-working spaces. They're relatively affordable and are set up and ready to use from day one. Many of them are complete with furniture, Internet, printers, kitchens, meeting rooms, and other amenities.
You can join one space or use co-working membership apps such as Croissant, similar to WeWork, which allows members to work from multiple locations but on a much more cost-effective budget.
5. Inventory
Although all businesses don't sell inventory, you likely need some form of inventory if you're in the retail, restaurant, wholesale, or manufacturing sectors. Unfortunately, ordering inventory can create financial challenges.
If you have too much inventory, you risk spoilage or getting stuck with items that aren't selling. But if you have too little inventory, you could lose customers who aren't willing to wait for an item to be restocked.
Although inventory financing exists, it comes with minimum requirements that are usually impossible for new startup businesses to meet. We suggest making inventory a part of your initial startup budget, then applying for financing once your business is operational.
6. Advertising
You'll need to spread the word about your products or services when you start your business. For instance, you might invest in:
Banners

Business cards

Print ads

Brochures
Without investing in marketing, you won't be able to accrue sales. Still, to keep costs low, we suggest utilizing social media sites like Facebook and Twitter to advertise your new business for free until your business starts generating sales!
7. Website
We live in a technology-driven world, and your startup's online presence is often the first interaction someone will have with your brand. Due to this, your business must have a professional-looking website.
Most customers research products or services on the Internet, but even so, 59 percent of businesses with fewer than five employees don't have an online presence. It's easy to ensure that you're in the other 41 percent, thanks to services like Squarespace and WordPress.
To get started, you'll need to register for a domain name, which usually carries a yearly fee. Then, pick a content management system (CMS) that you can build your website through. Sometimes CMS services are free but often require a monthly or yearly subscription cost.
If you're relatively tech-savvy, it's pretty simple to do this even without a coding background, but if you're not familiar with web design, you may want to hire a web design company to build the website. Of course, this will be an additional cost, but usually, it's worth the investment.
8. Office Supplies
Surprisingly, office supplies can add up rather quickly. These expenses can include:
Desks

Chairs

Computers and software

Phones

Water coolers

Refrigerator

Microwave

Coffee maker

Filing cabinets
Don't overlook office supplies, as they can become a significant portion of your budget. If you can't afford these office costs, it may make sense to work remotely instead.
9. Utilities
This cost applies to traditional commercial office and brick and mortar space leasing arrangements. You'll be responsible for paying these bills:
Electric

Gas

Water

Internet

Phone
When determining your business's budget, this should be factored in as a startup cost and an ongoing business expense.
10. Payroll
If you've hired employees, you'll need to pay them even if your business isn't generating money yet. In addition, you should set aside a certain amount to pay yourself. Remember that payroll costs include:
Benefits

Stipends

Commissions

Overtime pay
11. Professional Consultants
It may be tempting to try and take on as many responsibilities as possible to save money. Instead, it may be more prudent to hire professionals such as bookkeepers, CPAs, or legal service providers.
For example, accountants can explain different legal structures such as S-corps, C-corps, LLCs, and sole proprietorships. They can also help you ensure that you're complying with state and federal regulations.
When tax season rolls around, your accountant can save you money in deductions on your tax return.
This is just one example of how outsourcing specific tasks can benefit your business in the long run, even if it adds to your startup costs!
12. Insurance
Just like you protect your health, car, and house, your business needs protection too. There are several different kinds of business insurance, and depending on your business's industry, this could save you money and stress in the future.
Next Steps:
1. Understand Recurring vs. One Time Costs
Many of these costs will be recurring, so you'll need to afford them on a monthly or annual basis. Other ones, such as incorporating fees or office furniture, are considered one-time costs. When you're calculating your startup expenses, a good rule of thumb is to be able to cover six months of costs upfront.
2. Hunt for Bargains
Savvy consumers do extensive research before making any purchases and recognize that there are ways to reduce some startup business costs.
Using software like Xero instead of hiring a full-time bookkeeper, working from home instead of signing a commercial office lease, and doing most of your marketing through social media and content marketing will help make your budget a little more manageable.
3. Pursue Startup Financing
Very few small business owners can fund their business startup costs independently.
Typically, small business startup financing comes from loans, lines of credit, and business credit cards. In addition, consider trying to fund startup costs yourself, then apply for a small business loan once your business is up-and-running.
At Fora Financial, we work with small business owners in various industries. Once you've been operational for at least six months, you could qualify for our flexible financing options. Click the link below to determine if you currently qualify for our funding products.
Conclusion: Invest in Your Business from the Start
Before starting a business, you should carefully consider your idea or product, how much you'll charge, and understand the challenges you could face. Then, once you establish your company, you'll need to consider the amount of cash flow you should have, how to structure your business and create a business plan.
Financing is one of the most stressful parts of entrepreneurship but being realistic about how much money you need and accurately estimating your business startup costs will go a long way. Startup costs are conceptually simple: add up expenses you'll incur before starting, assets you'll need, and how much money you'll require to be operational during the first few months before sales start rolling in.
Editor's Note: This post was updated for accuracy and comprehensiveness in May 2022.