September 13, 2021
USDA Business Loans: How to Qualify For and Use Financing
The stated purpose of USDA's loan program is to "bolster the availability of private credit" for rural businesses. Like any form of financing, though, USDA loans (formerly known as USDA Business and Industry Loans, or B&I Loans) are a great option for some but aren't beneficial to others. To help you decide if a USDA business loan is right for you, check out this list of pros and cons.
What Are the Benefits and Drawbacks of USDA Business Loans?
The Pros of USDA Business Loans:
1. Accessible Funding for Rural Businesses
If you own a business that operates in a rural area, you likely know how difficult it is to obtain a rural development loan. Rural communities are often the hardest hit during economic downturns and banks are wary of this. However, if you can qualify for a USDA guarantee, approved lenders are more likely to extend a small business loan. Just keep in mind that, to qualify, your business must be located in an area that isn't a city or town with 
a population of 50,000 or more.
2. Many Businesses Are Eligible for USDA Loans
Although your business must be in a certain area to qualify, there are few restrictions on the types of business that are eligible for a USDA loan. These businesses can qualify for a USDA loan guarantee:
Cooperatives
Non-profit organizations
For-profit businesses
Public bodies
Individuals
Federally recognized tribes
However, if you're applying as an individual, you must be an American citizen or currently live in the U.S. after being admitted legally. Also, if the loan is for a private entity, you must prove that the funds will stay in the U.S. and that they'll be used to save or create jobs for U.S. residents.
3. Large Average Loan Amounts
USDA Business Loans vary in size from 
$200,000 to $5 million.
 However, the average size is about $3 million, so if you need a large loan this could be a good option. In fact, loans of up to $10 million are eligible for a USDA guarantee. Loans over $10 million won't be approved without an exception by the Administrator.
4. Competitive Interest Rates and Terms
When you receive a USDA business loan, the lender will select the interest rate. Typically, these rates are in-line with what the SBA offers on their 
7(a)-loan product
, which is their most popular program. For the USDA loan terms, you can negotiate with your lender. However, there are maximum term lengths that depend on how you'll spend the loan. For instance, if you use the loan for real estate, the maximum term is 30 years. If you want to use financing on equipment, the maximum is 15 years, and working capital terms can't exceed a seven-year term.
The Cons of USDA Business Loans:
 1. USDA Business Loans Are Competitive
Each year, Congress allocates a certain amount of funds for the USDA. Often, 
this money runs out
 before the year is over, leaving other business owners without access to funding. Ultimately, because there are a limited supply of USDA loans, the application process is relatively competitive.
2. Restrictions on Loan Usage
The USDA website lists the following as costs that guaranteed loan funds can't be used for:
Fraternal organizations
Lending, investment, and insurance companies
Projects involving more than $1 million and the relocation of 50 or more jobs
Agricultural production, with certain exceptions
Distribution or payment to a beneficiary of the borrower or an individual or entity that will retain an ownership interest in the borrower
Lines of credit
Owner-occupied housing
Golf courses
Racetracks or gambling facilities
Churches, church-controlled organizations, or charitable organizations
If you plan on using the funds for any of the above types of projects or companies, you won't be eligible for rural funding from the USDA.
3. Collateral and Personal Guarantees Are Required
Some financial institutions will provide funds without requiring you to put up collateral or sign a personal guarantee. This isn't the case with a USDA business loan, as the value of your collateral must be equal to the loan amount for you to be eligible. Moreover, personal guarantees will be required from owners, partners, and any shareholder with 20 percent or more ownership interest. By signing a personal guarantee, you become personally liable for the loan.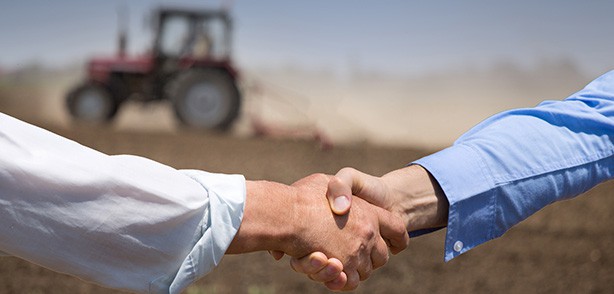 How to Apply for USDA Loans:
To qualify for this business program, the USDA requires the following components:
Balance sheet and cash flow projections
Business credit reports
Comprehensive business plan
A feasibility study conducted by an independent consultant.
Profit and loss statements
A record of the number of jobs your business has created or saved, included the average wages of your employees.
Personal credit reports and resumes from all owners
Real estate appraisal
Before submitting your application, you should meet with your lender to ensure that you have everything you need. They'll submit a pre-application to the USDA to make sure you qualify, and if you do then you can continue with the application process!
How to Use a USDA Loan:
As previously mentioned, there are some usage restrictions for USDA business loans. If you're serious about applying, determine if this loan will meet your needs. Below, you'll find a list of the approved ways USDA loans can be used:
Agriculture production or processing facilities
Business acquisition
Business development
Commercial real estate
Debt refinancing
Equipment
Inventory
Machinery
Are USDA Business Loans Right for Your Company?
If you're seeking a larger loan and your business is located in a rural area, a USDA loan is worth considering. You won't receive the quick service and funding you might expect with online lenders, but if you can't secure a large loan otherwise, applying may be worthwhile. If you choose to do so, examine the USDA's detailed eligibility requirements. Although we've reviewed many of these requirements, you should become familiar with these loans before beginning the application process. That way, you can ensure that you aren't wasting your time, and can pursue other 
business financing
 options if necessary.
Editor's Note:
 This post was updated for accuracy and comprehensiveness in September 2021.