January 31, 2021
How to Select the Right Minority Business Loans and Grants
Still, while minority-owned businesses have doubled in number over the past ten years, it's important to continue stimulating growth among minority entrepreneurs. For many entrepreneurs — minority or not — 
business financing
 is a top priority, but it can be difficult to attain. This is especially the case now, as business owners around the world work to rebuild their businesses due to challenges caused by the COVID-19 pandemic. Due to the clear need for business funding, we'll explain how you can find minority business loans and grants that are the best fit for your company.
6 Tips for Selecting Minority Business Loans and Grants
1. Create a Business Plan
If you're applying for grants or small business loans for minorities, you're going to need a business plan. Of course, a business plan will improve your chances of getting approved, but it'll also help you quickly narrow your search for financial assistance. For example, as you research grants applicable to minorities, you'll find that many of them have stringent requirements regarding how you can use the money, your business's industry, and other important factors. With a comprehensive business plan in place, you'll be able to eliminate non-viable loan programs or grant options. Plus, you can examine your business needs, which will help you determine the best financing option. If you need help with a business plan, consider visiting a Minority Business Development Agency 
(MBDA) business center near you.
 They can help you create a business plan that you can provide to business lenders or grant programs. Prior to applying, you should also have all your important documents prepared, such as:
Financial statements
Tax returns
Credit reports
Business licenses
Legal documents.
Even if you don't need all these documents for every application, having them on-hand will prevent unnecessary hang ups during the application process. Most organizations that provide minority loans or grants to businesses will want to review at least some of these documents.
2. Conduct Research on Minority Business Grants
Research is a critical step in finding the best minority business grants. To start your research process, visit 
Grants.gov
 so you can browse and apply for thousands of different grants from various government agencies. When perusing grants.gov, be sure to use the search filters to get more specific about what type of grant you're looking for. For example, if your business is in the agriculture industry, there are federal government grants specifically for businesses that operate in rural areas. To apply for grant funding on grants.gov, you need to register your business with the government and to obtain a 
DUNS number.
 After that, all you have to do is 
create an account
 with Grants.gov. In addition, you should visit an MBDA business center. These offices provide expert advice for small business owners and may be helpful in recommending specific grants or term loans for minorities.
3. Consider the 8(a) Business Development Program
As you probably know, the Small Business Administration is a financial institution provides loans to business owners who haven't been able to qualify for traditional financing. Although their most popular option is the SBA 7(a) loan, we're going to focus on the SBA 8(a) Business Development Program.
According to the Small Business Administration
, this program seeks to provide, "a level playing field for small businesses owned by socially and economically disadvantaged people or entities." Businesses in the 
8(a) Business Development Program
 gain exclusive access to work on government contracts. Plus, they receive expert consultation on a wide variety of business functions. However, the certification process is lengthy, and you must be prepared to work on government contracts. Therefore, the 8(a) Business Development Program isn't for everyone.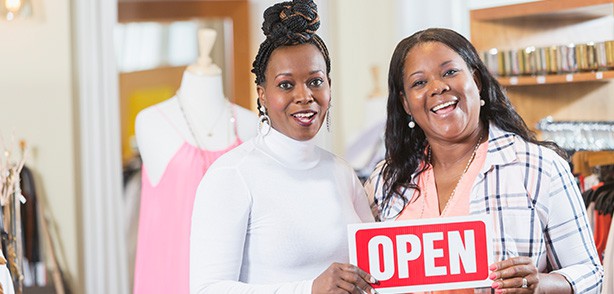 4. Look for Local Financing Options
Although you shouldn't overlook federal grants, they're generally very competitive. Local grants, however, will have fewer applicants, so you should check with your city and/or state's chamber of commerce. Even if there aren't currently any grants available, it's worth checking periodically to see if new minority grants are added. In addition, you can use the Internet to research local business groups that focus on minority-owned businesses. These group may offer loans or grants specifically to business owners in underserved communities. For example, in San Francisco, there's a local business group called the 
San Francisco African American Chamber of Commerce.
 In addition, New Mexico offers the 
Tribal Economic Diversity Fund
, which provides financial assistance to Native American business owners. Groups like these may provide funding opportunities, so make sure to get involved with local groups that focus on minority entrepreneurs.
5. Enter Small Business Grant Contests
In addition to applying for government grants, you should consider entering grant contests for minority business owners. If you win a contest, you'll receive free money that you can put towards growing your small business. One notable example of a grant contest is the 
FedEx Small Business Grant
. For the past five years, FedEx has awarded small businesses with grants of up to $25,000. Each year, 10 recipients are chosen, based on how their business benefits their community. There's also a voting portion of the competition, so if you decide to enter, make sure to spread the word!
6. Explore Alternative Financing Options
When you start seeking a grant or loan amount for your small business, you may not realize how many financing options are available. Here are some popular business funding options that you might not know about:
Invoice financing
Lines of credit
Microloans
Business credit cards
Any of these forms of business financing may be a perfect fit for your business. When applying for financing, make sure you don't overlook these less-known financing methods, as they could be beneficial to your small business.
Conclusion: Be Thorough When Pursuing Minority Small Business Grants and Loans
When choosing a business loan or grant program, it's crucial to select the best option for your unique business. Before applying, you should understand all minority business loan requirements and restrictions. Even charities may have strict restrictions on how and when you use the funds from their grants. In addition, they could have high interest rates, so be sure to fully understand their rates before making a final decision. However, if you understand your business needs, read the fine print, and follow the guidelines mentioned above, you can be confident in your ability to gain access to additional working capital. Are there any types of small business financing for minorities that we missed? Share your program suggestions with us in the comment section below!
Editor's Note: This post was updated for accuracy and comprehensiveness in February 2022.