April 19, 2021
3 Tips for Getting Approved for Small Business Loans in NYC
Because there are so many businesses in New York City, rent costs can be high, and competition is stiff. In addition, since the start of the COVID-19 pandemic, small businesses and nonprofits' finances have been profoundly affected. Due to these notable challenges, many New York state small businesses opt to pursue loan funding options. Applying for 
small business loans in NYC
 can help your company accomplish goals and afford expenses such as:
Paying bills
Purchase new equipment
Invest in marketing materials
Make other necessary advancements
By having access to this business financing, you can afford these expenses without having to cut down on other costs. If you're interested in learning more about the numerous benefits of acquiring business loans in New York, and challenges you should be ready to face, keep reading! We'll detail everything you need to know, so that you can be prepared to begin the application process.
Three Reasons to Consider Pursuing Small Business Loans in NYC
1. Find Business Funding Nearby
If your business is located in NYC, applying for small business loans in New York can offer you convenience and peace of mind. Fora Financial is a business lender located in the heart of Midtown Manhattan, and we too enjoy the fast-paced environment that NYC has to offer. As a financial institution in New York, we love communicating with our valued customers, many of whom are also accustomed to the NYC lifestyle. Once your business qualifies, we can provide you with financing just 72 hours later! That quick processing time enables businesses to have access to the capital they need, so that they can get back to focusing on their companies. [cta-freequote]
2. Afford Pricy Rent Costs
With NYC rent being amongst the highest rates in the country, receiving a small business loan, 
merchant cash advance
, lines of credit, or other type of financing can help your business pay for these monthly costs. Rent expenses are a major burden for small businesses in NYC, so having the necessary funding will help you feel less stressed when the end of the month rolls around. It can be pretty difficult to find an affordable space in NYC, so use your working capital to pay your rent!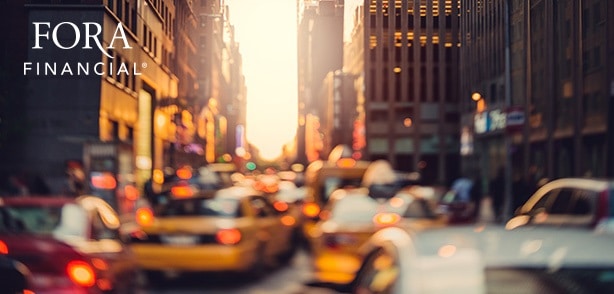 3. Stand Out from Your Competition
Being a small business based in NYC certainly has its share of challenges, with the large amount of competition for business. Small businesses that are succeeding in NYC should be especially proud; they are standing out amongst a myriad of other businesses in their industries. Due to the amount of competition, you'll need to make sure that your business is the one that people want to visit. With competitors around the corner, you'll stand out by making improvements to your business. Using small business loans in New York to purchase new equipment, pay for marketing collateral, offer new services or update your interior will help your business stand out. By applying for small business loans in NYC, you'll be giving your company the opportunity to thrive in the Big Apple.
Conclusion: Loans for Small Businesses in NYC Are Available
Although the hustle and bustle of NYC may seem intimidating, applying for a small business loan program in NYC can be a stress-free experience. Follow our tips for 
tackling the loan application process
, and you'll have the personalized funding your business needs in no time! Of course, if you aren't a New York small business, but are another United States-based business, you can receive financing, too! We assist small businesses nationwide in a variety of industries.
Editor's Note:
 This post was updated for accuracy and comprehensiveness in April 2021.