January 21, 2020
Want Some Inspiration? 5 Blogs for Small Business Motivation
Reigniting that excitement is a challenge for business owners, especially when the venture doesn't go as planned. For this reason, it helps to look for small business motivation.
This article has five great resources that you can reference whenever you need to boost your motivation. We've included a few as honorable mentions, too!
Sometimes, business owners sometimes get into a rut, which can lead them to wonder why they started their ventures. When this happens to you, check out small business quotes for inspiration, which we publish on the
Fora Financial Blog
.
The Top 5 Motivational Blogs for Business Owners:
1. The Four Hour Workweek
Who wouldn't want to work a
four-hour workweek
? That's something most people dream of doing, but never end up achieving. In 2007, Tim Ferriss published the book, The Four-Hour Workweek, where he explains how to break free of corporate servitude. 
The book was a smashing success and is now in its second edition. Due to this, Ferriss set up a blog with the same title that offers useful tips centered around the concept of the book.
One of the crucial tenants of the four-hour workweek is to outsource as much of your work as possible. When you can break tasks into digestible chunks, they can be handed off to workers who will perform the tasks. The business owner need only manage the workers.
Ferriss does have some critics who claim that the four-hour workweek concept leaves people with a false sense of hope. However, these detractors may be taking the concept too literally. Automating your tasks primarily through outsourcing is working smart. Even if you end up working more than four hours, automation will allow you to work on the most important tasks.
The four-hour workweek blog deserves a spot on your list of bookmarks.
2. Gary Vaynerchuk
If you've seen or read anything created by Gary Vaynerchuk, you know he is a no-nonsense guy. He tells it like it is and pulls no punches. His matter-of-fact style is hard for some to take.
What you'll get from Vaynerchuk's blog is useful advice and motivation. You can't help but feel reinvigorated after listening to one of his speeches or reading one of his inspirational quotes.
Gary Vaynerchuk is a person, but the name also represents a brand. That is the core message he delivers. Your business needs to make itself known, and if that business is you, then put your name out there whenever you can.
A recent post on Vaynerchuk's blog is true-to-form on what he believes regarding branding. The title of the article says it all,
How to Make 64 Pieces of Content in a Day
. While most people would shy away from producing this much content, the post shows how easy it can be to accomplish.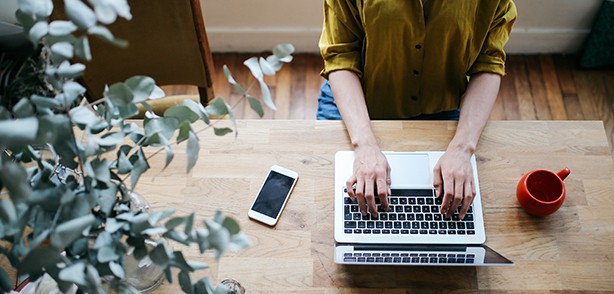 3. Elastic Mind
Tara Joyce, the owner of the blog
Elastic Mind
, proclaims herself the Wizard of Less Obvious Things. The initial concept of Elastic Mind centered on the phrase Innerpreneur. Here is how she
defines it
:
"An Innerpreneur is an entrepreneur who use their business to find personal fulfillment (creatively, spiritually, emotionally) and create social change." 
This concept is the focus of her earlier writing. Recently, though, she's moved on from this concept, and her fans are eager to see what she'll develop next.
4. Marie Forleo
If you haven't heard of Marie Forleo, you'll likely hear more about her soon. To give you an idea of her impact, Oprah Winfrey introduced Marie at an event, where Marie was the main speaker.
In addition to her blog, she's a bestselling author of the book, Everything is Figureoutable. While that may be a fun phrase to say, it speaks to the type of message she conveys. It's about motivation, work dedication, and taking action.
You'll find plenty of actionable advice and tips on Marie's blog. One of her goals is to empower women, but men can also be inspired by her content. Her blog has tips that are useful to everyone.
In one of her recent posts, Forleo focuses on how to get paid. While this may seem like a trivial item, many business owners are scared to ask for money. This fear leads to discounting their products or services too much. She describes how to get paid the appropriate amount and how to get over the fear of asking for it.
One interesting aspect of her blog is that she offers advice on
how to use her blog
, which can be helpful to new viewers.
5. Location Rebel
What if you could travel as often as you'd like and still have the ability to make a living? That is essentially the mantra of the
Location Rebel
. Sean Ogre started the blog to break away from the shackles of the corporate world.
He helps others learn about freelance writing, blogging, and affiliate marketing. These are all fantastic methods to live a digital nomad lifestyle. In some cases, the income is passive, which allows you to get paid even when you aren't working.
Sean's concept focuses on showing people that you can do what you love and still get paid. He ties the two together. If you want to travel to a favorite destination, you don't have to take time off. You can travel and work at the same time, using his inspiration.
While the focus for Sean is travel, this concept can relate to many businesses. The idea is to enjoy the lifestyle you want, whatever that happens to be. Try to implement your work so that you can sustain that lifestyle.
You'll find the writing on the website a bit offbeat and quirky, but enjoyable to read. The blog includes motivational quotes and actionable ways to make your dreams a reality.
Honorable Mentions
If you need business motivation, the blogs mentioned above are a great place to start. However, there are many others that are worth checking out. Here are a few more examples:
Receiving the right business advice can help it blast off into the stratosphere. At Fora Financial, we offer timely advice that you can use to get your business ready for liftoff. Sign up for our
newsletter
to receive tips when they are published.
[cta-newsletter]