October 13, 2021
Retail Business Loans: How to Qualify and Use Your Loan
There are numerous ways that you can use 
retail business financing
 to grow your business, which is why we've compiled this list of five ideas. After you receive a loan for your retail business, you'll find that the possibilities are limitless!
Retail Business Financing Options:
Before you determine how to utilize additional financing, you should weigh all of your options, including:
Small Business Loans: Many alternative lenders provide small business loans to retail businesses in a range of amounts and repayment terms.
Merchant Cash Advances: Most likely, your business accepts credit card payments. If this is the case, you may qualify for this lump sum financing option, which you'll remit using your future credit card sales.
Business Lines of Credit: To finance your retail business, you can use a credit line to afford necessary purchases.
Small Business Administration (SBA) loans: The SBA provides loans to various types of retail businesses. Their most popular option, the SBA 7(a) loan, comes with low interest rates. However, you'll first need to approve that you can't get approved for traditional funding options.
Equipment Financing: If you need financing to afford necessary equipment, you may benefit from an equipment loan or lease.
Once you research funding types, you'll also need to ensure that you meet the lender's requirements. Common
business loan requirements
include:
Credit score
Annual revenues
Time in business
Use of funds
Tax returns
Ability to submit collateral
How to Use a Retail Business Loan:
Now that you've weighed your funding options, keep reading to learn how retail business owners like you use retail financing.
1. Purchase New Inventory
In order to 
run a successful retail business
, you'll need the right amount of inventory that appeals to your customer base. With retail business loans, you can purchase new inventory, so that you have more to offer your clientele. If you frequently run out of certain types of inventory, you can also use your retail business financing to stock up. Without consistent, quality inventory, your business may suffer, so consider using your financing for this cost.
2. Open a New Retail Location
If business is booming and you're unable to serve your growing customer base, it might be time to start an expansion project. 
Opening a new location
 could be a great business opportunity that'll allow you to serve more customers, especially ones that don't frequent the area of your current location. Of course, starting an expansion project can be expensive. You'll need to make investments such as:
Purchasing real estate
Hiring more staff members
Purchasing inventory
With business financing, you can afford the costs that come with your new location, without neglecting your existing store. Ultimately, having another location can help you increase your retail business sales, so it can be helpful to use your retail loan for this type of project.
3. Pay for Advanced Technology
Utilizing 
retail technology
 can make you and your employees' jobs easier, and allow you to provide a better experience for customers. Plus, having new technology to unveil to your customers could set you apart from your competitors. If you'd like to pursue retail technology solutions, consider making paying for expenses such as:
Purchasing a CRM system
Offering progressive payment services (like Apple Pay)
The type of technology that you choose should depend on where your business's biggest challenges are. Use a business plan template to analyze where your business can improve. For instance, maybe you need to streamline your inventory ordering system, and could use an app for that. Or, your POS is old, and an upgraded version would benefit your operations. By considering your business's current challenges, you'll likely be able to come up a technology-related upgrade that you could invest in.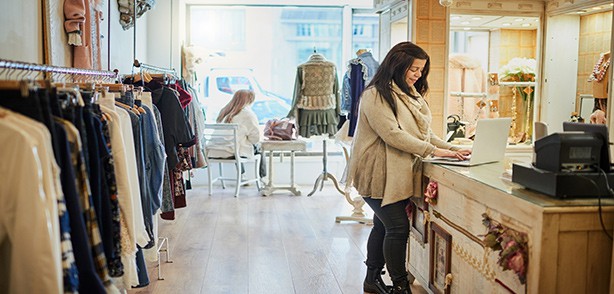 4. Hire More Employees
Does your retail store feel understaffed, making it challenging to assist all your customers? Or maybe you need more employees for other areas of your operations, like the stockroom? Regardless, you may benefit from using your retail business financing for recruiting new employees. As you likely know, the retail industry is one that heavily relies on the hard work and knowledge of its employees. Building a strong team is imperative to the future of your retail store. Using your retail loan, you can hire a recruiter, list job postings online, and have money left over to pay for employee wages and benefits.
5. Update Your Store's Interior
Your retail store's physical appearance will affect customers' first impression of your establishment. Boring décor, outdated furniture, or an overall drab feel can deter customers from shopping at your store. So, if your business's interior could use a makeover, then it may be a good idea to use a retail business loan for these updates. Updating signage, paint colors, and your store's layout can give your business a fresh look. Not only should you try to fix the aesthetic of your business location, you can also work on re-organizing the layout of your store. Whether it is using a planogram template to organize shelves, or positioning items near the check-out counter to encourage last-minute purchases, there are many ways to rearrange.
6. Invest in Your Marketing Strategy
If you want to reach your target market, it's important that you find ways to market your retail store. Using your term loan, you can pay for marketing expenses, including:
Sponsored social media posts
Ad space in local publications
Direct mail pieces
Branding updates
Email marketing programs
By focusing on new marketing strategies, you can attract more customers, and in turn increase sales.
7. Improve Cash Flow
As a small business owner, you know that cash flow can be sporadic. Due to this having an extra financing option can help you level your cash flow during stressful times. If sales are slow, a piece of equipment breaks, or you have large bills to pay, you'll have a loan amount to help your retail store stay afloat.
Conclusion: Pursue Your Retail Business Ideas with Additional Financing
Since you're applying for a small business loan or have recently received working capital, now it is time to decide on how you to use it. Hopefully, one of these five ideas will be the right fit for your business, and you can start advancing your operations! If you are a retail business owner, what are your top ideas for using a business loan? Share them with us in the comment section below.
Editor's Note
: This post was updated for accuracy and comprehensiveness in October 2021.